Anthony Bourdain's Net Worth: How Much Was The Chef Worth When He Died?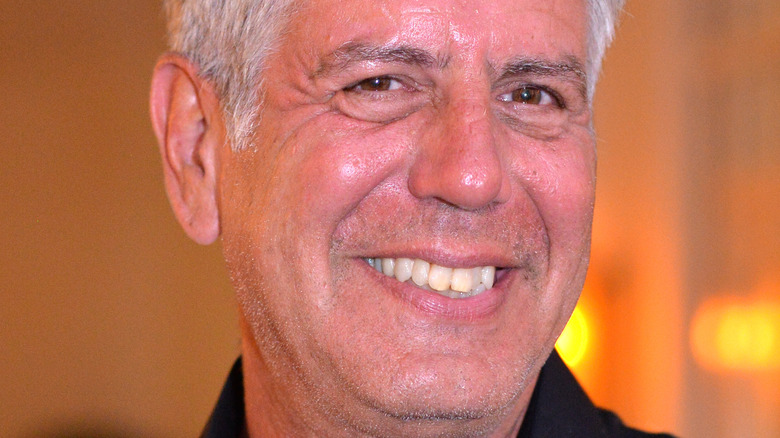 Dylan Rives/Getty Images
Anthony Bourdain may have had a show called "No Reservations," but fans of the chef should be dubious about initial reports on his net worth. The celebrity chef made a career of being a foodie nomad — giving travel and meal inspo to the masses before the advent of social media. He metaphorically took fans around the globe, almost 100 countries to be exact (per The Street), often highlighting relatively unknown destinations and proving that good food doesn't need to be expensive or pretentious.
But while he previously lived a life that some of us only dreamed of, could the celebrity chef indulge in caviar or lobster on the daily if he really wanted to? After Bourdain died by suicide in June 2018, numerous publications said the native New Yorker was worth $1.21 million, a far cry from previous multi-million-dollar estimates. 
Legal documents revealed by Page Six showed that Bourdain had $425,000 in cash and savings; $35,000 in a brokerage account; $250,000 in personal property; and $500,000 in "intangible property including royalties and residuals." The will also stated Bourdain's now 14-year-old daughter Ariane Busia-Bourdain would inherit the majority of his $1.21 million fortune when she is of age, and his ex-wife Ottavia Busia received his air miles.
While it's unclear how many holidays Busia and Ariane can take with Bourdain's valuable frequent-flyer points, his total assets are a relatively modest amount for someone previously called "the best-known celebrity in America." But according to other documents obtained by TMZ, Bourdain also kept an undisclosed sum in a private trust. 
Anthony Bourdain claimed that money didn't 'particularly excite' him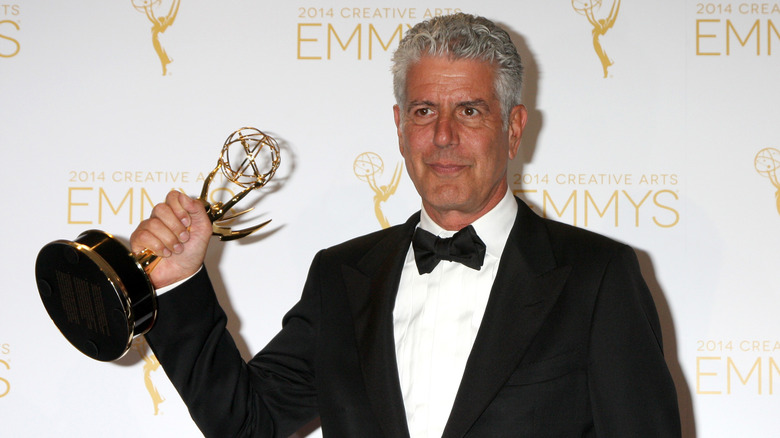 Shutterstock
Prior to his death, Celebrity Net Worth estimated Anthony Bourdain to be worth around $16 million, and despite legal papers suggesting otherwise, the publication may be on the money. Aside from the known $1.21 million, Bourdain is expected to have even more assets with the establishment of a trust. Common among wealthy people, trusts aren't processed and don't become public record for tax management and privacy reasons, per USA Today. While we don't know the exact amount Bourdain's daughter Ariane will inherit, Celebrity Net Worth claims his trust holds "the majority of his assets," which includes "image rights, future income and royalties."
Since 2002, the celebrity chef had been a regular face on television with multiple networks after a slice of the Bourdain pie. He went from the Food Network's "A Cook's Tour," to the Travel Channel's "Anthony Bourdain: No Reservations," "The Layover," PBS' "Mind of a Chef," and CNN's "Parts Unknown" until his death. On top of this, he appeared on numerous shows, including "Top Chef," and was a successful author.
Despite his popularity, Bourdain once said that "money doesn't particularly excite or thrill me." He told Wealthsimple Magazine, "The reports of my net worth are about ten times overstated. I think the people who calculate these things assume that I live a lot more sensibly than I do." While we may never know whether Bourdain's nest egg was solid gold or not, we're sure he left plenty for his daughter to have a good start in life.