What Does 'Fix You' By Coldplay Really Mean?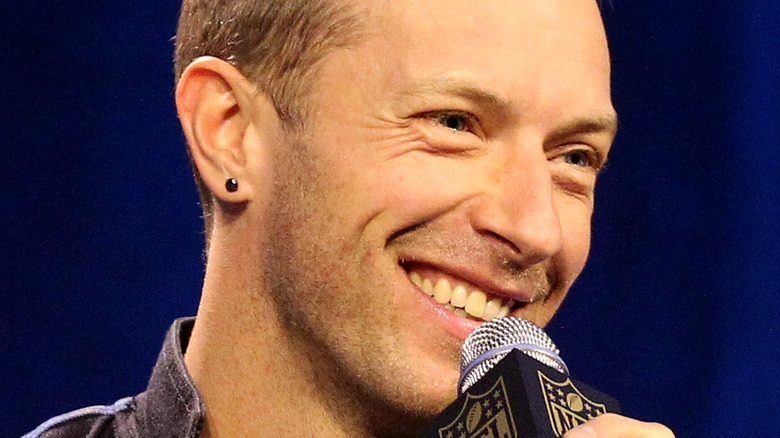 Mike Lawrie/Getty Images
Those who grew up in the era of flip phones and T9 texting definitely have had a good cry to Coldplay's hit song "Fix You" at some point in their lives. If you haven't, then you may have grown up under a rock or something, because back in the early aughts, "Fix You" was one of the top songs on the radio, MTV, or your iPod playlist. #TBT, right?
Flash forward almost 20 years and the song is still getting played. According to Rolling Stone, the popular K-pop band BTS covered the classic tune on their "MTV Unplugged" segment in 2021, with the outlet calling it "an angelic, meticulously arranged, goose-bump-inducing cover of the song." BTS said they chose to play the song because it helped them grieve during the COVID-19 pandemic, via Rolling Stone.
So, whether you've been playing the BTS cover or Coldplay's original, many fans have wondered what the real meaning is behind the emotion-filled tune. The lyrics — "And the tears come streaming down your face / When you lose something, you can't replace / When you love someone, but it goes to waste / Could it be worse?" — are hard to sing without feeling teary-eyed. The words are raw, and therefore can only mean that they were inspired by true life events. 
Wondering what this early 2000s hit is really about? We did some digging to find out the real meaning behind the lyrics of this song. Keep reading, Coldplay fans! 
Chris Martin wrote the song for his former wife Gwyneth Paltrow
Vittorio Zunino Celotto/Getty Images
According to Rolling Stone, the lead singer of Coldplay Chris Martin wrote the song for his former wife Gwyneth Paltrow when she was coping with the death of her father. Again, if you lived under a rock back in the early 2000s, we will fill you in real quick: Martin and Paltrow were an item from 2002 to 2016, per Insider, and Paltrow lost her father during the early stages of the couple's relationship. So, it's understandable that Martin worked with his band to help write a song for his grieving wife.
Rolling Stone reported, "Coldplay's Chris Martin was reluctant to admit it when the song came out in 2006, but he originally wrote 'Fix You' at least in part to comfort his then-wife, Gwyneth Paltrow, after the death of her father, Bruce Paltrow." They even add that in the original recording, Martin plays a keyboard that once belonged to Paltrow's father for an extra sentimental touch. 
Following the years of the song's success, Paltrow too has confirmed that the song was written for her. During an 2015 interview with Howard Stern, per E! News, Paltrow revealed, "'Fix You' was about [Martin] trying to put me back together after my dad died." She continued, "I think it's pretty nice."
Even though the pair isn't still together, music fans can agree that Martin's lyric "And I will try to fix you" has brought comfort since the song's 2005 release.