The Secret Behind Emily Blunt And John Krasinski's Love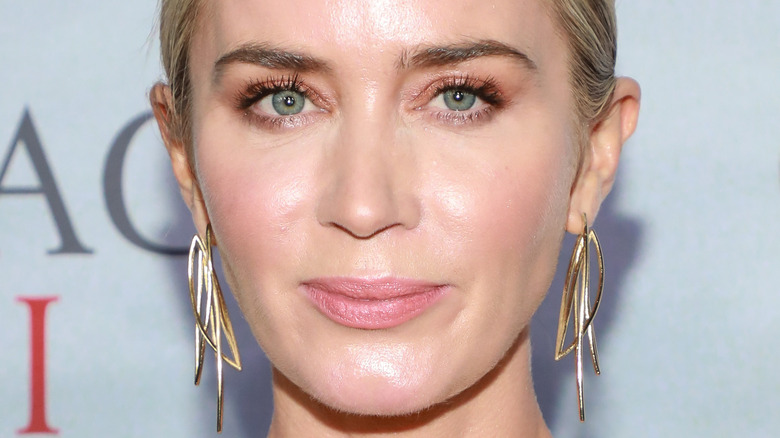 Jason Mendez/Getty Images
Emily Blunt and John Krasinski were introduced to one another by a mutual friend back in 2008. Less than one year later, they got engaged, according to People magazine. Krasinski gave Blunt a "3-carat Edwardian diamond and platinum ring from Neil Lane, worth $100,000," according to Us Weekly. "She did cry after I cried and we cried and then everyone around us was crying. Then, I think people weren't really sure what was going on, but they were crying because we were crying. But it was great. At the end of the day she said yes which is great. It's a big part of this whole thing," Krasinski told Access Hollywood of the "casual" proposal.
In July 2010, the couple tied the knot at pal George Clooney's waterfront villa in Lake Como, Italy, according to Brides. They exchanged in an outdoor wedding ceremony on the picturesque grounds of the private estate. Four years later, Blunt and Krasinski welcomed their first child together; a daughter named Hazel Grace. Two years later, they became a family of four when daughter Violet made her earth-side appearance. Since then, the two have managed to keep their personal lives out of the tabloids. They've also worked together on a couple of projects — namely their film "A Quiet Place," which was released in 2018 — and they've focused on being major support systems for each other. So, what's the secret behind their love? Keep reading to find out.
Emily Blunt and John Krasinski have been married for 11 years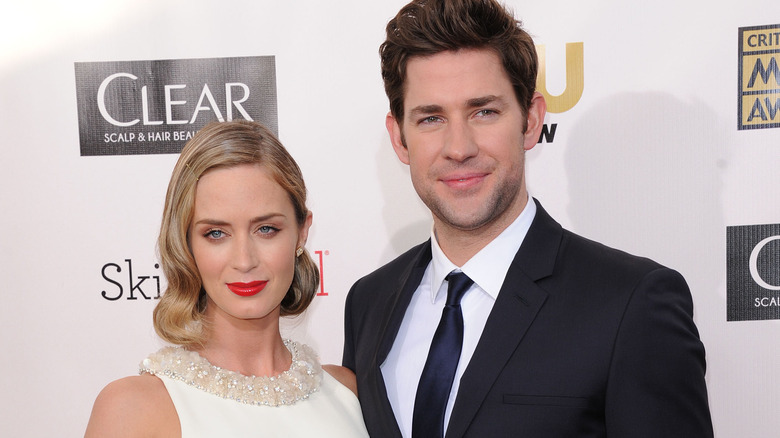 Shutterstock
Emily Blunt and John Krasinski really seem to have it all. Nicki Swift wanted to find out more about this enviable love story, and why these two seem to effortlessly make it work — so we reached out to matchmaker and CEO of Exclusive Matchmaking Susan Trombetti to get her take. "These two are fabulous as a couple. He is the perpetual nice guy and seems not very far from his Jim character from the office. She is talented and kind as well. They are an adorable couple and have been married almost 11 years which is amazing in Hollywood. They appear to be a younger version of the much beloved Tom Hanks and Rita Wilson. She said meeting him changed her life, and he said the best days of his life started when he met his wife," she told us.
Trombetti went on to talk about the instant spark that Blunt and Krasinski felt, admitting that, while she doesn't believe in "love at first sight," Blunt and Krasinski's instant connection and attraction to one another certainly was. "I believe they were both very attracted to each other and both were at such ease with each other," Trombetti explained.
Emily Blunt and John Krasinski 'thrive as a couple,' expert says
Shutterstock
Emily Blunt and John Krasinski always speak so highly of one another, and really seem to depend on one another for support. In December 2020, Blunt told People magazine that having her husband's support "is everything, because we are each other's confidant. That shared understanding has really been a very vital anchor for me." Interestingly, this is what Susan Trombetti says is the secret to their long, lasting love.
"Anytime you support your partner, it demonstrates love and caring which are what great relationships are made of. They balance their life together and are there for each other. They are both positive and upbeat people that thrive as a couple. They seem much like any other young family except they are Hollywood stars. Once again, both appear to be rock solid people making up a rock-solid relationship. It helps if you aren't too full of yourself and neither take themselves too seriously. Neither appear to have big egos which never work in a marriage," Trombetti told Nicki Swift. We just love their love!