What Ariana Grande's Husband Dalton Gomez Does For A Living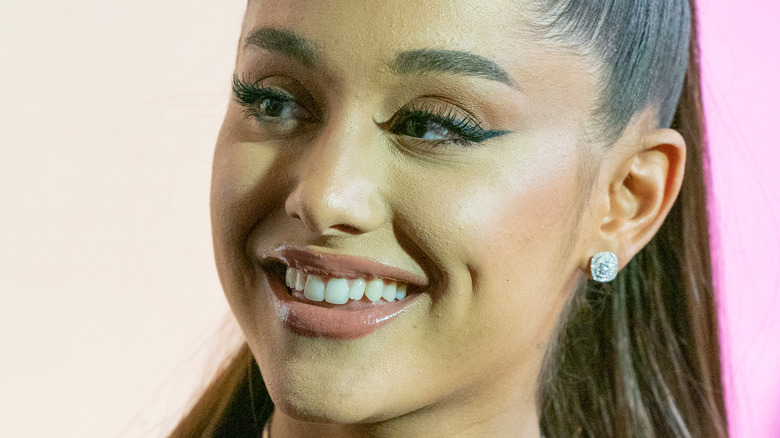 Shutterstock
Ariana Grande previously had a slew of very public relationships, but when it came to her latest beau ... now husband, she has remained tight-lipped. The princess of pop was first seen getting cozy with Dalton Gomez on Valentine's Day in 2020, but according to TMZ, the pair may have already been together for "several months."
Like some new relationships during the pandemic, Grande and Gomez also made the decision to quarantine together — with just a couple of Instagram Stories by the "Positions" singer to prove it. After news broke of their relationship, Gomez, who has just a handful of Instagram followers, made his account private, per Elle. But it wasn't until Grande's music video with Justin Bieber, "Stuck with U," released in May 2020 that she officially confirmed her relationship with Gomez.
Since then, the relationship secrecy continues with Grande announcing her engagement via Instagram Story just before Christmas and then quietly marrying Gomez in Montecito, Calif. on May 15, 2021. There have been no pictures or posts from the star herself. But like their quarantine habits, it's believed Gomez likes to keep his private life locked down, with sources saying they're a great fit as is "he is low-key and doesn't like attention."
So who is Grande's husband and what makes him so different and "perfect" for her, compared to previous partners like former fiance Pete Davison and ex Big Sean? Well, for starters, Gomez isn't affiliated with the entertainment industry.
Dalton Gomez isn't famous, but sometimes rubs elbows with celebs
While Dalton Gomez isn't under the limelight himself, he does rub elbows with some of California's elite as a high-profile real estate agent. The Southern Californian has worked for the luxe Aaron Kirkman Group for five years, and according to their website, "holds one of the largest rolodexes of A-list buyers." The Los Angeles Times also referred to him after he represented the buyer who purchased Atlanta Hawks forward Chandler Parsons' Bel-Air mansion in October 2019.
As someone who regularly works with celebs, it's not surprising Gomez sometimes hangs out with them. Back in July 2017, he posted an Instagram Story with one of his then clients Miley Cyrus, per Elle. It's believed he also even met Grande at the office after she began looking for a "getaway house" when the pandemic took off — but the singer ended up finding true love as opposed to a house. "When she saw him, she immediately thought he was cute and very good-looking, and she asked her team to set up an in-person meeting with him," a source told Us Weekly. "Ariana fell very hard for Dalton shortly after they met."
With an eye for design, Gomez was also sweetly "involved in every step of the selection process" when it came to Grande's engagement ring and was "very specific about what he wanted" according to jeweler Jack Solow, per the LA Times. Let's hope it's an piece Grande keeps and doesn't lead to a "7 Rings" follow-up!