Rachel Lindsay Named The First Black Bachelorette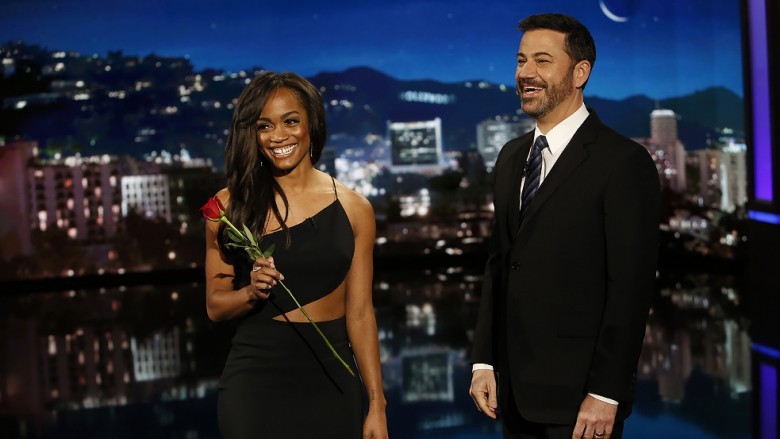 ABC/Randy Holmes
Get excited, Bachelor nation—your next Bachelorette is officially Rachel Lindsay!
The big news came Monday night when Lindsay appeared on Jimmy Kimmel Live. Lindsay, a 31-year-old personal injury lawyer from Texas, will become the franchise's first black Bachelorette, 14 years after the show's debut.
"I'm happy to represent myself as a black woman in front of America and I'm happy for America to rally behind me and see what it's like for me to be on this journey to find love," she tells People. "Honestly, it's not going to be that different from any other season of The Bachelorette."
In a twist, Lindsay is still competing to win Nick Viall's heart on this season of The Bachelor. So, spoiler alert, she's going home but will soon return in her quest to find lasting love.
"Bachelor Nation doesn't know how it all goes down yet, but as you'll surely see saying goodbye to Rachel was one of the most heartbreaking moments of my life," Viall wrote on Instagram. "I have met very few people who possess as much beauty, grace, and charisma as Rachel and after hearing that she'll be the next Bachelorette I couldn't be more excited. Bachelor Nation is so lucky to have her but not as lucky as the group of men who will have a chance at winning her heart. No one is better prepared to show Bachelor Nation, and the world, the beauty of embracing diversity."
ABC has increasingly faced criticism for their lack of diverse contestants on The Bachelor and The Bachelorette, particularly in leading roles. Speaking about her upcoming groundbreaking season, Lindsay continues telling People, "I'm obviously nervous and excited to take on this opportunity but I don't feel added pressure being the first black Bachelorette, because to me I'm just a black woman trying to find love. Yes, I'm doing on this huge stage, but again my journey of love isn't any different just because my skin color is."