Who Is The Richest NFL Player?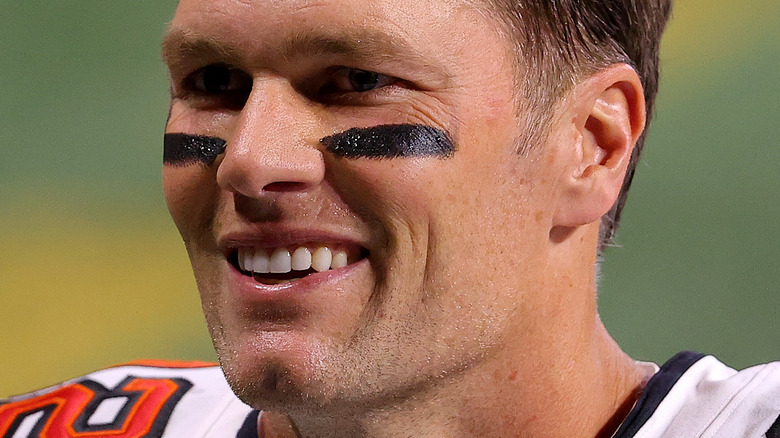 Kevin C. Cox/Getty Images
We may receive a commission on purchases made from links.
It's common knowledge that few careers pay as well as those of professional athletes. After all, it makes sense, as fans are willing to shell out plenty of cash for tickets and merchandise. Not to mention, major games and tournaments are huge revenue-generators for cities across the globe. In particular, the pro football industry is a big money-making business. During the 2018-2019 season alone, the NFL pulled in $16B in revenue, a number which represented a modest 5% bump up from the previous season. And though $16B is a massive figure, the NFL reportedly has its sights set on reaching the $25B mark by 2027, according to the Chicago Tribune. 
Therefore, it's no surprise that the league is chock full of both billionaire owners and wealthy players. Pandemic notwithstanding, Forbes reports that the average value of an NFL team increased 9.9% to $3.4B, as of 2021. Additionally, Business Insider notes that there are 43 players who have made at least $100M during their time in the NFL. But who are some of the richest players — and who's the richest? Let's take a closer look.
These wealthy players made a fortune after leaving the NFL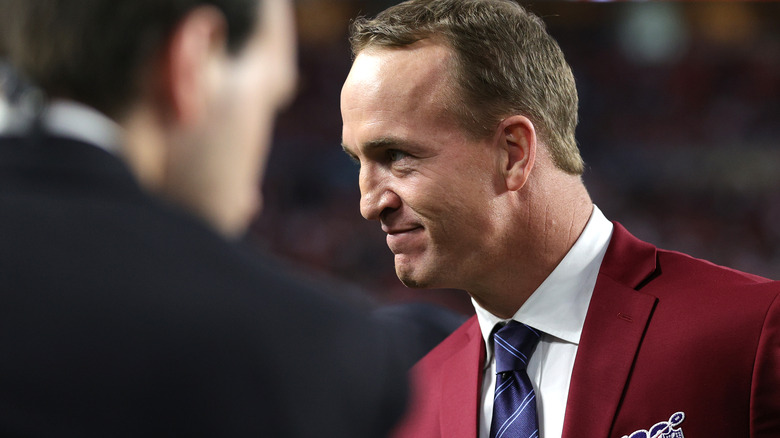 Maddie Meyer/Getty Images
While there are some current NFL players who have cracked Celebrity Net Worth's list of top 50 richest players, many amassed their fortunes after stepping off the turf for good. Such is the case with Denver Broncos legend John Elway, who ranks No. 9 on the list of top 50 wealthiest players. Per Celebrity Net Worth, he made $47 million during his time in the NFL, but channeled that into quite the second act! The former quarterback worked as the general manager for the Broncos from 2011-2020, and nearly doubled his former earnings when he sold his car dealerships for $82.5 million in 1997. He's now worth an estimated $145 million.
Peyton Manning is another NFL icon who has done well for himself since retiring in 2016. With his current net worth sitting pretty at $250 million, he is the second wealthiest player on the list. Beyond throwing the pigskin, Manning's lucrative work includes endorsement deals with DirecTV, ESPN, Gatorade, MasterCard, Sony, and Sprint, along with ESPN commentating gigs (via Sports Casting). He also "sold his stake in 31 Papa John's franchises," according to USA Today, and co-authored the book, "Manning: A Father, His Sons, and a Football Legacy." But Manning's earnings are dwarfed by the top earner on this list. Per Celebrity Net Worth, retired quarterback Roger Staubach is worth $600 million, a fortune he garnered after selling his real estate company in 2008.
Who is the richest player in the league right now?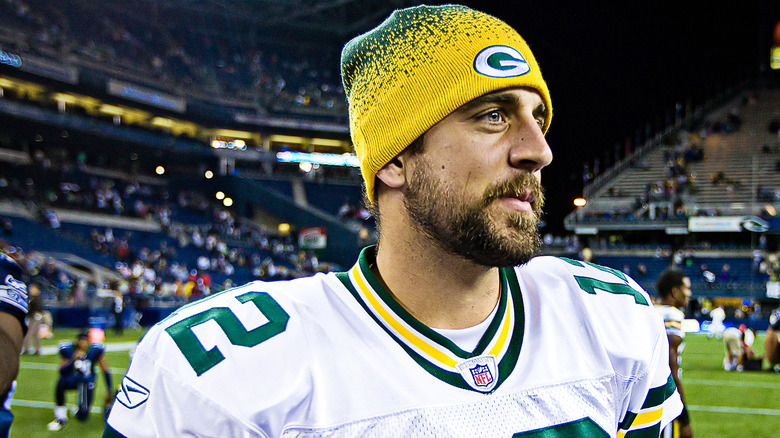 Shutterstock
In addition to heavy hitters who made it big in the second half of their career, players like Tom Brady, Russell Wilson, Drew Brees, and Aaron Rodgers are making their mark — and their money — in the league right now. Unsurprisingly, Brady clinches the No. 3 spot on Celebrity Net Worth's list of wealthiest players, having earned over $260 million throughout his 21 NFL seasons. On top of all that, he still has another year remaining on his two-year $50 million deal with his team, the Tampa Bay Buccaneers. What is shocking is that he's not even the top earner in his household! Supermodel wife Gisele Bündchen claims that crown, with a net worth of $400 million.
Hot on Brady's heels is Seattle Seahawks quarterback Russell Wilson, at No. 10 on the list. Currently, Wilson's net worth is estimated at $135 million, but the star is set to earn lots more cash moving forward. Celebrity Net Worth reported that, in April 2019, Wilson signed a four-year $140 million contract extension, "which comes with a whopping $65 million signing bonus" and "is the most lucrative deal in league history." Not too shabby! Brees and Rodgers are other notable names on this list. The former collected $269 million in a record-setting career, and recently signed a deal to join NBC's NFL coverage, which will likely yield further windfall profits. As for Rodgers, his future in football may be uncertain, but with a net worth of $120 million, his finances are looking bright.