Mike 'The Situation' Sorrentino Just Welcomed His First Child. Here's Everything We Know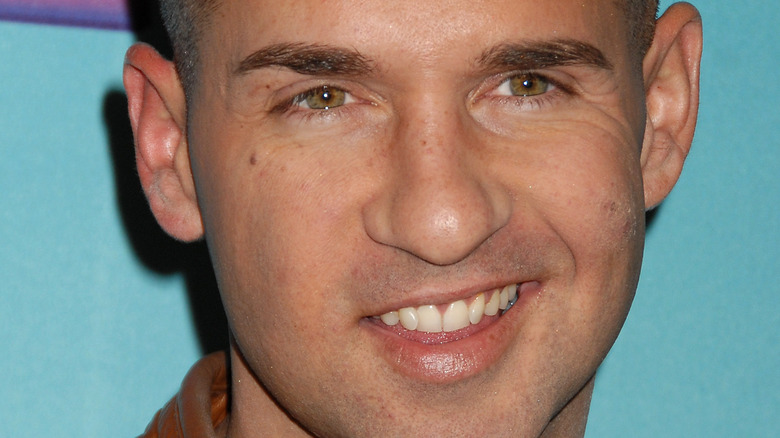 Shutterstock
Mike and Lauren Sorrentino have welcomed their first child together! The "Jersey Shore" stars officially became parents on May 26, when Lauren gave birth to the couple's first child, a son they named Romeo Reign Sorrentino. Fans were sure that Baby Sitch was on his way after Mike posted a photo from Lauren's maternity shoot with the words "it's happening" on his Instagram Stories. Less than 24 hours later, Baby Sitch made his earth-side appearance! The new parents announced the arrival of their son on their respective Instagram accounts, as well as on the Instagram account they created for their baby, appropriately titled "ItsBabySituation."
The tiny tot weighed in at 6 pounds, 8 ounces, and was 19 inches long. In one photo shared by the couple, the infant is seen sleeping soundly while wrapped in a swaddle that featured his name. Mike also shared a family photo on his Twitter account. In the sweet pic, Lauren was holding her son while sitting up in a hospital bed. Mike was sitting next to the bed wearing a black hoodie, and flashing a big, proud smile to the camera. 
Scroll down to see the first photo of Romeo.
Mike & Lauren Sorrentino wanted a boy
Throughout her pregnancy, Lauren Sorrentino has been keeping fans in the loop by posting "bumpdates" on the Itsbabysituation Instagram account. On May 24, Lauren uploaded her very last "bumpdate." Standing on a patio, Lauren was wearing an ombre summer dress while cradling her baby bump. "Baby Sitch is the size of a pumpkin or a honeydew melon! This will be my last bumpdate. Thank you guys for all the love and sweet messages," she captioned the snap, in part. On May 26, just ahead of Romeo Reign's birth, Lauren shared some photos from her maternity shoot on the same Instagram account. "Can't wait to meet this little one," she captioned the artistic photos. 
The reality stars really wanted a boy, and were over the moon when they learned their baby's gender. "[We] would love a boy first," Mike told Us Weekly back in 2018 when the couple first started trying. "We'll see. We're excited for little Situations," he added. Lauren echoed those thoughts saying, "We like chaos and a busy, loud home. I think we would definitely want at least three, but we have none right now, so that's pretty ambitious." In December 2020, the couple announced that Baby Sitch was indeed a boy. "Mama & Daddy are thrilled and Mama is about to start full on nursery planning," the Instagram caption revealing the baby's gender read in part. It's only a matter of time before Baby Sitch makes it to the Jersey Shore!