What Was Juice Wrld's Real Name?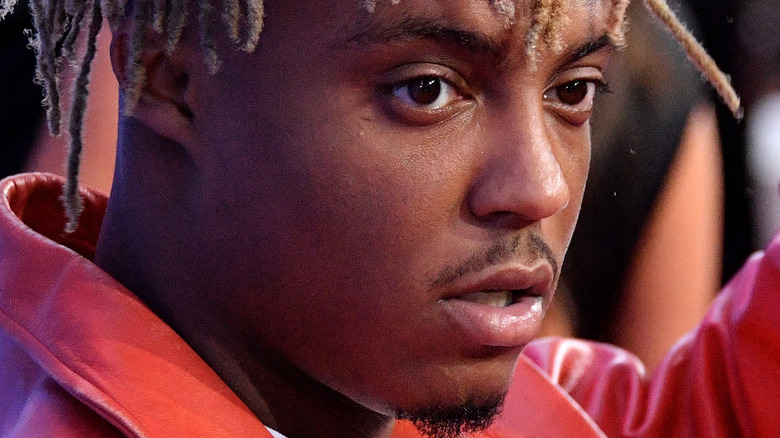 Dia Dipasupil/Getty Images
Juice Wrld said it best in his 2018 hit "Legends": "They tell me I'ma be a legend, I don't want that title now/ 'Cause all the legends seem to die out, what the f**k is this 'bout?" The rapper's song, which was originally meant to memorialize the untimely deaths of fellow rappers XXXTentacion and Lil Peep, ultimately foreshadowed his own fate.
Juice Wrld, who rapped about his struggles with addiction and depression, died of an accidental overdose on December 8, 2019, per The New York Times. Even after his death, Juice Wrld's music lives on. In fact, in 2020, Spotify dubbed the late rapper the most popular artist of the year, per Time Out. Fans all over the world continue to his music as an escape.
"I don't just [make emotional music] for myself. I do it to help other people through their situations," he told NME in March 2019. "I guess I supposedly save lives. People tell me all the time that I save their lives." In the interview, Juice Wrld noted that he drew inspiration from musicians who don't shy away from exposing their struggles. "The people I looked up to put their demons out there. They provided a path for me to walk on."
While he might have walked down a path others paved before him, he wasn't afraid to do his own thing and make his own mark on the world. In fact, he was paving his own way even before the world knew him as Juice Wrld.
Even under a different name, Juice Wrld's always had the juice
In a 2021 interview with GQ, Juice Wrld's mom, Carmela Wallace, shared insight into the rapper's childhood, explaining that he was just six years old when she signed him up for music lessons. He performed in the school's band, where he started as a percussionist and then played guitar. However, Juice Wrld had plans of his own when he quit band to start uploading music to SoundCloud.
"I wasn't happy about that," Wallace said. "I wanted him to be in band, because I was thinking about college and opportunities with music." Little did she know, he would go on to be a star under the name Juice Wrld.
Only true fans will know the meaning behind the infamous stage name. Born Jarad Higgens, the renowned moniker was inspired by the 1992 film, "Juice," featuring Tupac Shakur, per Tidal. In a 2018 interview with HOT 107.9, the rapper explained the significance behind the name. "I had the haircut and everybody knew I liked that movie with Pac," he said, adding, "The "Wrld" came from a social media handle. I couldn't spell it like "world" because somebody already had it."
He then went on to explain how he discovered the importance behind "Wrld" and the influence he wanted to spread. "It just represents just being global, like taking over the world pretty much, being globally known, and heard globally." And that he did!