The True Meaning Of 'Let It Go' By DJ Khaled Ft Justin Bieber & 21 Savage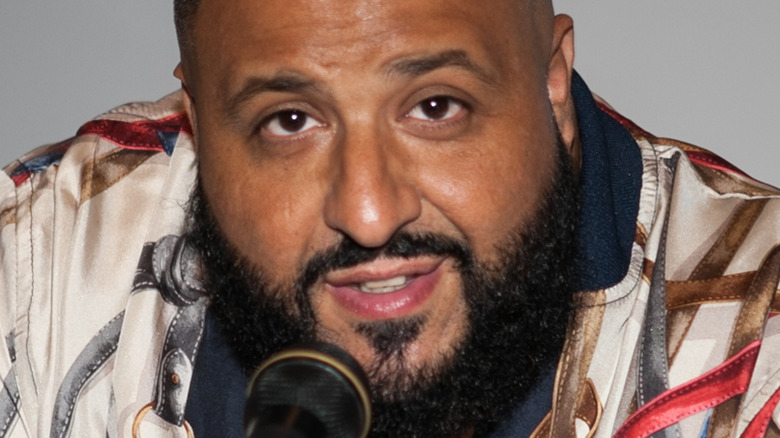 Shutterstock
On first listen, it might not seem like DJ Khaled's summer bop "Let It Go," with Justin Bieber and 21 Savage, is all that deep. Actually, it doesn't seem all that deep after a second or third listen, either, with chorus lyrics like, "Sometimes it's sunny but sometimes it don't shine," and "I'ma let go of things I can't control. Let it go. Let it go."
The single and accompanying video is the latest of several hits off of Khaled's latest album "Khaled Khaled," which is full of similarly carefree pop tracks. In the neon-colored and highly goofy music video for the song, Bieber, 21 Savage, and Khaled act out a five-minute homage to Adam Sandler's "Happy Gilmore," including an extended bit in which Khaled wrestles a rubber alligator.
Should we be looking for a hidden meaning behind the words of this song? Or should we just, as they say, "let it go?"
DJ Khaled isn't shy about his wealth
After a close reading of the lyrics to "Let It Go," it's honestly hard to conclude any real meaning other than, "It's summer, have fun." What starts as potentially a breakup song, "And money ain't sh*t if I ain't with you, bae. Give it all away just to get you back. Can't put a price on what we had," transitions into a money-can't-buy-happiness message in the chorus, "They say time is money but money can't make no time," which then goes right into a don't-worry-be-happy vibe, "I'ma let go of the things I can't control," eventually circling back to being-rich-is-the-best with 21 Savage's rap verse, "And I'm proud of myself 'cause I used to be poor. Now I just hustle and grind and stack it 'til all of my muscles is sore."
Speaking to Lil Baby about the new album for XXL magazine, DJ Khaled said, "Straight up, Lil Baby, I'm going for that billion, you nah I'm sayin'?" Clearly, money is on his mind — later in the interview, the music personality also said, "At the end of the day, let's get money." And the "Let It Go" video features all the possibilities about what that money can bring.
If the music video gives any clues as to what the song is trying to say, set on a golf course with souped-up golf carts and fancy pink polo shirts, it's that everyone in this song enjoys having a lot of money. Which, good for them.