The True Meaning Behind 'Durag Activity' By Baby Keem & Travis Scott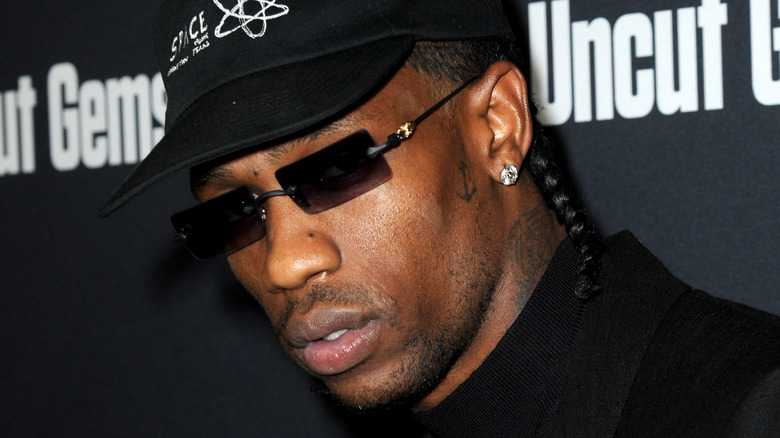 Joshua Blanchard/Getty Images
Released on April 30, "Durag Activity" is Baby Keem's third single from his debut album "The Melodic Blue," following "Hooligan" and " No Sense." Unlike his previous releases, however, the new song features a guest verse from Travis Scott — this the first time Baby Keem has ever collaborated with a fellow rapper.
Not long after its release, "Durag Activity" debuted at No. 85 on the Billboard Hot 100 Singles chart, according to Chart Data. The music video, which sees Scott and Keem tied to a chair by a group of mafia bosses, counts over 6 million YouTube views as of this writing. If that wasn't enough, it looks like celebrities have been loving the new song, too. Take Madonna, for example.
On May 28, the superstar took to Twitter to share a throwback picture of herself wearing a black bandana, accompanied by the caption: "Durag activity." Fans pointed out that she wasn't really wearing a durag, and Keem didn't take long to join in on the conversation. While replying to Madonna, Keem offered to buy her a real durag. "... Can I send you a Durag ?"  Then, he wondered how his statement was received. "did I humble Madonna?" Keem continued.
So all in all, it sounds like "Durag Activity" is a hit. But what does it actually mean?
Baby Keem and Travis Scott are on 'durag activity' all 2021
On "Durag Activity," produced by SuperDuperBrick, Baby Keem and Travis Scott rap about their monetary possessions, cars, and romantic conquests. In his first, for example, Scott flexes about his Bugatti Chiron. "But this Bugatti cost me three, I ten-to-two it." Per Hot Cars, Scott bought himself the car for his 28th birthday in 2020 and spent an estimated $3 million. 
Meanwhile, in his second verse, Keem brags about his romantic interests, alluding that they're dating him because of his success and generosity. "I know you wanna be a rich n***a focus / You love me because I get the check and throw it." Although "Durag Activity" is the first time Keem has officially collaborated with a rapper on a record, he almost worked with another rap star: Drake.
Speaking with Rap Pack on May 28, Keem said he almost ended up on Drake's single "What's Next." According to Keem, Drake slid into his DMs and the two started chatting. "It wasn't even a conversation on working," he said. "It was, 'Damn, I look up to you.' Any advice I could ever soak up from him, I try to do that." Though the feature never happened, there might be a Drake x Keem collab in the near future. 
"I don't know if we'll ever work, we'll see whatever happens in the process," he continued. "There's been some talks about it, but it gotta be the right record, it gotta be the right situation, the right timing."