RHOBH: The Truth Behind Crystal Kung Minkoff's Arrest Warrant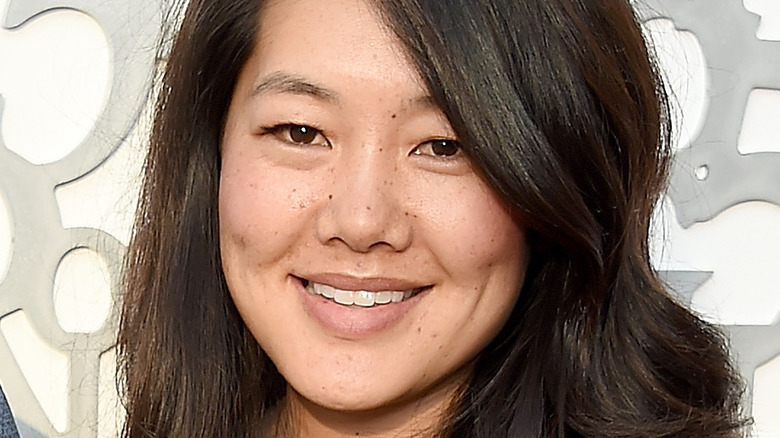 Gregg Deguire/Getty Images
"Real Housewives of Beverly Hills" newbie Crystal Kung Minkoff has proven quite the eclectic reality TV star since her series debut in January. Outside husband Rob Minkoff's Hollywood pedigree — he's the director behind many childhood-defining classics, like "The Lion King" and "Stuart Little" — Crystal has a background that's unconventional compared to your average "RHOBH."
The co-founder of coconut-product company Real Coco and a graduate of the University of California Irvine with degrees in biology and history (per Bravo), Crystal is also the first Asian American to star on any "Real Housewives" offshoot. In an emotional 2019 Instagram post, which documented her visit to her late father's hometown of Qufu, China, Crystal revealed she was a descendant, 76 generations down, of philosopher Confucius through her dad, writing, "I imagined my Dad as a young boy running through the buildings knowing that he had a familial and very special relationship to these relics." 
Then, on a May episode of "RHOBH," the Bravo star made revelations of a more salacious nature while playing a game of — what else? — "Two Truths and a Lie." As she told co-star Teddi Mellencamp on the May 31 episode of the "Teddi Ted Pod" podcast, the truths were that she "worked at an escort agency" and was "propositioned to become a madame." As for the lie, Crystal admitted, "I actually do have a warrant for my arrest ... in Arizona."
Keep reading for more about the shocking truth behind the lie that wasn't!
Crystal Kung Minkoff was cited for a serious criminal charge
Divulging on the "Teddi Ted Pod" podcast's May 31 episode that she had an arrest warrant in Arizona, "Real Housewives of Beverly Hills" star Crystal Kung Minkoff's fans naturally wanted to know more. This prompted the star to regale her Twitter following with the full tale on June 1. Writing that the incident occurred during a North Arizona University graduation "22 years ago," Crystal elaborated, "I drove onto campus, the campus police said it wasn't my turn to go thru the intersection at a 4 way stop and the officer got pissed. So instead of giving me a regular ticket I was cited for using my car as a weapon." (Yikes!)
Crystal, who was 16 at the time, called the judge upon receiving her citation, and they shared her view that matters have been greatly exaggerated. "Judge...said 'do you plan on driving here again in the next 6 years?' I said 'no,'" she wrote. "And he replied it was such a hustle for you to come back to Arizona for a hearing to have it missed so instead just don't come back!" 
Although Crystal stated, "There's the story. Sorry it's boring," her followers did not think so, posting affectionately funny memes (which she retweeted), like one of Crystal smiling in front of a car with text written over her, reading, "When I see a cop at a 4-way stop intersection I floor it." Sounds like Crystal has built quite the devoted fanbase already!