What Happened To David Koresh's Wife, Rachel?
By many accounts, David Koresh was charming, charismatic, and eloquent. Those traits, however, proved to be a death sentence for him ... and for nearly 80 others, including more than 20 children, per Encyclopedia Britannica. Through the power of his words, Koresh — born Vernon Wayne Howell on August 17, 1959 in Houston, Texas — attracted dozens upon dozens of people, a talent for which he was rewarded in 1990, when he became the leader of the Branch Davidians in 1990, per Biography. He convinced his followers that they needed to stockpile firearms as a way to prepare for the apocalypse.
His leadership in the sect started in the early 1980s, when he first joined the Branch Davidians, an offshoot of the Seventh Day Adventists in Waco, Texas. While he was raised in the Seventh Day Adventists faith, he distanced himself from the church when he dropped out of high school and moved to Los Angeles to try to make it as a rock star, according to Biography. He rejoined the Seventh Day Adventists after returning to his home state, though disagreements with leaders led him to join the Davidians, where he began to claim to speak through God. 
It was through the faith that he met Rachel Jones, a teenaged member of the cult whom he married when she was 14, per The Washington Post. Her parents were also Branch Davidians and consented to the marriage, allowing Jones and Korech to legally marry. Read on to find out what happened to Rachel.
Rachel Jones died in the April 1993 fire during the Waco siege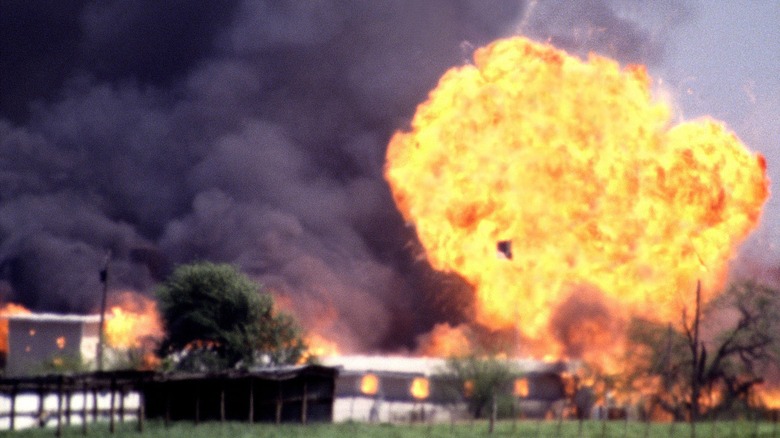 Shelly Katz/Getty Images
David Koresh and Rachel Jones were married for nine years, a marriage that ended on April 19, 1993. The Koreshes died during the Waco siege, both of different causes. She was 23 and he was 33. The 51-day siege between the Branch Davidians and the FBI started when the U.S. Bureau of Alcohol, Tobacco and Firearms (ATF) raided the sect's Mount Carmel compound near Waco, which resulted in a gunfight that left four ATF agents and six Davidians dead, according to History. 
The details of what happened throughout the nearly two-month ordeal is still contested, but it drew intense national attention to the Davidians — and Koresh more specifically, as Vox argued. The siege ended when FBI officers used tanks to fill the compound with gas in hopes of forcing Koresh out, per History. However, several fires broke out in the building, resulting in the death of 76 Davidians. Jones — along with her two children, Cyrus and Starr — died in the fire, according to Men's Health. Koresh died of gunshot wounds, though it still isn't clear whether it was self-inflicted or not, according to the Tulsa World.
Throughout her marriage, Jones rarely contradicted her husband, according to The Washington Post. "She was polite and pleasant and very quiet. She acted like a wife whose husband was conducting business at home, and she was carefully letting him do his business," said lawyer Jack Zimmermann, who spoke with Koresh during the siege.