Today Show Anchor Hoda Kotb Welcomes Baby Girl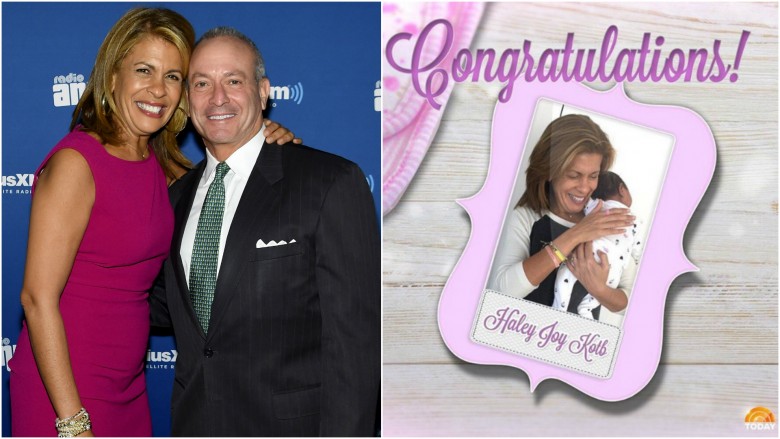 Getty Images
If you didn't realize that Today show anchor Hoda Kotb was pregnant, don't worry. You don't need to get your eyes checked. Kathie Lee Gifford's partner in crime and fellow wine lover surprised everyone with an announcement today: she adopted a baby girl!
Kotb called into the Today show to reveal the newest addition to her family, daughter Haley Joy, born Feb. 14, 2017. "She's a Valentine's baby so she's a little nugget," Kotb gushed. "She is the love of my life!" Her Today show co-anchors shared their praises, and Gifford playfully bragged about keeping Kotb's secret even though she has the "biggest mouth in the world."
Some eagle-eyed Kotb fans may have realized that some big news was headed their way when the 52-year-old TV journalist, who took time off from her job last week, posted a series of inspirational quotes on Twitter. While Kotb's known for sharing motivational mantras with her followers, these messages had a clear pattern of love and new beginnings. Before her big announcement on the Today show, she shared one final post that read, "And then my soul saw you and it kind of went, 'Oh there you are. I've been looking for you.'" Kotb has since posted a photo of her snuggling the wee one to Instagram.
Kotb is currently in a relationship with New York financier Joel Schiffman. The two have dated for three years and moved in together in October 2016. In an interview with People, Kotb spoke about her love for Schiffman, stating, "He's the guy that gives me butterflies at 50 years old."
After the big Today show reveal, co-anchor Matt Lauer enthused, "This is such fantastic news. This little girl, Haley, is the luckiest girl on the planet." He added, "You are going to be one of the most fantastic moms I can ever imagine." We have to agree. We're looking forward to learning more about Kotb's experiences as a new mother as soon as she returns to the show.