The Truth About Joyce 'Tilly' Mitchell's Marriage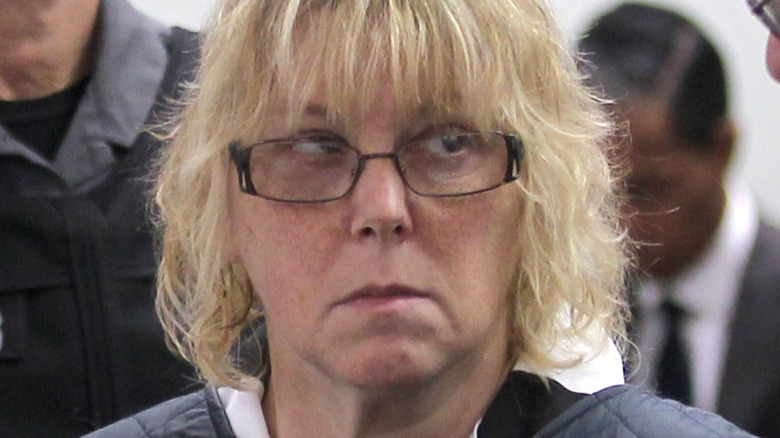 Pool/Getty Images
Former prison worker Joyce "Tilly" Mitchell became a media phenomenon in June 2015 when she helped two convicted murderers escape from the Clinton Correctional Facility in Dannemora, New York. The events captured the attention of the nation and served as inspiration for the 2018 Showtime miniseries "Escape at Dannemora," a show that snagged seven Emmy nominations and earned Patricia Arquette a Golden Globe and Screen Actors Guild Award for her skillful portrayal of Joyce.
Joyce pleaded guilty to promoting prison contraband and facilitating the escape of inmates David Sweat and Richard Matt, per ABC News. According to the report, Sweat and Matt convinced Joyce to take part in an "elaborate scheme." She was accused of having sex with both men, though she denied it. "She professed her love for Sweat in notes she secretly sent him," the inspector general report noted (via ABC). The document also alleged that Joyce "engaged in numerous sexual encounters with Matt in the tailor shop." 
Joyce planned to escape with Matt and Sweat, which served as motivation for her to use hamburger meat to smuggle "hacksaw blades, chisels and other tools" into the facility so they could do escape, per ABC News. Mitchell arranged to meet Sweat and Matt outside the prison with a car, but she changed her mind, leading authorities into a 22-day manhunt that ended with them shooting Matt dead and wounding Sweat, per the report. 
But how did the case affect Mitchell's marriage?
Lyle Mitchell remained by Joyce Mitchell's side
Joyce "Tilly" Mitchell's husband, Lyle Mitchell (who also worked at Clinton Correctional Facility), told "TODAY" in 2015 that he was with Joyce when they learned that David Sweat and Richard Matt had escaped. Lyle claimed Joyce initially denied knowing anything about the case, saying that his partner of 21 years acted shocked. "Her reaction was like, 'They really escaped?' I left it at that,"" Lyle said. 
However, Joyce soon admitted her role in the inmates' escape to Lyle, confessing, "I got [in] over my head, and I was scared,'" Lyle told Matt Lauer, revealing that Joyce claimed Sweat and Matt threatened to harm her and kill Lyle if she didn't cooperate. But Joyce told them she wouldn't do it. "She said, 'I love my husband, I am not hurting him,'" Lyle recalled.
Joyce served for four years in prison for her role in the escape. She was released in early 2020, and in February 2020 she was spotted with Lyle outside their home in Franklin County, New York, The New York Post reported. In 2015, Lyle said he was angry at Joyce, but that he ultimately believed she was manipulated. "Do I still love her? Yes. Am I mad? Yes," he told Lauer. At her sentencing, Joyce characterized the events at Dannemora as "by far the worst mistake I have ever made in my life," per ABC News. "I live with regret every day and will for the rest of my life."