What The Cast Of The Original Baywatch Looks Like Today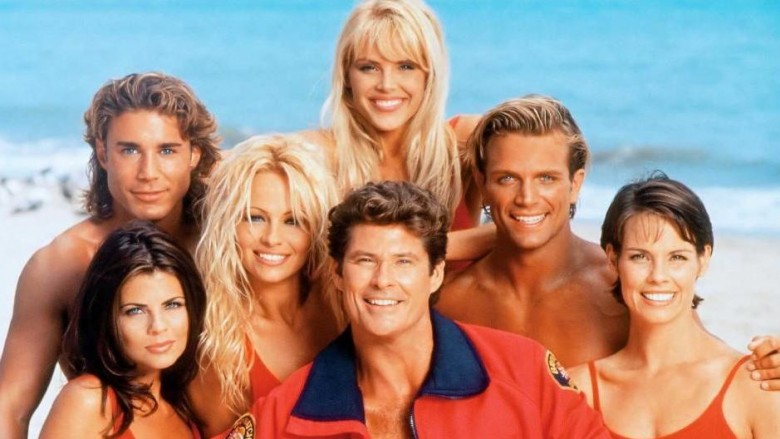 There's no doubt that Baywatch was one of the most zeitgeisty television programs to ever exist. The beachside lifeguard drama was popular not just for its constant medical and emotional traumas that kept the characters busy saving lives, but its commitment to displaying a series of male and (mostly) female ship-shape bodies was small screen eye candy in its purest form. As the 2017 movie reboot readies for its big screen debut, with Dwayne "The Rock" Johnson, Zac Efron, Alexandra Daddario, Priyanka Chopra, and a host of other stunners giving these red-clad lifeguards new life, here's a look back on what's become of the original cast, some of whom will be seen in the new movie.
David Hasselhoff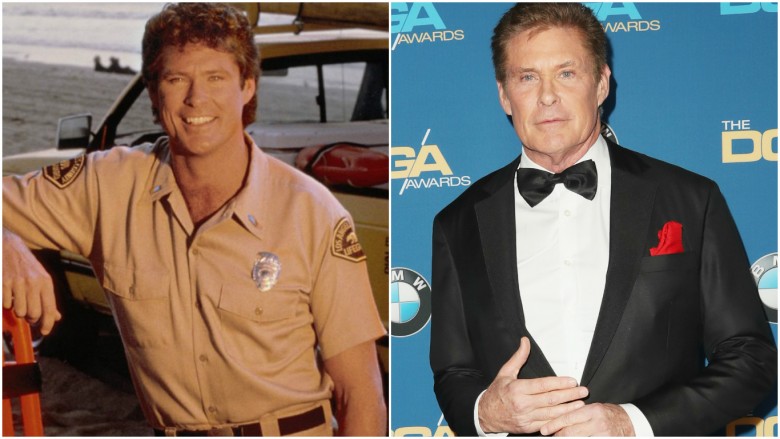 Even before his turn as Mitch Buchannon on Baywatch, leading lifeguard David Hasselhoff has been working steadily in show business — most notably first gaining fame with his long-lived stint as Dr. William "Snapper" Foster on The Young and the Restless. But when it comes to Baywatch, his name is still inextricably linked to nostalgia for the show.
That said, he's also gained plenty of fame — or maybe infamy — as the guy who nommed on a cheeseburger while intoxicated, as well as his bizarre "True Survivor" music video from Kung Fury. The Knight Rider star has also been plagued with very publicized personal and financial woes since his days in the surf and sun and has been reduced to taking roles in ridiculous TV fare like the Sharknado movie series. However, with his cameo role in the 2017 Baywatch movie reboot on the rise, perhaps the tides will turn on his career sooner than later.
Nicole Eggert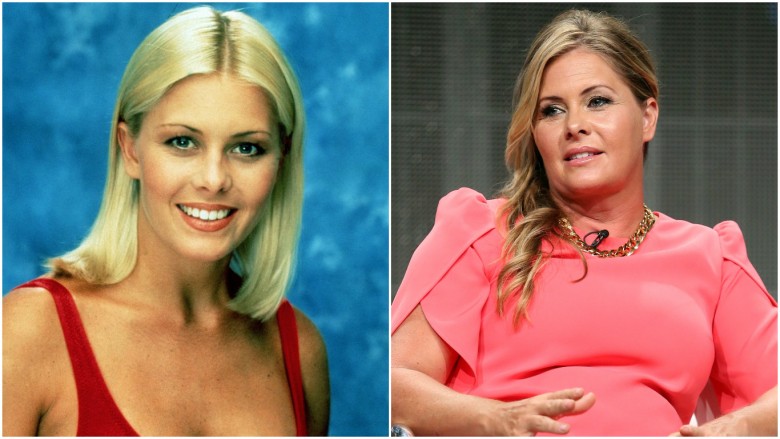 Ever since her turn as Summer Quinn in a few of the early seasons of Baywatch, Nicole Eggert's acting career has been hit or miss. Her filmography mostly consists of TV and B-movies, and she's experienced major financial strains as a result of the diminishing work opportunities set before her. (She filed for bankruptcy in 2013.) The former Charles in Charge star has said that she was relieved to leave the show when she did, in part because of body issues she experienced whilst working with so many buxom women like Pamela Anderson (who inspired her to get a boob job, no less). Nowadays, she's running her own ice cream truck business called Scoops that services the Los Angeles area's dessert-on-the-go needs. No bathing suits in sight.
Carmen Electra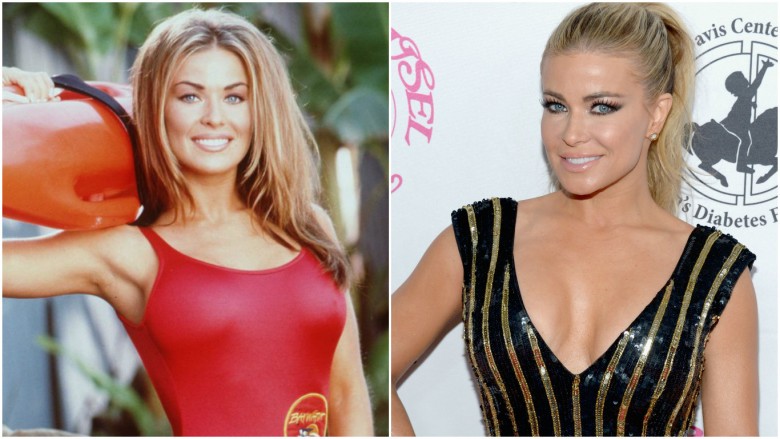 When she joined the cast in Baywatch's eighth season as Lani McKenzie, Carmen Electra's career was just beginning. But she only spent one year on the beach, not returning for season nine. She went on to become a reality star in her own right thanks to her short-lived marriage to rocker Dave Navarro, which produced the TV documentary Carmen & Dave: An MTV Love Story, but she also hit headlines quite a bit for her blink-and-you'd-miss-it marriage to kooky basketball star Dennis Rodman. Plus, she's also had a fairly steady acting career since the Baywatch days. By starring in films like the Scary Movie franchise and its ilk and the comedy Starsky & Hutch, along with TV cameos in shows like Jane the Virgin and Reno 911!, she's successfully made a name for herself outside of the show, for better and for worse.
Kelly Packard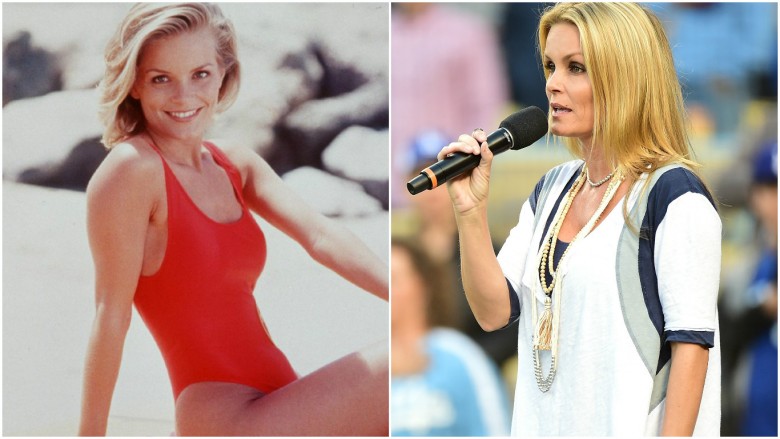 Before Baywatch, Kelly Packard was already a formidable TV star thanks to her long-lasting turn as Tiffani Smith in California Dreams, but ever since, she's mostly disappeared from the screen radar. Why? Well, for one thing, she's now a mom to four children and is heavily involved with her Mormon church with her ER doctor husband Darrin Privett. She did appear alongside her family in ABC's Celebrity Wife Swap in 2014, touting her family's strict regimen of no sin items like booze, coffee, or tobacco, but she had exactly zero acting credits for almost a decade after her small role in the 2002 low-budget crime drama Auto Focus and has slowly been working her way back in with appearances in small-time pics like My Girlfriend's Boyfriend and The B Team.
Brooke Burns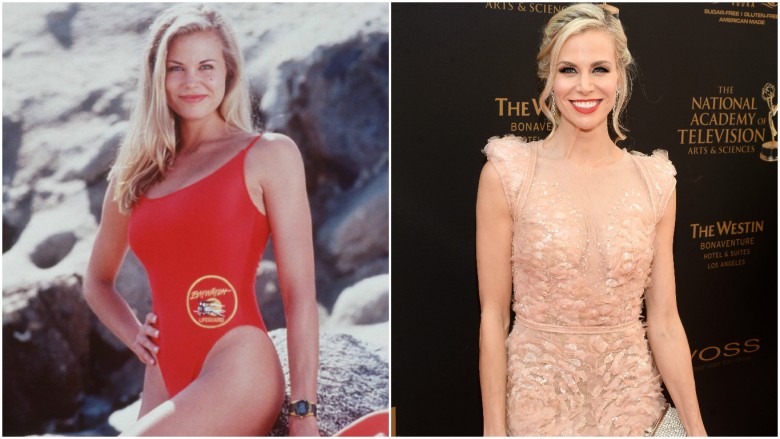 Brooke Burns' acting career was far from done when she walked away from Baywatch in 2001 after appearing in its three final seasons as Jessie Owens. She went on to nab memorable roles in Shallow Hal and Melrose Place, and has been a regular of the Lifetime and Hallmark movies scene for several years. She also hosts the GSN game show The Chase USA and recently welcomed her second child—her first with current husband, screenwriter Gavin O'Connor. Off-screen her life has made several headlines as well, thanks to two high-profile relationships with actors Julian McMahon (her first husband, with whom she shares one daughter), Bruce Willis and John Cusack.
David Charvet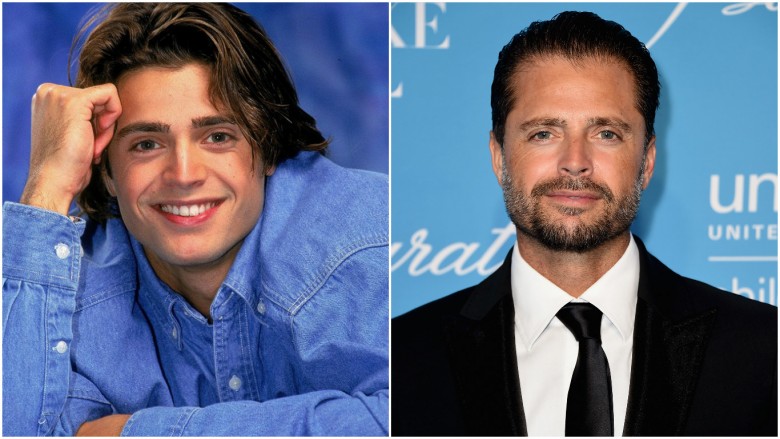 French-American actor David Charvet earned a regular role on Melrose Place after his days as Matt Brody on Baywatch, but his career as an actor has completely floundered ever since that part ended in 1998. He decided to step away from the cameras in 1999 to pursue a musical career in France and released three albums with mixed levels of success before returning to the screen in the 2010 TV movie The Perfect Teacher. He's probably best-known now for his controversial appearance alongside his wife, Brooke Burke, on The Celebrity Apprentice, because he was hit with accusations of being a chauvinist for not wanting to ride behind her on a motorcycle for a show stunt because it would make him look weak. Yikes. The good news is he's also made a name for himself in the environmental philanthropy world by joining forces with The Blue Seals to address ecological emergencies caused by hazardous oil spills in his home nation.
Jeremy Jackson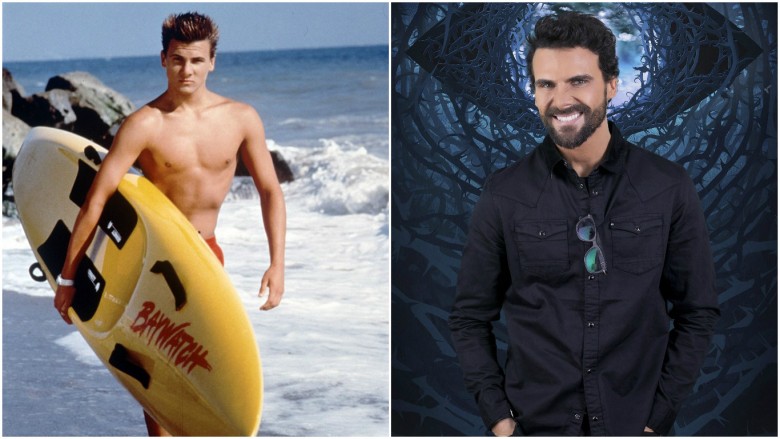 Jeremy Jackson's turn as Hobie Buchannon, the son to David Hasselhoff's character, wasn't quite the start of his career—he began acting in commercials at the age of just seven—but it was pretty much the end of it. The actor has since admitted to struggling with severe drug addiction issues during the show and was arrested for running a methamphetamine operation out of his home in 2005. Though he claimed to have been sober after the incident, he appeared on Celebrity Rehab with Dr. Drew to address his steroid use issues. His publicized problems wouldn't end there, though. He was booted from Celebrity Big Brother UK in 2015 for exposing his castmate's breast on live TV while under the influence of alcohol and was again arrested the same year for allegedly stabbing a man. He's also been at the center of a sex tape scandal and was restrained from contact with his ex-girlfriend after allegations of abuse. Needless to say, things have not been so sunny for the actor after Baywatch.
Pamela Anderson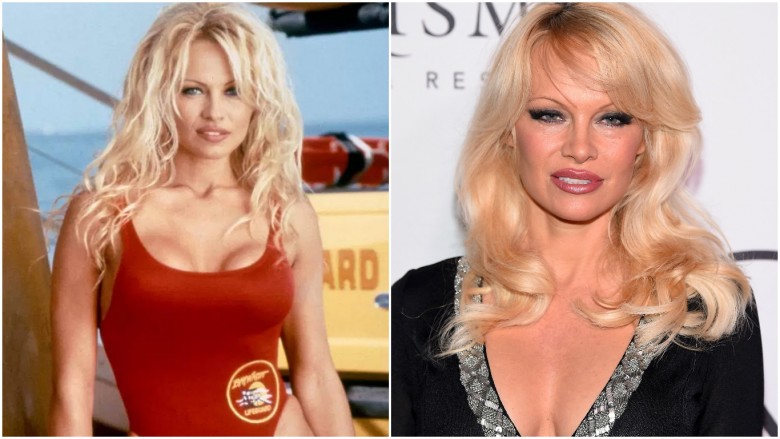 Like Carmen Electra, Pamela Anderson is definitely a name that's known for more than just her long-lived role on Baywatch. The actress starred in the show as C.J. Parker for several seasons and became the object of many viewers' affections thanks to her role, but she's since capitalized on that fame by starring in a series of seemingly self-aware movies like Barb Wire and the erotically-charged show Stripperella. She also starred in Home Improvement and a couple of those Scary Movie-esque parody movies, but she's been unabashedly committed to her image as a sexpot, with regular appearances in Playboy magazine.
Some of that attention has been unwanted, however, as a sex tape of herself and ex-husband Tommy Lee was unlawfully stolen and released, leading to a major legal debacle with the distributor. She's also had regular stints on the reality TV circuit with short-lived runs in Dancing with the Stars and Dancing on Ice, and outside of film and TV, she's become a vocal advocate for animal rights, living as a vegan and promoting PETA's efforts to campaign against the fur trade. Of all of Baywatch's alums, Pamela Anderson is probably the best-recognized—whether it's because of her notorious relationship woes, her battle with Hepatitis C, or the fact that Borat was on a planet-wide journey to meet her, it's not clear. Anderson will make an appearance in the reboot film, although not as her old role C.J., as actress Kelly Rohrbach has taken over that part.
Gregory Alan Williams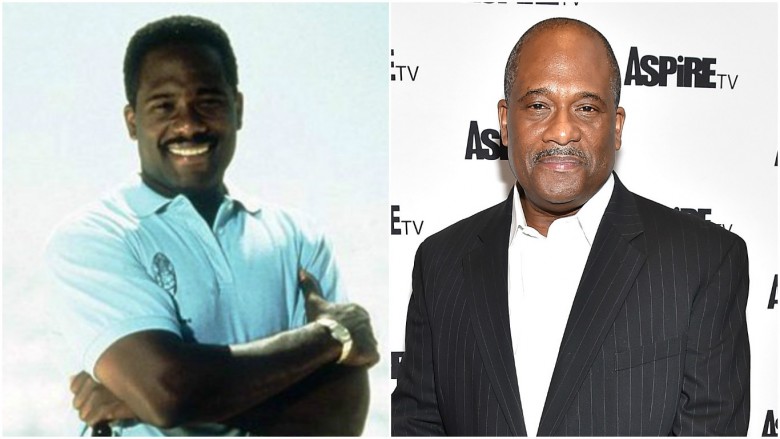 Gregory Alan Williams might not be the most household name on the Baywatch alum roster, but he's certainly one of the most prolific. The actor has enjoyed a solid and busy career since his long-lasting turn as Officer Garner Ellerbee on the show. Among his most impressive credits? How about his regular roles on City of Angels, The Sopranos, The West Wing, Necessary Roughness, The Game, Drop Dead Diva, Secrets and Lies, Game of Silence, and Containment. His film career has been nothing to shake a stick at either, with memorable roles in Terminator Genisys, Remember the Titans, and Old School, but there's no doubt he's still a TV guy through and through. And believe it or not, that's not all he's accomplished since his days in the sand; he's also an accomplished writer, with a whopping four published books (and counting).
Alexandra Paul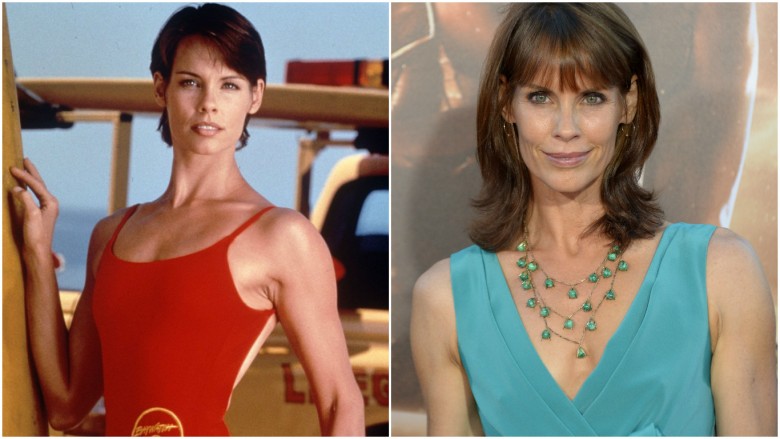 Although Alexandra Paul will probably always be best known for her role as Stephanie Holden in Baywatch her career has still been relatively consistent after the fact. She's had brief roles in shows like Melrose Place and Mad Men and a slew of TV movie roles. She'll also be among the many Baywatch alums who'll be seen in the CIA spy comedy movie The B Team and has become known for her political activism, including several arrests for protesting against various environmental and humanitarian upsets, from the Iraq War to the destruction of the EV1 (a subject explored in depth in the documentary Who Killed the Electric Car?).
Gena Lee Nolin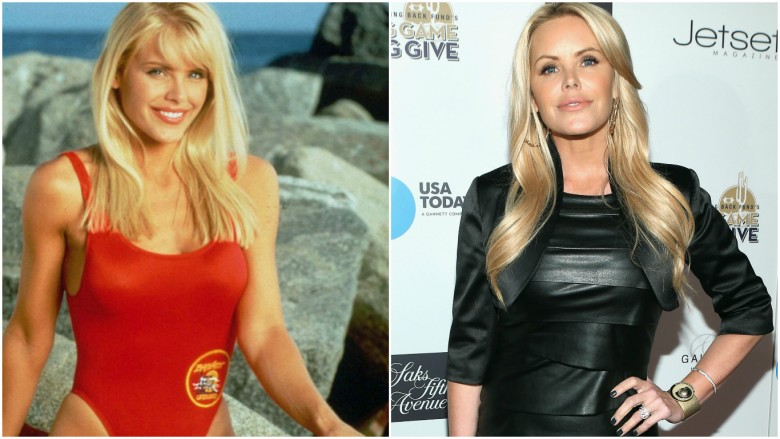 After Baywatch Gena Lee Nolin's career seriously fizzled out. She did nab the leading, titular role in TV's Sheena, but after that, she's barely had a credit to her name outside of Sharknado 4: The 4th Awakens (yes, really). She credits her weight gain and health concerns surrounding the birth of her children with her slowed career momentum and later revealed that she suffered from a thyroid disorder that inspired her 2013 autobiographical book, Beautiful Inside and Out, Conquering Thyroid Disease with a Healthy, Happy, "Thyroid Sexy" Life. She'll appear alongside Paul, Alan, Jackson, Packard, Williams, and other former Baywatch co-stars in The B Team as well.
Jason Momoa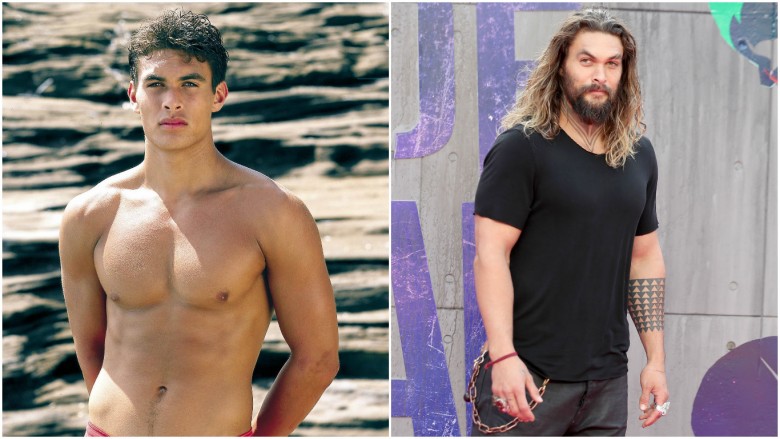 Nowadays, Jason Momoa might be best-known for his kingly role as Khal Drogo in Game of Thrones, his turn as the superhero Arthur "Aquaman" Curry in the DC movie universe, or maybe even his role as Ronon Dex in Stargate: Atlantis. But almost certainly no one looks at Momoa and thinks of Baywatch right away anymore. Nevertheless, he did appear in the show for its final two seasons as Jason Ioane, and it was that role which launched his entire acting career after he was discovered as a 19-year-old model in his home state of Hawaii. He's since starred in a host of other shows, like North Shore, The Game, The Red Road, and Frontier, and he'll next be seen in the title role of DC's Aquaman, after appearing in the superhero-studded Justice League. He's also rumored to be attached to assume the fateful role of Eric Draven in The Crow reboot, a part that famously cost Brandon Lee his life during production on the 1994 original. Momoa has also been stretching his talents into some behind the scenes work by writing and directing the 2014 pic Road to Paloma. He has two children with wife Lisa Bonet and can credit his now-signature eyebrow scar to a bar brawl that occurred in 2009 which sent his attacker to prison.