Julie Benz Reveals The Downside Of Playing A Manipulative Murderer - Exclusive
Lifetime
Julie Benz is known for her extensive work on TV series such as "Dexter," "Buffy the Vampire Slayer," "Desperate Housewives," and many more. For her latest role, Benz stars in the new Lifetime movie "Secrets of a Gold Digger Killer." 
Based on a true story, Benz plays Celeste, a cocktail waitress who charms multimillionaire Steven Beard (Eli Gabay), a retired broadcasting executive several decades her senior, into marriage. Living a life of opulence and luxury, however, wasn't enough for Celeste, who becomes overwhelmed by depression and enters a mental health facility. It's there that she meets fellow patient Tracey Tarlton (Justine Warrington), seducing the delusional woman and convincing her that she's in love with her — and that the only way they can ever be happy together is if Tracey murders Steve, knowing she'll inherit millions when he dies. This devious scheme, however, goes off the rails, and Celeste's lies and manipulation are exposed to send everything crashing. 
In an exclusive interview with Nick Swift, Benz opens up about what it was like to portray a manipulative sociopath, and the effect it had on her. 
Julie Benz dove deep when researching her role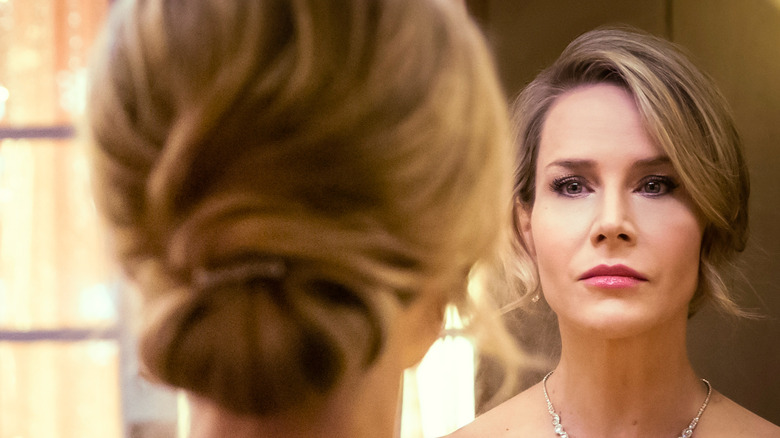 Lifetime
Because "Secrets of a Gold Digger Killer" was filmed in Canada, the pandemic-related travel restrictions involved in crossing the border between Canada and the U.S. created a unique opportunity for Julie Benz.
 "Well, I was lucky because we shot in Canada," Benz explained. "So, I had a 14-day quarantine and I spent those 14 days researching everything I could about Celeste Beard and I was able to find interviews that she had given in the past. I even found ... a webpage that she manages herself but she writes about herself in the third person. And I went down that rabbit hole which was incredible," Benz recalled. "I also read the transcripts from the trial. I read the book. I read the script. I just tried to get as much information as I could. I also like trying to see how ... people that knew her, how they described her, so I could bring her to life."
Bringing herself into the mindset of such a devious and manipulative character, Benz admitted, "was overwhelming some days." She continued, "There were some days where after work, I'd go back to my hotel room and just feel gross and awful, especially — there are a couple scenes in the movie where Celeste is screaming at her daughters. And those were really hard for me to film ... the things that she said to them, how she treated them. And I really went for it in the scenes because you have to but at the end it just did not feel good."

"Secrets of a Gold Digger Killer" airs Sunday, June 13 at 8 p.m. ET/PT on Lifetime.