Jennifer Lopez Talks Romance With Drake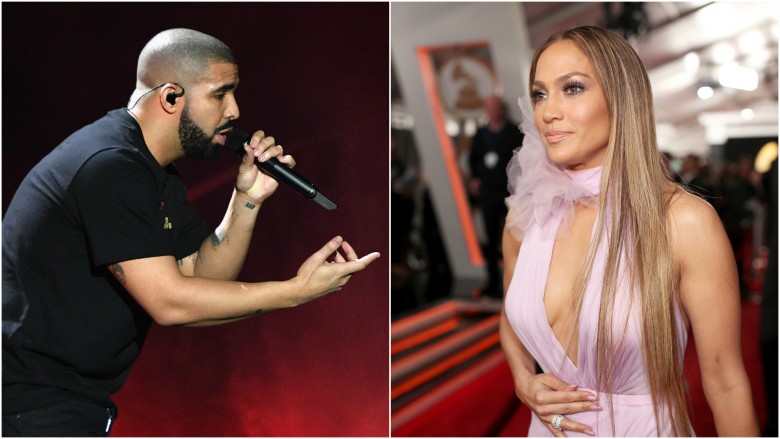 Getty Images
Like us, you may have been wondering if sparks were flying between megastar Jennifer Lopez and "Hotline Bling" rapper Drake (Aubrey Graham). For months, it's been rumored the two musical talents have been engaged in a hot and heavy romance. The Daily Mail reported that the two made out and grinded against each other at a party in December 2016, which would seemingly confirm our suspicions, but then Lopez took to The Ellen DeGeneres Show to set the record straight—kind of.
"We're just hanging out," she told DeGeneres on Feb. 21, 2017. The talk show host referenced Instagram evidence of the pair looking awfully cozy, but Lopez shook off the remarks and attempted to redirect the attention toward the music she and Drake, 30, made together. "Actually, he sent me a song that he wanted me to be on, and I got on the song," J. Lo said. "Yeah, we have a song together. I don't know what he's going to do with it, but yeah."
DeGeneres also asked Lopez, 47, about her reported habit of dating younger men (like her ex-boyfriend, 29-year-old Casper Smart), so the songstress cleared the air about that chatter too. "I don't date younger men. It's not like you have to be younger, it's not about that. You just meet people and if I go out with them, I go out with them," she said. "If I like them, I like them and if I don't, I don't. It's just about the person. It's about who they are, it has nothing to do with age." Hear that, guys? Your age is one less thing you have to worry about if you want to try to win over this pop star.
While it's unclear how serious Lopez and Drake were, it does seem like their relationship may be over. According to the Mirror, Drake was spotted partying recently with model Winnie Harlow in London. He also gave a special 29th birthday shout-out to ex-girlfriend Rihanna during a recent concert in Dublin and performed their "Work" collaboration in lieu of the "Happy Birthday" song—inciting rumors that he still holds a flame for the "Rude Boy" singer.