Rob Lowe Once Made This Shady Comment About Prince William
Noel Vasquez/Getty Images
Rob Lowe has a bit of an obsession with members of the royal family –- or at least their hair. The former "Parks and Recreation" star has made several comments over the years directed at the hairstyles of royal siblings Prince William and Prince Harry.
During a 2021 interview with late-night host James Corden, Lowe, who lives in close proximity to Harry and his wife, Meghan Markle, in the Montecito area of Santa Barbara, alleged that he spotted the Duke of Sussex wearing a ponytail while driving through their neighborhood. Lowe told Corden that he saw "the English treasure, Prince Harry" at a stoplight 10 minutes before the late-night taping and that he was taken aback by his appearance. 
"It was very, very quick, don't totally quote me on it, but it looked like he's wearing a ponytail," Lowe dished. "I'm just saying. It looked to me as a casual observer that his hair had grown very long and was pulled back very tightly by what I can only assume was a ponytail."
After Corden pointed out that it probably wasn't Prince Harry that Lowe saw in the car next to him, the actor revealed that he believes it was him because he followed the car to the royal couple's rental house to see if the car went in the driveway — and it did. 
But while this comment wasn't too negative, one of Lowe's comments about Prince William was a little more on the shady side.
Rob Lowe made fun of Prince William's hair loss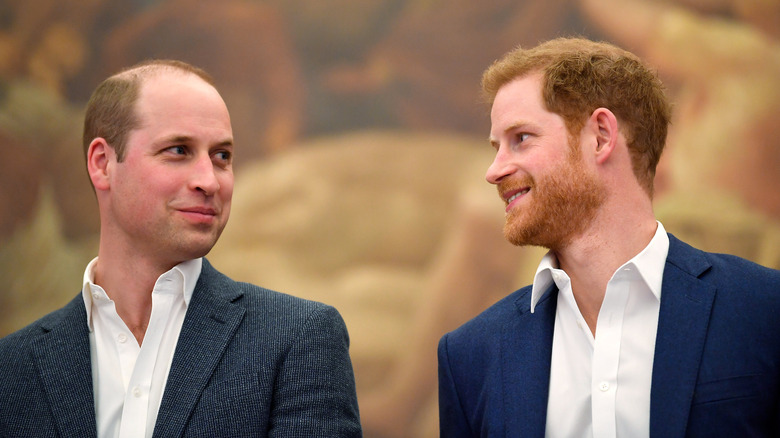 Wpa Pool/Getty Images
Rob Lowe made headlines a while back when he threw shade at Prince William's hair loss. The actor, who rocked a mean mullet back in his Brat Pack days, said the men of Britain set a "low bar" when it comes to vanity, and then he called out the Duke of Cambridge for his dwindling tresses. "I mean, the future king of your country let himself lose his own hair, so when I say British men set a very low bar..." Lowe told the U.K. outlet The Telegraph in 2019. "Honestly, one of the great traumatic experiences of my life was watching Prince William lose his hair. He's going to be the f–king king of England!"
Lowe also revealed his own secret for keeping his locks intact, noting that there is a pill readily available to combat hair loss. The actor explained that as soon as he saw the "first glimmer" that a strand of hair was going to fall out of his own head he had the treatment "mainlined" into his veins. That was 30 years ago.
Not too friendly there, Mr. Lowe.