Fans Are Going Wild Over Tupac's Resurfaced Poem To Jada Pinkett Smith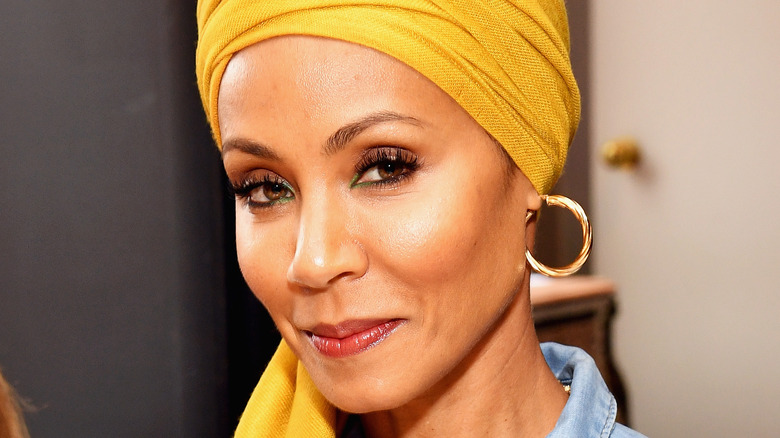 Dia Dipasupil/Getty Images
On June 16, 2021, Tupac Shakur would have turned 50, and Jada Pinkett Smith — who had been friends with the late rapper since high school, per People — took a moment to celebrate his birthday. Taking to Instagram the night of June 15, Jada shared a never-before-seen, handwritten poem by Tupac.
"Tupac Amaru Shakur would have been 50 midnight tonight!" Jada wrote in the caption of the video. "As we prepare to celebrate his legacy ... let's remember him for that which we loved most ... his way with words. Here are a few you may have never heard before." Jada read through the verses and gave some context to the poem, titled "Lost Soulz." 
"Pac wrote me many letters and many poems. And I don't think this has ever been published honestly," she said. "He had a song called 'Lost Soulz' on the 'Gang Related' soundtrack, but I believe this was the original concept because he wrote this while I believe he was at Rikers."
While the two were friends for years, Tupac seemed to have deeper feelings for Jada — if his other poems are anything to go by. "U will never fully understand / How deeply my heart feels 4 u," he reportedly once wrote about Jada. "U bring me 2 climax without sex / and u do it all with regal grace."
Despite Tupac's rhymes not being about Jada (this time), fans on Twitter had a lot to say about Jada sharing his long-lost poem on social media.
Fans think Will Smith has been 'Jada's rebound for nearly three decades'
As Tupac Shakur shared in his "Lost Soulz" poem, "When the purest hearts are torn apart / LOST SOULS are all that's left," he wrote towards the end of the piece. "Down on my knees I beg of God / To save me from this fate / Let me live to see what was gold in me / Before it is all too late."
So, when Jada shared Tupac's "Lost Soulz" poem in honor of his 50th birthday, fans on social media had a blast — despite the work not being about her — and it was mainly at the expense of Jada's husband. "Will Smith has been the best in everything else except in Jada's heart," one fan reacted to the poem on Twitter. "Jada probably gets Will to sing happy birthday to Pac," another one commented.
Others are even speculating that Will was just a rebound, hinting that Jada's true love may have been Tupac. "Will Smith has been Jada's rebound for nearly three decades now," one person hilariously noted. "What Jada is doing reminds me of when Ghost said 'Tasha, have some sympathy, I just lost the love of my life!'" someone else wrote, referring to the drama series, "Power Book II: Ghost."
Given Jada's history of "entanglements" in her marriage with Will, these reactions are somewhat understandable.