Sylvester Stallone's Daughter Stuns At High School Graduation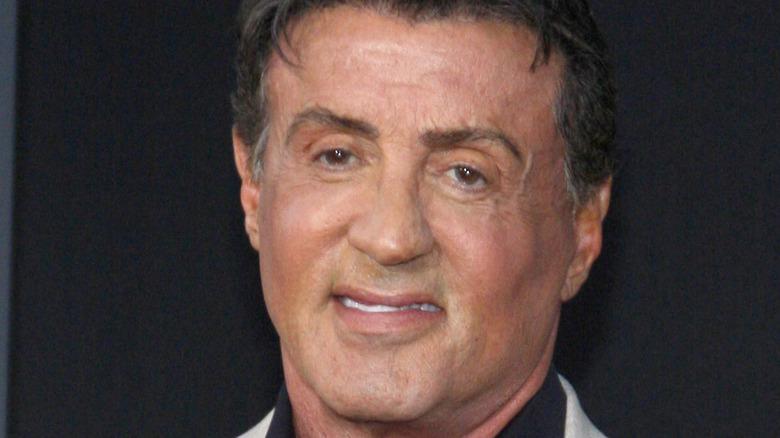 Shutterstock
Sylvester Stallone has been a Hollywood A-lister for decades and is known for his iconic roles in the "Rocky" and "Rambo" franchises — but perhaps his most important role is as a family man. The actor maintains a close relationship with his three daughters: Sistine, Sophia, and Scarlet.
While fans may know the screen legend as "Sly," at home he is "dad" to his three girls. The Stallone family was interviewed by The Telegraph in 2016, and Sophia spoke about how her father is perceived by the public. "'Aren't you freaking out? Your father is Rocky!'" Sophia recalled people telling her and her sisters. "But to us he's always just been Dad: an ordinary guy and an ordinary dad." Scarlet, the youngest of the trio (she was 13 at the time), was described as reticent during the photo shoot for the article, as she just wanted to play basketball.
None of the Stallone daughters appear ready to follow in their father's footsteps to pursue a career in film. "I don't think any of us have the acting gene," Sophia told Harper's Bazaar in 2017. At the time, Scarlet recalled her on-screen debut in 2014's "Reach Me" which starred her dad. "I literally just had to say one tiny line, and they had to cut that in half!" she told the outlet.
Fast forward to 2021, and the "Creed" star's youngest daughter has grown up and finished high school. Keep reading to see what the actor posted for Scarlet's high school graduation.
Scarlet Stallone received social media recognition
Sylvester Stallone gushed over his daughter Scarlet Stallone in a June 15 Instagram post that celebrated her high school graduation. The upload had three snaps, which started with a group family photo including his three daughters, and wife Jennifer Flavin. "Congratulations on graduating high school to our wonderful daughter Scarlet!" he wrote in the caption.
In the second slide, Scarlet was photographed from the waist up as she stood in the kitchen next to a bouquet of flowers and balloons that read "Class of 2021." Scarlet had her blond hair parted in the middle as it flowed over her shoulders. She wore a short sleeved-dress with a multi-colored floral print, and completed the look with a gold pendant necklace. The comment section was filled with well wishes, but Sistine Stallone was not thrilled with her dad's choice of filter. "Why do we look like cartoons," she joked.
A few weeks earlier, the "Cop Land" star celebrated Scarlet turning 19 with a heartfelt Instagram post. "Happy birthday to our amazing daughter, Scarlet, you are talented, humble and generous to all," he wrote, while including a stunning recent pic along with a series of throwback photos from her childhood. Sistine also showed her sister some  birthday love with an Instagram post, in which she referred to Scarlet as her "best friend."
After all the shout-outs, people started to notice Scarlet online, and she has managed to put together a sizable following on her own Instagram page.
Will Scarlet Stallone become a social media star?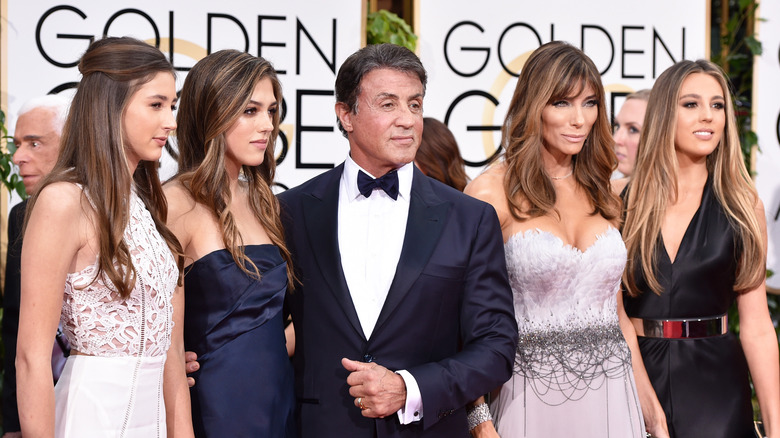 John Shearer/Getty Images
Scarlet Stallone graduated from the prestigious Los Angeles private school Campbell Hall, which held its graduation ceremony at the Rose Bowl in Pasadena, per Page Six. Campbell Hall has a number of famous alumni, including Mary-Kate, Ashley, and Elizabeth Olsen, Dakota and Elle Fanning, and Ariel Winter, per Yahoo! Finance.
Scarlet's older sisters, Sistine and Sophia, both attended the University of Southern California in Los Angeles, per People. Sistine and Sophia are Instagram influencers and models — but there's no official word yet as to whether Scarlet will follow her sisters' paths. Still, if Scarlet wants to emulate that, she's well on her way. While her Instagram is light on content (she only has 29 posts), she has 739,000 followers to make up for it. (Her Twitter account, on the other hand, has been silent since 2017. Though she has over 12,000 followers, Scarlet last posted when she and her sisters became Golden Globe Ambassadors, which is pretty impressive on its own.)
Scarlet's graduation comes shortly after her parents celebrated their anniversary in May. Sly shared an Instagram photo with his wife, Jennifer Flavin, and captioned it: "It's happy 24th Wedding Anniversary Time!!! Time is flying but I have a blessed life Thanks to my wife and Family." Flavin commented, "The best 24 years! I love you and our beautiful family so so much." 
One thing is clear: whatever Scarlet decides to do next, she has the support of her parents and sisters.