How Many Grandchildren Does Jane Fonda Have?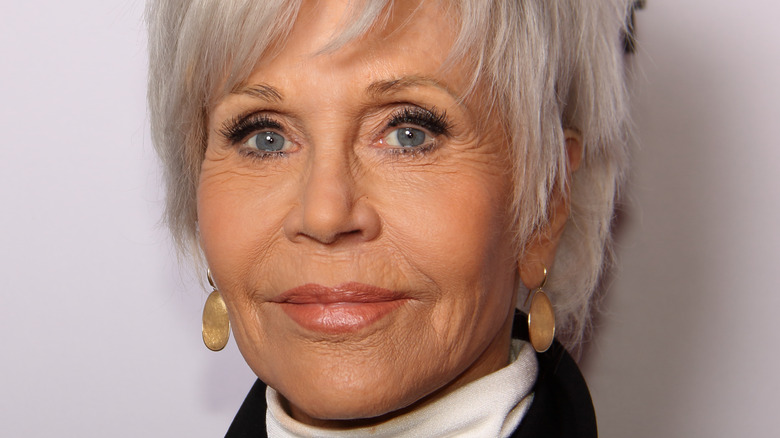 Shutterstock
Jane Fonda has had many titles throughout her life from movie star to sex symbol to exercise guru to activist, but the one she now holds most dear to her heart is grandma. And not just any grandma, a "glamorous grandma," as she told Digital Spy back in 2010 ... nope, we can't argue with the style queen herself. Fonda has three kids, two of which (Vanessa Vadim and Troy Garity) were biologically born to separate husbands, while she adopted her youngest (Mary Luana Williams) when she was 14 years old.
At 31, the Hollywood star welcomed her first child Vanessa with French director Roger Vadim, but early parenting wasn't smooth sailing for her. She told Vanity Fair in 2011, she was unable to bond with Vanessa and as a result suffered from postpartum depression. "I just felt that I had failed —that nothing was turning out the way it was supposed to, not the birth, not the nursing, not my feelings for my child or (it seemed to me) hers for me." Fonda often left Vanessa with her father for long periods while she protested around the world, including during the Vietnam War. "I think when the parent is not happy with themselves, they make life unhappy for any child of the same gender," Fonda told True New Jersey.
Despite her daughter initially resenting Fonda's political activism, it seems as if Vanessa's two children have now followed in their grandmother's footsteps. They've even had their own brush with the law ... wonder what mom has to say about that! 
Both of Jane Fonda's teenage grandchildren were arrested during a climate change protest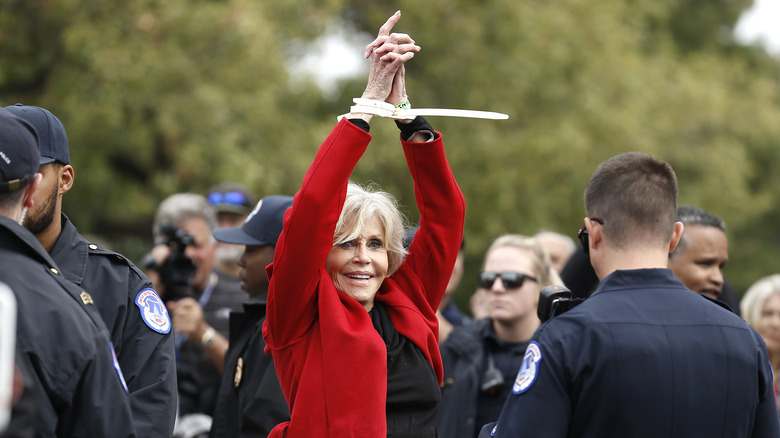 John Lamparski/Getty Images
Jane Fonda admits that while she's never been "particularly maternal" and regrets not being "a better parent," she's hoping to "make up" for everything as a grandma (per Net-a-Porter). Fonda doted on her two grandchildren, Viva and Malcolm Vadim (Vanessa's kids), during an interview with The Guardian back in 2016. "I love being a grandmother, though I live further away from my grandchildren now and don't see them as much as I used to," she said. Despite the distance, she said she hopes for Viva and Malcolm to "discover their passion" ... which apparently also involves a bit of grandma's inspirational activism.
Families that get arrested together, stay together it seems, as Fonda's grandkids were briefly arrested for "civil disobedience" during a climate change protest in November 2019. Similar to a graduation post, "The Grace and Frankie" star funnily shared on social media how "proud" she was of Viva and Malcolm for taking part in her "Fire Drill Fridays" (a environmental movement she launched inspired by Greta Thunberg) in Washington, D.C. "Greeting my grandson just leased after #FireDrillFriday arrest for civil disobedience. Proud grandma," Fonda wrote on Instagram, accompanied with a picture her running up to Malcolm with her arms outstretched. She also uploaded a separate post of her and Viva cuddling on the day. 
While Fonda temporarily put her own activism on pause due to filming commitments, we're sure her grandkids are stirring the pot — in the best way possible — behind the scenes.