Shia LaBeouf's Live Stream Shuts Down Amid Gunshot Reports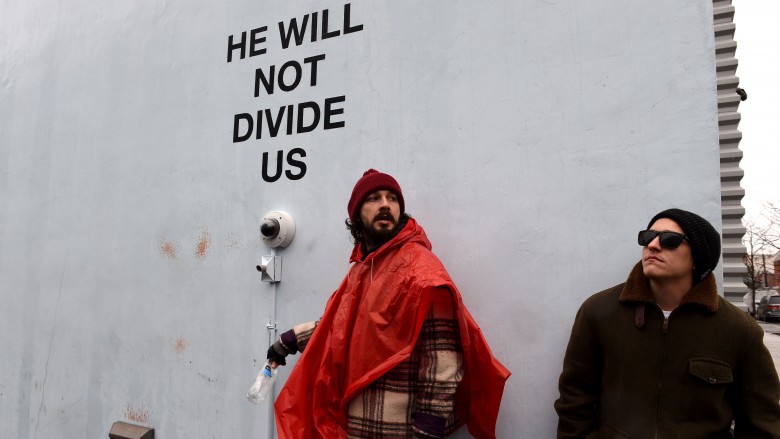 Getty Images
Shia LaBeouf has not had the best luck with his passion project, "He Will Not Divide Us." The American Honey (2016) star recently moved his embattled 24-hour live-stream installation from Queens, N.Y. to Albuquerque, N.M., but it's been shut down yet again.
As Nicki Swift previously reported, LaBeouf's Big Apple installation, in which he set up a camera outside the Museum of the Moving Image to promote unity under President Donald Trump's administration, was shut down on Feb. 10, 2017, after the museum declared it a "public safety hazard." A few scuffles had broken out at the installation, including one that ended with LaBeouf getting arrested.
LaBeouf, 30, moved the installation to New Mexico on Feb. 19, 2017, where it was damaged within three days of opening. The Albuquerque Journal reported that vandals took hot pink spray paint and wrote "Reject false idols. Do it!" over the "He Will Not Divide Us" logo on the wall of the Historic El Rey Theater. Someone also spray-painted the camera, though volunteers were able to clean it. On Feb. 23, problems at the installation intensified when gunshots were reportedly fired at or near the site. LaBeouf tweeted, "We have taken the stream down after shots were reported in the area. The safety of everybody participating in our project is paramount."
TMZ reported that police did not find anyone with a gun at the location and gave the all-clear for the installation to continue, but as of this writing, the live stream has not resumed.