The Truth About Jiggly Caliente From RuPaul's Drag Race
Dia Dipasupil/Getty Images
"RuPaul's Drag Race" has a fervent following. Now in its 13th season, the show has brought us countless memorable lines including, "this is not RuPaul's best friend race," "look at how orange you are, girl," and the iconic "go back to Party City where you belong." The series has also given us just as many memorable contestants. Who can forget Season 2 and 3's Shangela, Season 7's Trixie Mattel, Season 4's Sharon Needles, or Season 6's Bianca Del Rio? 
Another unforgettable character from the popular show is Jiggly Caliente, aka Bianca Castro, from Season 4. She came up with her stage name based on the Pokémon character Jigglypuff. "I dropped the puff, and I'm hot so Jiggly Caliente," she said (via LastFM). Now, Jiggly is making a return to the Werk Room for "RuPaul's Drag Race: All Stars" Season 6. It's been a decade since Jiggly did her part in putting the now-iconic show on the map, per Screen Rant. In that time, she's appeared on several television shows, including a recent stint as Veronica on FX's "Pose."
What else has Jiggly been up to? Keep reading to find out.
Jiggly Caliente is committed to being true to herself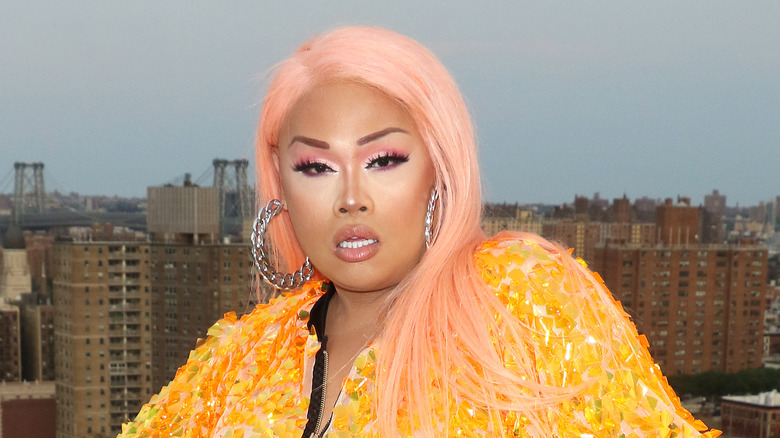 Jim Spellman/Getty Images
Jiggly Caliente came out as transgender in 2016 and has taken a different approach to her post-reality show fame. In an interview with Billboard in 2018, she talked about leaving her reality show-created persona behind, coming out, and Filipina representation. "I want to make sure that my fans get the 100 percent real me, instead of a produced version of me that was made for TV," she said.
Jiggly has branched into new mediums, too. She released her debut album, "THOT Process," in 2018. She took six years to get it out into the world. "You know, I could have easily done the super Auto-Tuned, typical drag tracks. Talking about your hair, your drag ... all of that," she said. "...I wanted to make sure that I was true to myself. If I was going to put out an album, I needed it to be me."
In 2020, Jiggly co-hosted "Translation," the first talk show with an all-trans cast. The show also featured former "RuPaul's Drag Race" contestants Peppermint, Sonique, and Carmen Carrera talking about dating, politics, and other topics and how they related to their identities as transgender. Jiggy is also excited to get back to the series that put her on the map. She took to her Instagram account to share the news about  "RuPaul's Drag Race: All Stars," writing, "Did someone order a GLOW UP? I'm back for another chance at the crown ... Second chances are paramount, and I'm ready to RISE to the runway! Philippines!!!"