Who Is Peter Vigilante From Too Hot To Handle?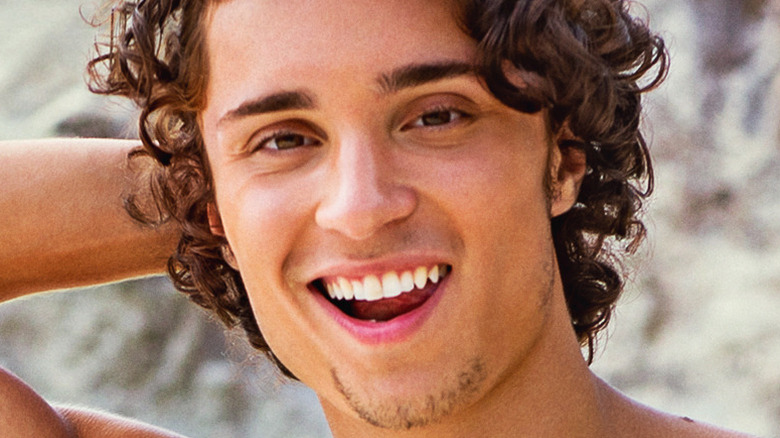 Netflix
While we're all still patiently waiting for a second season of "Love Is Blind," another Netflix dating show that sprung up in the wake of COVID lockdowns is coming back for Season 2: the painfully sexy "Too Hot to Handle." Ten new hot, horny singles are about to embark on a tropical vacation filled not with eroticism, but with emotion.
The idea of the show is to get these people, who focus primarily on looks, to realize there is more to fostering a connection with someone than meets the eye. These hot young catches will have to resist temptation or risk losing out on prize money, instead having to get to know each other the old fashioned way: through conversation.
One contestant, Peter Vigilante, claims conversation is already how he seals the deal. "The moment I talk to a girl, they just fall in love with me," he said in his promo for the show. So what is it about Peter that makes all the ladies swoon? Keep reading to find out!
Peter is a young personal trainer who loves to show off
According to People, Peter Vigilante is a 21-year-old personal trainer from Staten Island, N.Y. Peter is what some might consider a "short king," but what he lacks in size he claims to make up for in bravado. In his promo for the show, he revealed, "I'm about 5'8" but I think my confidence makes me about 6'2.""
Peter is also a self-proclaimed influencer, boasting 2.2 million followers on TikTok. "Most of my content is thirst-trapping," he said in his promo. "One day I decided to order a [stripper] pole," he continued. "It's always a great conversation starter if you have a girl over and they're like, 'Why is there a stripper pole in here?' and ... let me show you." The dancing and thirst-trapping seems to be working well for Peter, as People reports he receives between 100 and 200 DMs every day. In addition to his plethora of shirtless TikToks, Peter also has an OnlyFans, where you can access exclusive content for $30 a month.
Peter clearly likes to get around ... so how will he handle a totally sexless summer? We'll just have to wait and see.