How Chadwick Boseman's Brother Is Honoring Him In A Special Way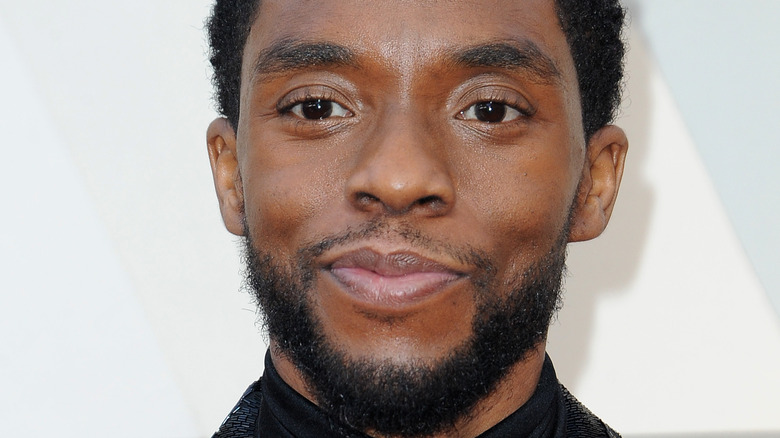 Shutterstock
Chadwick Boseman's brother, Kevin Boseman, is honoring the late actor with something very special. Chadwick tragically died in August 2020 after being diagnosed with colon cancer in 2016, but chose not to share his diagnosis with the world. The Hollywood Reporter claimed Chadwick only chose to share his health issues with "a handful" of people who were not family members.
Less than two months after Chadwick's death, Kevin confirmed that he too had previously been diagnosed with cancer but had been in remission for two years following four rounds of chemotherapy. "I wanted to share because while it's been a year of profound loss and tragedy for so many of us, this is good news. Something to smile about. Something to shout about," he wrote via a series of Instagram Stories in October 2020 (via The Grio).
"Cancer is something most of us have no control over," Kevin continued. "We can only control our responses to it, which includes being proactive about our healthcare both physically and mental."
Kevin is now revealing the touching way he's remembering his late brother while also raising money for a very important cause. Scroll on for the details.
Kevin Boseman danced for his 'hero,' Chadwick Boseman
Kevin Boseman returned to the stage to dance in honor of his brother as part of New York's Dance Against Cancer Outside event, which was held on June 21 to raise money for the American Cancer Society. Per PopSugar, Kevin danced a piece titled "A Tribute to Our Heroes," which was "dedicated to medical professionals, educators, mentors, and the heroes lost to cancer," including Chadwick Boseman.
Kevin took a break from dancing for 20 years before the performance, but explained because of his own cancer journey and what his "family has endured with cancer" it felt like the right time to dance again. He revealed that it was actually one of the Dance Against Cancer cofounders who asked him to dedicate the piece to Chadwick.
"I know many people saw him as a hero. I certainly did, but not because of his work as an actor or his battle with cancer. Although anyone fighting cancer is a hero," Kevin said of his brother. "He was a hero to me because he was courageously fearful. I can't recall a time when he didn't stand up to his fears and proclaim victory over them."
Kevin also urged others to get checked and take their health seriously. "Cancer is ferocious but early detection and early treatment can save your life, so don't ignore any significant changes in your health and absolutely stay on top of those regular checkups and screenings," he said.