What You Didn't See On TV At The 2017 Oscars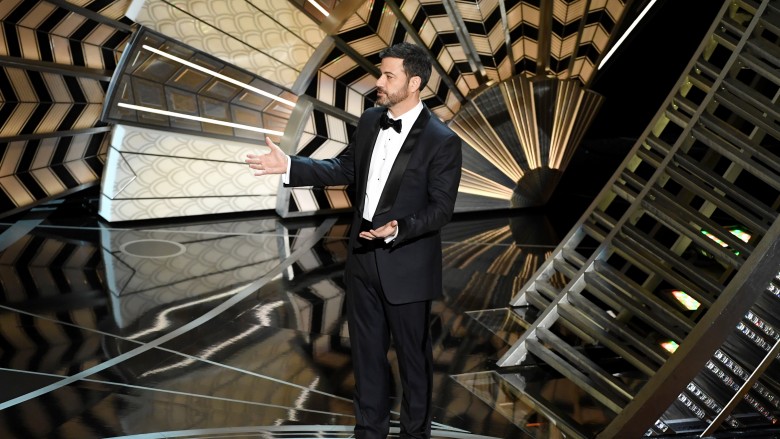 Getty Images
The 2017 Academy Awards telecast was full of memorable moments like the power speeches from Viola Davis and Asghar Farhadi's acceptance surrogate, host Jimmy Kimmel's many Donald Trump and Matt Damon jokes, and Ryan Gosling's meme-able reactions to being reunited with his Mickey Mouse Club alum Justin Timberlake. But there were still quite a few behind-the-scenes moments you might not have caught from the show, like you know, that ending. Here's what you didn't see at the Oscars this year.
A second Best Actress envelope allegedly caused the biggest flub in Oscars history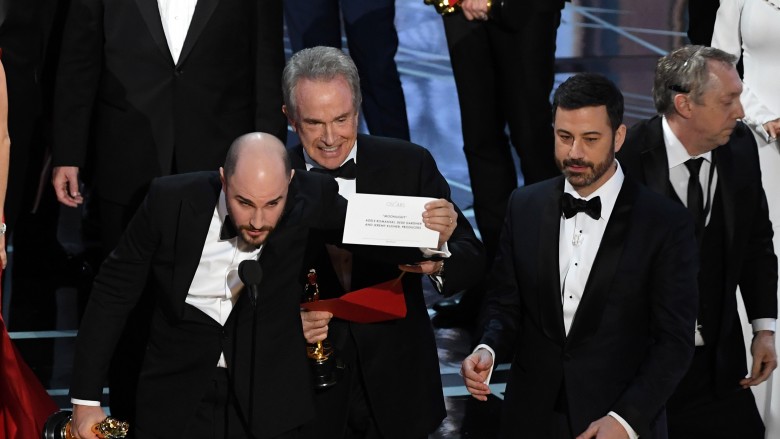 Getty Images
Undoubtedly the buzziest moment of the evening happened at the tail end, when La La Land was announced as Best Picture, and, as its producers issued their thanks, the production team and members of PriceWaterhouseCoopers rushed the stage to correct the mistake, at which time the movie's producer joined presenter Warren Beatty in correcting the mistaken read (note: it was co-presenter Faye Dunaway who'd actually read the card).
As it turned out, Beatty and Dunaway had been handed the card for Best Actress in a Leading Role rather than Best Picture, and the night's biggest award was actually due to Moonlight. Some speculated that the mistake must've happened after Best Actress presenter Leonardo DiCaprio left the stage, since he'd held onto Emma Stone's card while onstage, but behind-the-scenes footage of the event shows that he gave it to her backstage.
Stone herself refuted that theory in the post-show presser, saying, "I f**king love Moonlight. God, I love Moonlight so much. I'm so excited for Moonlight. And of course it was an amazing thing to hear La La Land. I think we would have all loved to win Best Picture. But we are so excited for Moonlight. I think it's one of the best films of all time. So, I was pretty beside myself. I also was holding my Best Actress in a Leading Role card the entire time, so whatever story that was — I don't mean to start stuff, but whatever that was, I had that card. So, I'm not sure what happened."
Others now speculate that because the vote accounting firm does make two copies of each card, the second copy of Stone's must have been slipped into the pile by accident. According to USA Today, a stagehand immediately recognized Beatty's error and encouraged correction, which is what started the source of commotion on-stage behind the producers' speeches, but it was too late by then.
The stage literally crashed down before the show
Getty Images
A few hours before the show began, a giant portion of the stage props came crashing down on the stage during rehearsals. Per TMZ, the prop fail happened around 11:30 a.m., just six hours before the event's start time, when a piece of the skyscraper backdrop fell down on the stage. Luckily, no one was on-stage or injured by the spill, and the props were promptly replaced and did not impact the flow of the show. Phew!
Celebs wore ACLU support ribbons on the red carpet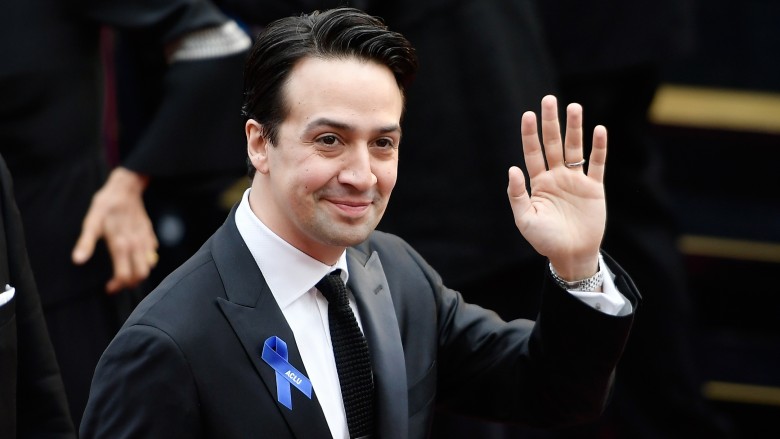 Getty Images
In a year when politics were at peak levels of ubiquitousness during the opening monologue, presentations, acceptance speeches, and more, it's probably not too surprising to hear that the costuming choices were also impacted by the political climate of the time. Celebs like Best Supporting Actress nominee Ruth Negga, model Karlie Kloss, performer Lin-Manuel Miranda, and actress Busy Philipps all sported blue ribbons to show their support for the American Civil Liberties Union (ACLU) on the red carpet. A smaller subtler statement than others that would later follow, sure, but a significant one nonetheless.
One actress accidentally showed her nethers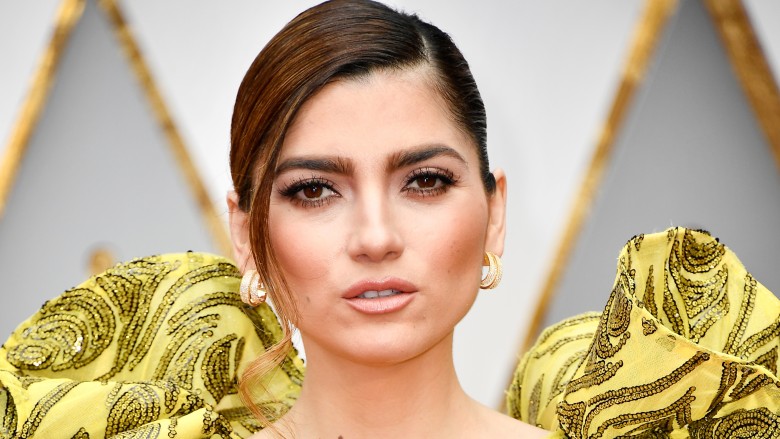 Getty Images
Actress Blanca Blanco stunned on the red carpet for more than just her eye-catching mustard gown with popped shoulders and floral embellishments. The actress accidentally gave photographers a peek at her privates while posing on the press line when the ultra high slit of her dress exposed her undergarment-free nether region. The wardrobe malfunction reportedly left the actress red-faced and embarrassed after the slip, however, her embarrassment did not prevent her from re-posting pictures that showed her accidental exposition on Instagram.
Riz Ahmed's suit had people fancasting his next role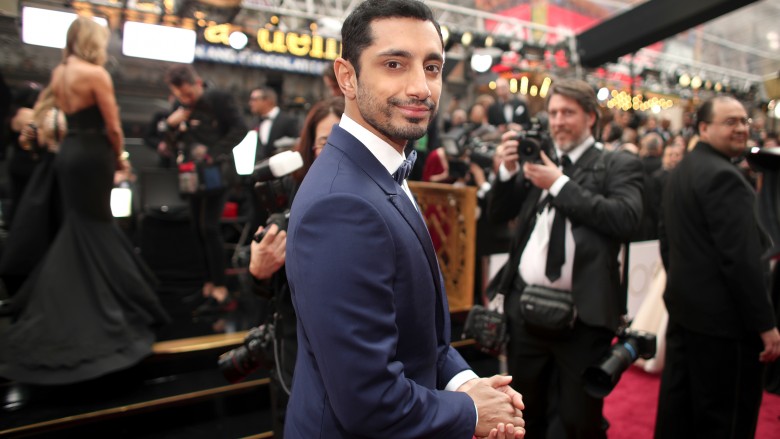 Getty Images
The Night Of and Rogue One star Riz Ahmed was but one of several celebrities to rock a solid blue suit tonight (he was joined in sartorial solidarity by Dwayne "The Rock" Johnson, Chris Evans, and Michael Strahan), but he was the only one whose style choice for the evening had people pitching his next major role on the digital sphere. Thanks to his electric blue get-up, fans had him pegged for everything from the next Doctor in BBC America's Doctor Who (the color did resemble the Tardis, after all) to the next James Bond, thanks to his ability to rock the frock. Given his career trajectory of late, neither is an impossible feat for the breakthrough star.
Pharrell Williams got a belated baby gift for his new triplets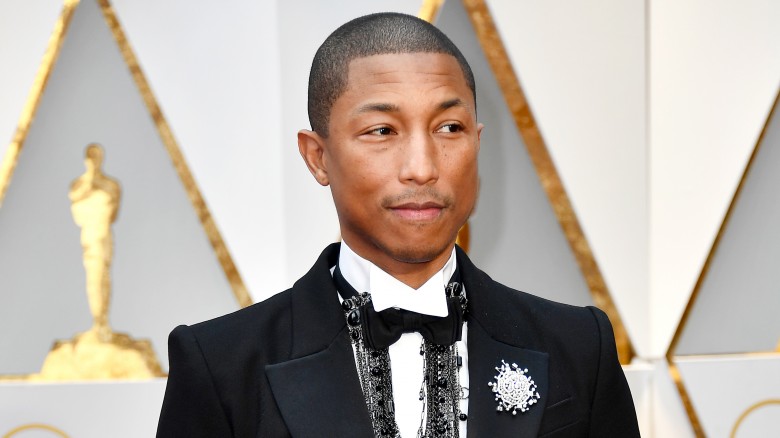 Getty Images
Musician and Hidden Figures producer Pharrell Williams was surprised on the red carpet with a belated baby gift for his recently-born triplets with wife Helen Lasichanh from E! News red carpet correspondent Ryan Seacrest. Williams was gifted with a trio of hand-knit rocket ships as a tribute to his participation in the film, which celebrates the hidden figures of NASA. He seemed genuinely surprised, and touched, by the gift, which Seacrest said would be mailed to his home so that he didn't have to carry them around all night.
Jackie Chan brought pandas for the best reason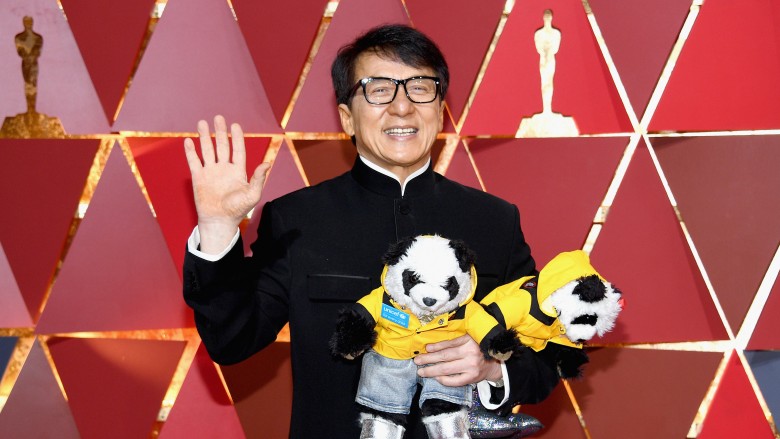 Getty Images
With a whopping 250 films under his belt, you might think there's nothing left to learn about martial arts superstar Jackie Chan, but the Governor's Award honoree brought along a pair of stuffed pandas as his red carpet dates as a show of support for the Chengdu Giant Panda Research and Breeding Base, for which he's served as ambassador since 2009. He told Entertainment Weekly that he intended to auction off the two panda pets, lovingly dubbed Chan La and Chan Zy, for the benefit of conservation efforts.
Justin Timberlake was a photobomber extraordinaire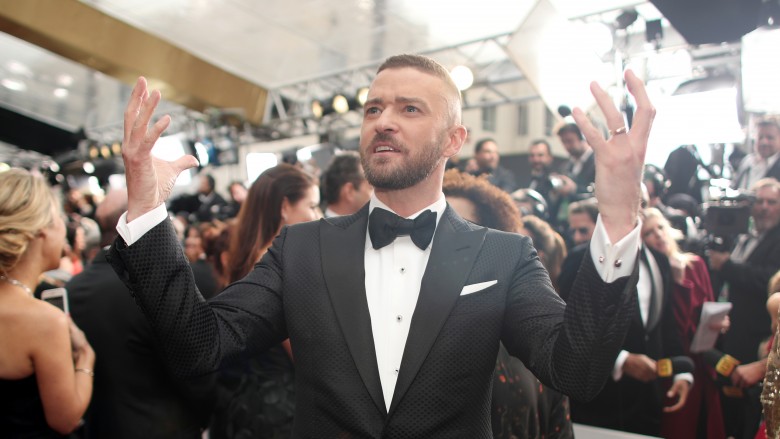 Getty Images
Justin Timberlake, performer and nominee for Best Original Song for his Trolls track "Can't Stop the Music," was all over the plate when it came to the photo ops. Not only did he seize an opportunity to jump behind his wife, Jessica Biel, during her solo photo sessions, but he also stepped in during press time for La La Land star Emma Stone in creepy fashion and stole the GIF MVP win for the night.
The Moonlight kids were dabbing on the red carpet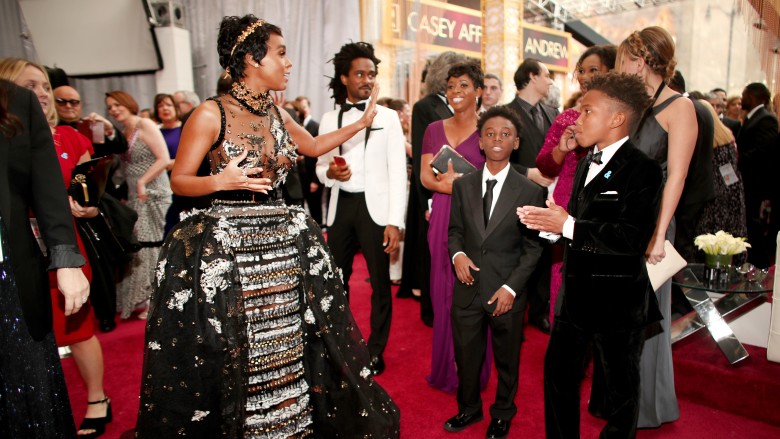 Getty Images
Moonlight's youngest stars, Alex Hibbert, Jaden Piner, and Ashton Sanders, were captured in a fun moment where they celebrated their film's nomination for Best Picture and several other prizes by moving and grooving on the red carpet. The trio might not have been nominated in the individual categories like costars Mahershala Ali (who won for Best Supporting Actor) and Naomie Harris, but they were obviously not bothered one bit.
'Hidden Fences' happened again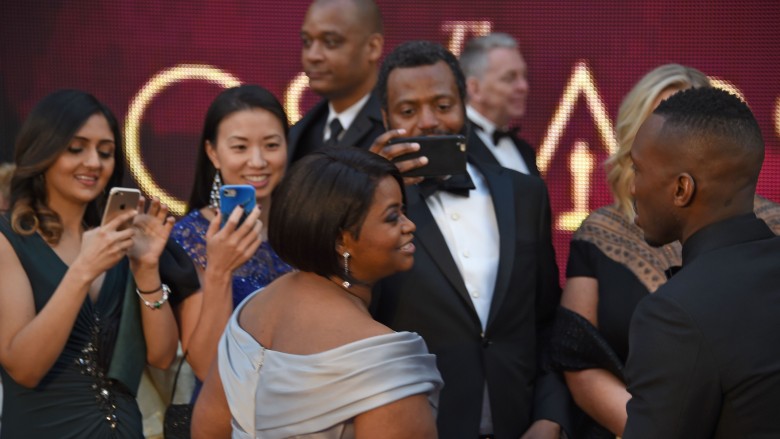 Getty Images
You'd think red carpet hosts would have learned their lesson about the fact that there's no such movie title as "Hidden Fences" after Jenna Bush's cringeworthy moment with Pharrell at the Golden Globes pre-show, but nope. Jess Cagle, editor-in-chief of People and red carpet correspondent for this evening's events, accidentally referred to "Hidden Fences" while discussing the diverse array of nominated pics this evening — though he quickly corrected himself to rightly refer to Hidden Figures, which he'd accidentally combined with fellow Best Picture nominee Fences.
The costu-memes were fierce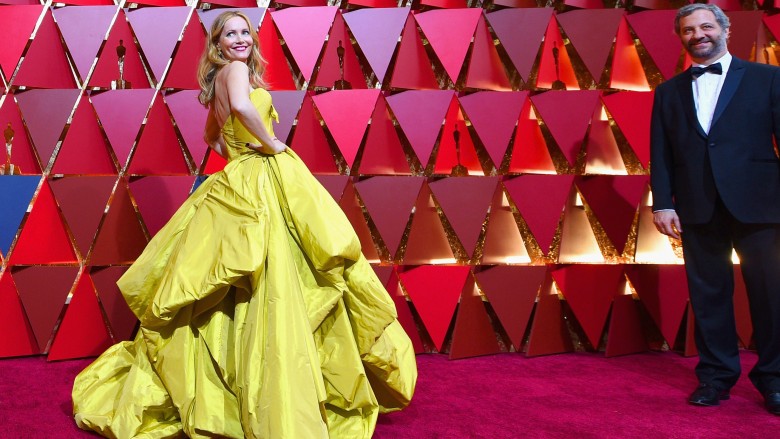 Getty Images
Anytime the celebrity costumery is as wild and elaborate as it was with tonight's Oscar attendees, there were bound to be some fashion-centric memes, and this year, there were comparisons aplenty. The fringed neckline on Jessica Biel's gold KAUFMANFRANCO gown had Twitterers convinced she was doing a Lion (or even The Lion King) tribute, while Halle Berry's wild curls drew comparisons to Allegra's Window. The cartoonishness didn't end there, either, as comedic actress Leslie Mann practically wrote her own jab lines by wearing a dress that was clearly inspired by Belle from Beauty and the Beast.
Posthumous commercials were gutting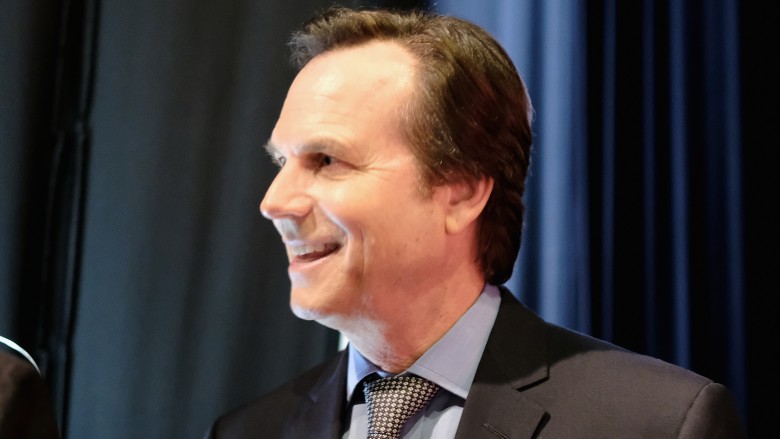 Getty Images
The unexpected passing of Titanic star Bill Paxton was a grim enough damper on the evening, but when he then appeared in a film-centric montage ad for Rolex, it was a total bummer for some. Meanwhile, scientist Millie Dresselhaus was at the center of an advertisement challenging citizens to give more celebrity status to achievers in science, and, unfortunately, she'd also just passed away a few days before the show.
Suicide Squad's win sparked a thousand "more Oscars than" jokes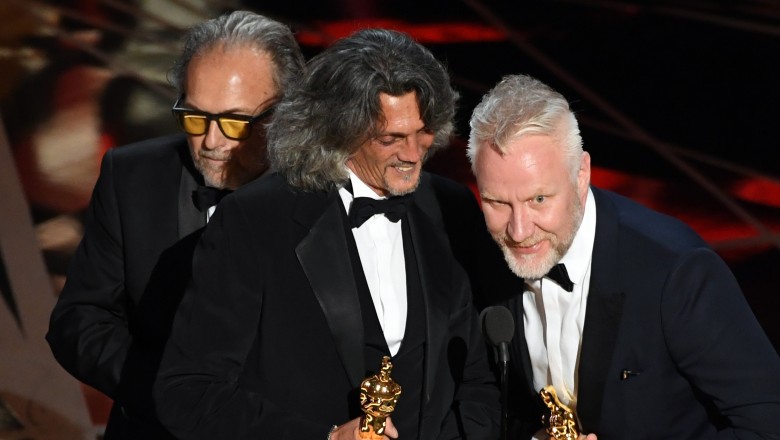 Getty Images
You might not expect a critically-panned, commercially ho-hum antihero pic like Suicide Squad to win an Oscar, but it defied all expectations and earned its makeup and hairstyling team — Alessandro Bertolazzi, Giorgio Gregorini, and Christopher Allen Nelson — an Academy Award. The shock factor that surfaced on social media immediately after the surprise win was palpable, and many Twitterers commenced in comparing Suicide Squad's status as an Oscar-winner to those nominees which don't share in that honor, like oft-nominated actresses such Amy Adams, Annette Bening, and even legendary director Alfred Hitchcock. Now, that's a joker for the ages.