Inside The Death Of Comedian Jackie Mason
Michael Brennan/Getty Images
Jackie Mason, longtime actor and stand-up comedian, has died at 93, his friend and lawyer Raoul Felder confirmed to The New York Times on July 24. Mason leaves behind his wife, Jyll Rosenfeld, as well as a daughter, Sheba, who he shared with playwright Ginger Reiter.
Mason's cause of death has not been confirmed as of this writing, but Felder did confirm to the Associated Press that the comic died in a Manhattan hospital after a two-week stay. Rosenfeld and Sheba have yet to address his death publicly, however, plenty of tributes have poured in, including a tweet from comedian Gilbert Gottfried. "One of the best," he wrote alongside a photo of the pair. "The Simpsons" executive producer Al Jean paid tribute too, writing, "We will very much miss Jackie Mason."
Following Mason's death, the public has been looking back on both his career and the controversy that seemed to constantly follow it.
Jackie Mason was known for comedy and controversies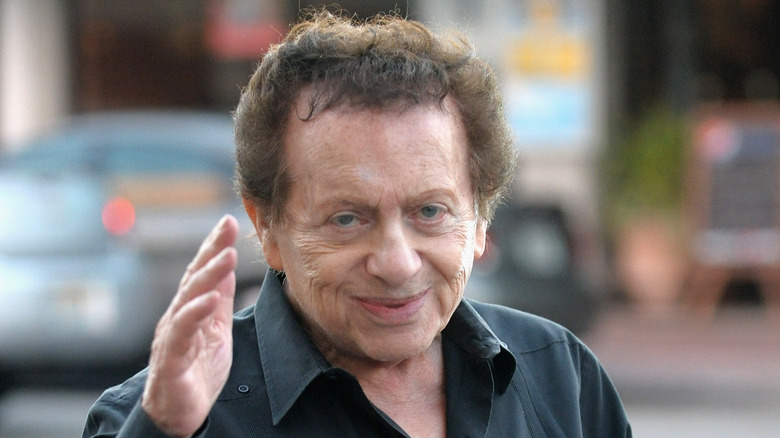 Gustavo Caballero/Getty Images
Jackie Mason was born in Sheboygan, Wisconsin, in 1928, as Jacob Moshe Maza. Known for his roles in 1979's "The Jerk" and 1988's "Caddyshack II," Mason earned two Primetime Emmy Awards — one for "Jackie Mason: The World According to Me," and a second for being the voice of Rabbi Krustofsky (Krusty the Clown's father) on "The Simpsons."
"The truth is I'm not at all surprised of the longevity of my career," he told The Times of Israel in 2016. "In fact, I would be surprised if the opposite were true and if my career did not have this longevity because I can't believe people would purposely deprive themselves of such hilarious meaningful entertainment at these prices." 
Throughout his career, Mason became known to flaunt "politically correct norms, especially regarding race and sexual preferences," as The Hollywood Reporter reflected in 2015. In 1964, Mason was fired by Ed Sullivan for making "obscene gestures on-camera," per The New York Times. Throughout his life, he was a staunch supporter of the state of Israel, which, predictably, won him both fans and critics. Perhaps it shouldn't be surprising to find out that when asked by the Independent to sum up his life in six words, he felt "truth" and "honesty" were fitting. He also threw in "humanity, compassion, love," and "cash."