What Really Happened With That Awkward Oscars Mix-Up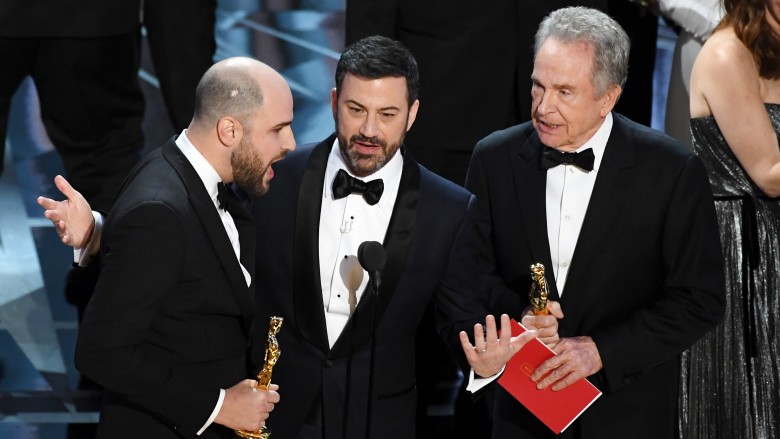 Getty Images
After a night of mostly predictable winners, the 2017 Oscars ended with arguably the biggest mix-up in the Academy Awards' 89-year history: the wrong best picture winner was announced. Just how in the you-know-what could that have possibly happened? Let's investigate.
First, here's what went down on stage
By the end of the night, all signs were pointing to La La Land to win best picture, and for a moment, it did. After a bit of an awkward delay, presenter Warren Beatty handed the assumed best picture envelope to his Bonnie and Clyde (1967) co-star, Faye Dunaway, who declared the 14-times-nominated musical the big winner.
But then something awkward, strange, and historic happened: as the film's producers were dishing out their thank-yous, a number of telecast producers, as well as Martha Ruiz of the accounting firm PricewaterhouseCoopers, stormed the stage, leading to chaos and confusion behind the microphone. Moments later, La La Land producer Fred Berger gave the first real signal to the audience that something terrible had happened. "We lost, by the way," he said.
Co-producer Jordan Horowitz then stepped up to the mic to clarify the situation. "Guys, guys, I'm sorry. No. There's a mistake," he said. "Moonlight, you guys won best picture." As an entire auditorium of jaws dropped, Horowitz continued, "This is not a joke. Moonlight has won best picture." He then ripped a card from Beatty's hand and held it up for the cameras to zoom in on. Yep, the card did indeed name Moonlight as the star of the show.
Here's the official response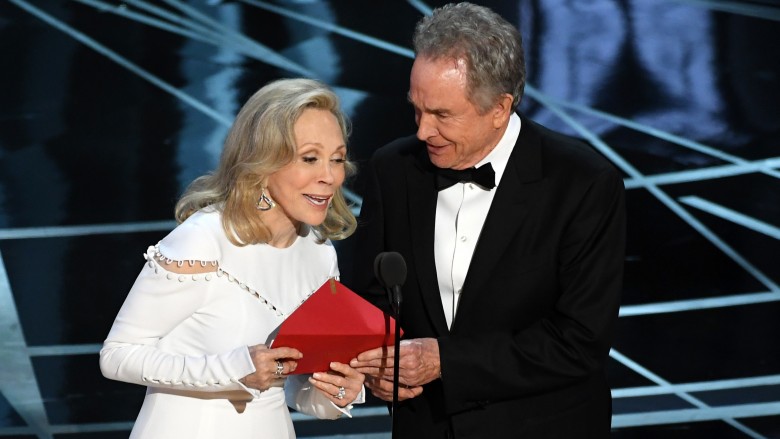 Getty Images
As the team from Moonlight awkwardly approached the stage, viewers began to speculate if Beatty had fallen victim to a senior moment, or worse, an Elizabeth Taylor-style impairment on live TV. Perhaps to prevent himself from becoming the laughing stock of Hollywood, Beatty quickly approached the microphone to explain, in his words, what had happened. "I opened the envelope and it said, Emma Stone, La La Land," Beatty said. "That's why I took such a long look at Faye, and at you. I wasn't trying to be funny." In other words: he claimed he was handed the wrong envelope.
Slowly but surely, as the night creeped into the morning, Beatty's story checked out. ABC News tweeted a photo of Beatty on stage holding an envelope that reads, "Actress in a Leading Role." Others began tweeting reports that PricewaterhouseCoopers prints two sets of envelopes each year that are kept on either side of the stage, for security reasons and because presenters enter from opposite sides.
Within a few hours, PricewaterhouseCoopers officially came clean, releasing a statement (via Variety) that basically apologized to everyone and their mother. "We sincerely apologize to Moonlight, La La Land, Warren Beatty, Faye Dunaway, and Oscar viewers for the error that was made during the award announcement for Best Picture," the statement read. "The presenters had mistakenly been given the wrong category envelope and when discovered, was immediately corrected."
An investigation is launched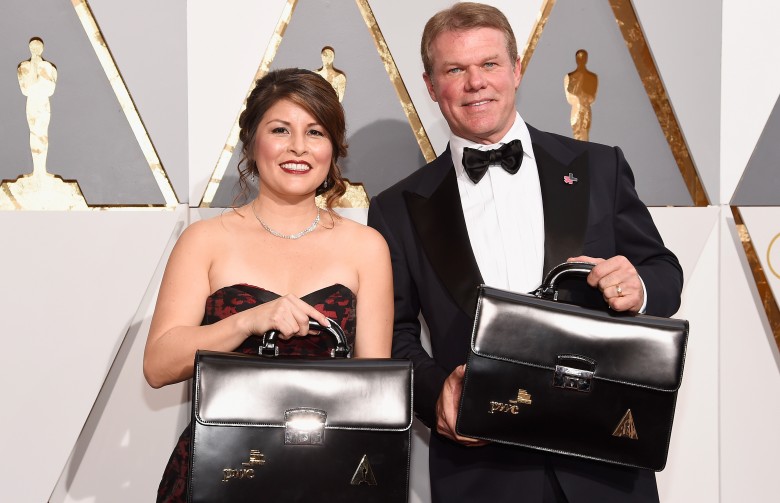 Getty Images
As the pieces began to fall into place in real time, it was tough not to imagine that the poor schmuck who handed Beatty and Dunaway the wrong envelope had already lost his or her job or was, at the very least, getting screamed at by one of the show's producers backstage. We can hear it now: "You had one job!" While it's unclear if any reprimands will actually be delivered, PricewaterhouseCoopers did say in its statement that an investigation was underway to determine "how this could have happened." The statement concluded, "[We] deeply regret that this occurred." So, yeah: somebody's probably getting in trouble as we speak.
Everyone in the audience was confused
Getty Images
If you thought watching the mix-up unfold from the comfort of your couch was confusing, try being in the room where it actually happened. Deadspin obtained some epic reaction shots from inside the Dolby Theater, recording stars such as Meryl Streep, Charlize Theron, and Warren Beatty's sister, Shirley MacLaine, reacting in shock and horror.
The mix-up continued to be the talk of the evening as celebs headed to their respective after-parties. "That was just so bizarre. So awful," nominee Nicole Kidman told E! Online. "I can't imagine what they were thinking up there. I feel so bad, but, you know, things do happen. We're human and mistakes happen." Actress Busy Philipps added, "I was sitting next to Ben Affleck—I don't even know him—and I grabbed him and I was like, 'You have to do something. Go get them!'"
Best actor nominee Andrew Garfield put it this way to E! Online: "We all make mistakes all the time, so there's something incredibly beautiful about seeing it on stage. There was something quite beautiful about seeing a mistake on such a mass scale. That's what's so human about that: There was something wonderful about the inescapable humanity, and I'm very, very happy for Moonlight. It's a beautiful film, and a film for our times."
Chaos unfolded backstage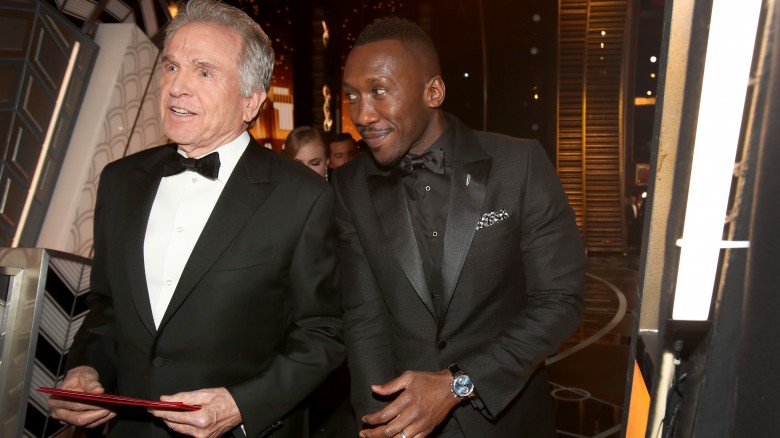 Getty Images
The Los Angeles Times reported a jaw-dropping account of what went on backstage as people quickly began to realize Dunaway had announced the wrong best picture winner. "As the La La Land cast was taking the stage to celebrate, a stagehand in the wings said, 'Oh...Oh my god, he got the wrong envelope,'" the Times reported. "They walked back and forth repeating it."
"Stagehands, actors, production crew and journalists were stunned," the Times said. "Oscars producer Michael De Luca was peering into his monitor, trying to figure it out. Champagne glasses sat on the table next to him. They had been poured moments earlier to celebrate a good show...Stage manager Gary Natoli came running past...saying, 'Warren is holding on to the envelope. He will not release it.'"
Can you imagine? Suddenly, our anxiety levels just went up to 11.
Both films handled the mistake with grace and class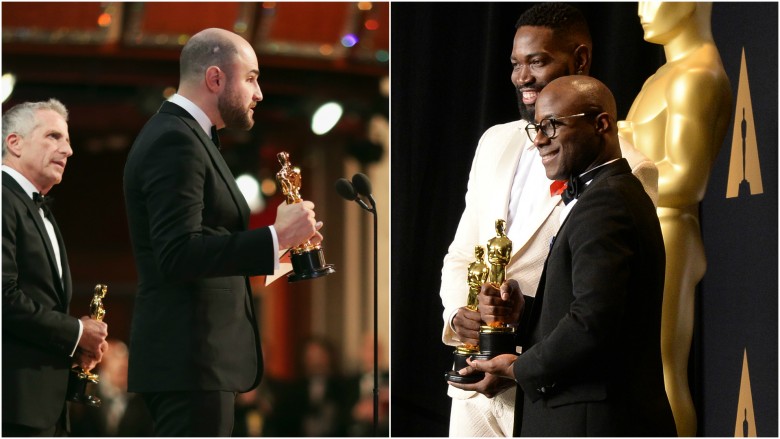 Getty Images
The producing team from La La Land had every right to be angry at Beatty, Dunaway, and the Academy for the mix-up, but at least in front of the cameras, the filmmakers handled the gaffe in arguably the best possible way. As host Jimmy Kimmel tried to pull the "Hey, why can't both movies win?" card, La La Land producer Horowitz said into the microphone,"I'm gonna be really proud to hand this [Oscar] to my friends form Moonlight."
Moonlight director Barry Jenkins, who also won an Oscar for best adapted screenplay, handled the situation in similar fashion backstage, telling reporters (via Us Weekly), "Things just happen, you know. I will say I saw two cards, and so...things happen. I wanted to see the card...[Beatty] came upstairs and he walked over to me and he showed the card."
Beatty isn't taking the blame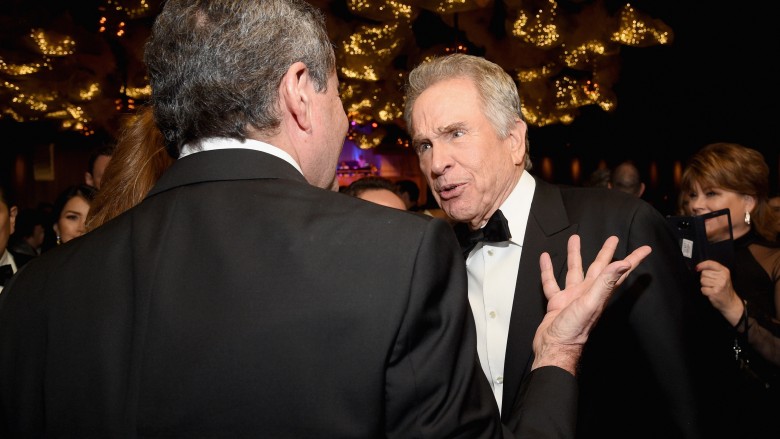 Getty Images
Whatever fallout results from this shocking incident, one thing remains crystal clear: Beatty is refusing to shoulder any of the blame. "I don't know anything...I don't think anyone knows. I've asked and I haven't got an answer," he told reporters (via People) after the ceremony. "I read the card that was in the envelope," he added. "I read it but I didn't say La La Land. I thought, 'This is very strange because it says Best Actress on the card.' And I felt that maybe there was some sort of misprint." He continued, "As planned, I gave it to Faye. And that's all I want to say on the subject." According to TMZ, Beatty further proved his point by actually bringing the wrong envelope with him to the Governors Ball after the show.
Marisa Tomei finally gets vindicated
Getty Images
For decades, an urban legend has haunted the Academy Awards, claiming that presenter Jack Palance read the wrong name when presenting Marisa Tomei with the best supporting actress Oscar in 1993 for her role in My Cousin Vinny. Some industry insiders, critics, and fans found it unfathomable that the firecracker from Brooklyn bested four esteemed international actresses to win such a monumental award. Clearly, it must have been a mistake, the conspiracy theorists allege.
Ever since, many people, including, ironically, those from PricewaterhouseCoopers, have tried to put an end to the Tomei talk, arguing that the mistake would have been quickly corrected had it actually occurred. Like, you know, what happened with La La Land and Moonlight. Consequently, we can now argue that the 89th Oscars proved Tomei truly did win her golden statuette, and conspiracy theorists can stop trying to pretend otherwise. Somewhere, somehow, we hope Tomei is finally having her Jennifer Aniston moment.
Miles Teller threw some shade at La La Land
Getty Images
When it comes to the internet's two favorite subjects, drama and shade, the best picture mix-up has proved to be the gift that keeps on giving. For example, in his only Tweet of the evening, actor Miles Teller curiously gave a shout-out to Moonlight after it was declared the real best picture winner. Normally, that would seem like an innocuous tweet. However, as you might recall, Teller reportedly had a big beef with La La Land and its director, Damien Chazelle.
According to Teller's 2015 interview with Esquire, while Chazelle and Teller were filming Whiplash (2014), the director allegedly offered him Ryan Gosling's part in La La Land. Then, without explanation, things allegedly fell apart. "I got a call from my agent, saying, 'Hey, I just got a call from Lionsgate. Damien told them that he no longer thinks you're creatively right for the project. He's moving on without you.'"
Reports have since come out claiming Teller and La La Land's other would-be star, Emma Watson, were dropped from the film for being too difficult, a claim Teller denied. Either way, depending on how you read it, his tweet says a lot more than 140 characters.