Model Tess Holliday Shares Emotional Photo, Talks Pressures Of Motherhood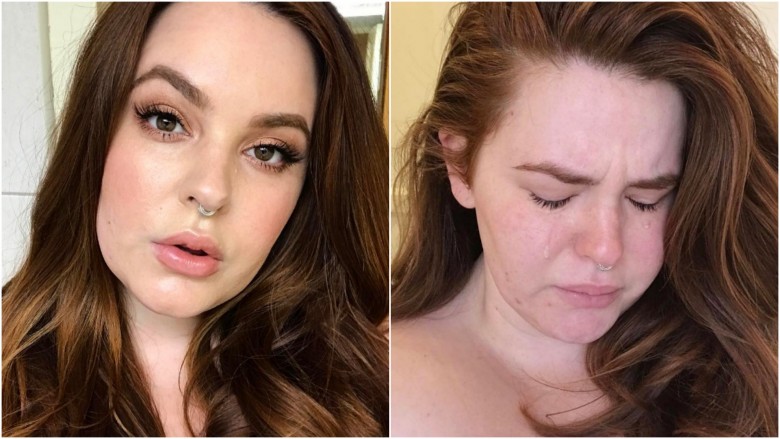 Tess Holliday just got real with her 1.4 million Instagram followers.
The plus-size model shared a selfie on Feb. 26, 2017 with an honest look into her life as a mother. In the photo, a barefaced Holliday cries. In the caption, she writes, "This is the reality of being a mom." She goes on to reveal her struggles as a mother, barely getting any rest while trying to care for her young son, Bowie Juniper Holliday. But, while she's usually able to smile through the struggle, her confidence on this particular day took a hit.
Holliday, 31, writes: "The pressure of 'looking good' for a living is too much today. When your face is breaking out from the hormones of breastfeeding + total exhaustion from lack of sleep, bags under your eyes, patchy red skin & to top it off no energy to work out or leave my bed...how do you do it? How do you feel confident in your skin & feel like you aren't letting the client down by showing up exhausted & disheveled?"
She finishes her post by wishing that society would accept mothers as "flawed human beings" and adding the hashtag, "#disruptperfectmomsyndrome."
Holliday is no stranger to opening up about societal pressures on social media. In 2015, she gained popularity with the hashtag #EffYourBeautyStandards, which she used to celebrate her body as well as those who don't necessarily fit into what's presented as ideal. She told the The Huffington Post, "I created the hashtag [#EffYourBeautyStandards] because I was tired of being told what I could and couldn't wear by the media and how I should cover my body because of my size." She also created an Instagram account of the same name, which has amassed over 340,000 followers.