How F9 Pays Tribute To Paul Walker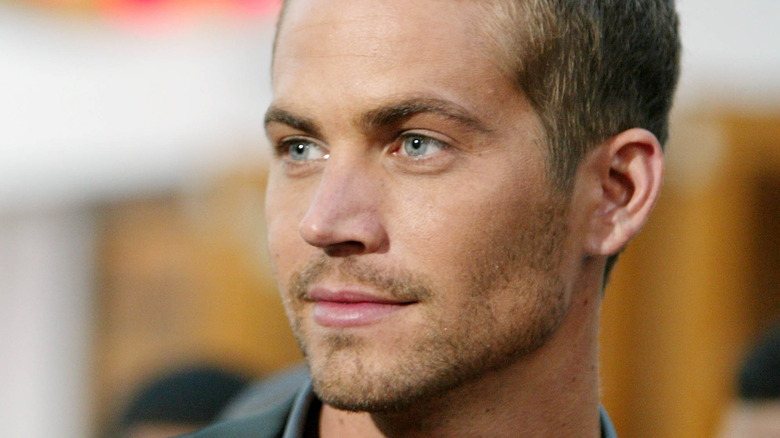 Christopher Polk/Getty Images
When Paul Walker died in a shocking car accident in 2013, fans of the massively successful "Fast and Furious" franchise, of which Walker was a principal star, mourned his loss and wondered where the series could be headed. At the time of his death, the seventh installment of the franchise, "Furious 7," had not wrapped shooting, with several more Walker scenes — as his character Brian O'Conner — to complete, Screenrant reported. Brian, after all, was the heart of the film's plot, with him and Jordana Brewster's Mia Toretto wrestling with the conflicting worlds of fast-flying race car antics and starting a family. After a four-month mourning period, Universal Studios announced the film would resume shooting in March 2014 using Walker's brothers Caleb and Cody to act as his stand-ins in addition to employing some fancy CGI footwork. "We came together and all felt the only choice was to continue. We believe our fans want that, and we believe Paul would want that too," Universal's press release read (via Collider), adding that they have now inducted Caleb and Cody "into our Fast family."  
With the tear-jerking emotional tribute to Walker in the changed ending of "Furious 7" (which his character survived), fans now wonder if Walker will somehow make a cameo again. Enter "F9" — here's how the "Fast family" is honoring Walker in the ninth and latest installment. 
"Fast and Furious" fans shouldn't rule out another Paul Walker 'cameo'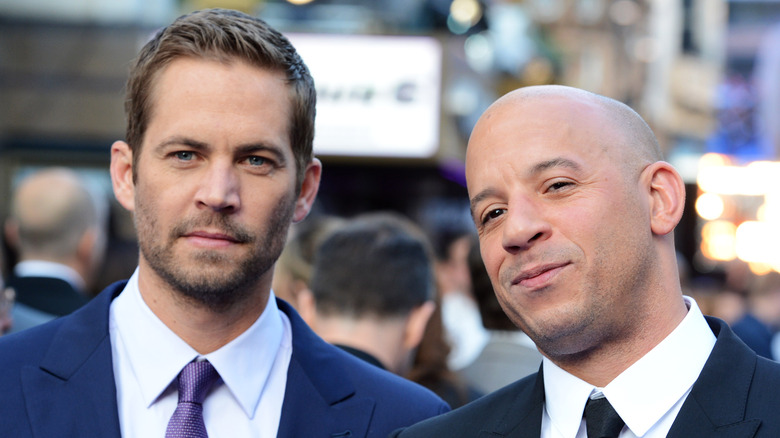 Dave J Hogan/Getty Images
With Vin Diesel's Dom Toretto viewing a home video of Paul Walker's Brian O'Conner in a trailer for June's "F9: The Fast Saga," fans have been driven mad about how the "Fast" franchise may continue incorporating Walker. As ET Online learned, Walker will make a "cameo" at the very end of the film. (Spoiler alert!) When Dom and the crew gather for dinner after all the vehicular drama, Jordana Brewster's Mia Toretto instructs him to leave a seat empty ... as Brian "was on the way." Rivaling the emotional pull of "Furious 7's" ending, the scene then sees a blue GT-R, Brian's signature car, pulling into the driveway. 
Director Justin Lin, who helmed five of the "Fast" films, told ET about Walker's inclusion, "He's so special I know to me personally and to all the fans ... it's something that we don't take lightly." He added, "I'm proud and I'm so happy that Brian O'Conner is still a part of the universe." Rapper-actor Ludacris, who plays the fan-favorite Tej Parker, noted that Walker's brothers Caleb and Cody — as well as daughter Meadow — have constant input. "They are the ones that are spearheading and signing off on all the ideas," he said. "So it's really about being close with his family."
Diesel even teased to ET that Meadow may carry on her father's legacy in the next sequel; "Let's just say nothing's ruled out."