The Truth About Mina Starsiak Hawk's Husband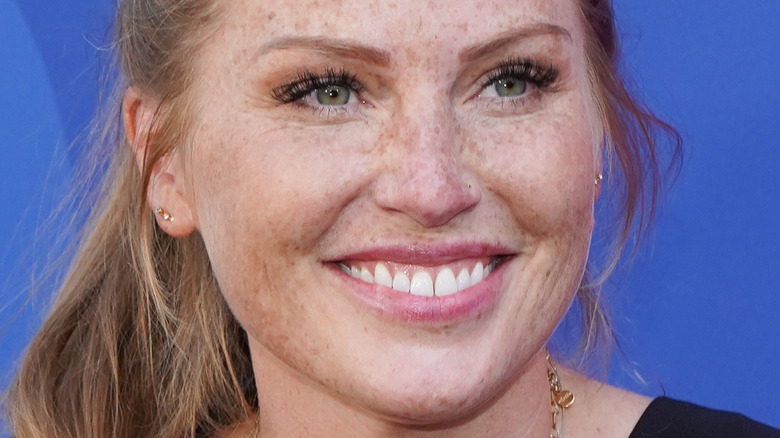 Rachel Luna/Getty Images
"Good Bones" star Mina Starsiak Hawk knows what it means to have a good foundation and her marriage is no different. The house-flipper, whose HGTV show is set to premiere its sixth season on June 29, has been with her husband, Steve Hawk, since they linked up in 2013.
In fact, the couple met through mutual friends via Facebook before they exchanged looks in person at a baseball game, the TV star told Country Living in 2018. However, Mina said it wasn't exactly love at first sight.
Although Mina had high hopes about meeting her FB crush in the flesh, she said, "He ignored me all night,", adding, "He let his friend hit on me!" Taking matters into her own hands, Mina got a hold of Steve's phone number after the game and texted him: "We're going to try this again tomorrow—you get one more shot."
But while Steve was able to woo Mina, her mom and home renovation partner, Karen E. Laine, wasn't as convinced. "There was a second impression that was not so good," Karen chimed in as the duo spoke to Country Living, revealing the two experienced a rough patch in the early days of their relationship. Luckily, it's been smooth sailing for the pair ever since. Keep scrolling for more details about Mina's husband Steve.
Mina's husband is the best partner
Mina Starsiak Hawk and Steve Hawk got engaged after two years of dating in 2015, per Country Living. Just one year later, the couple made their union official with their 2016 wedding in front of family and friends.
After two years of marital bliss, Mina and Steve became parents following the birth of their son, Jack Richard Hawk, in 2018. Although they were elated to start their family, they struggled to give their son a sibling. In December 2019, Mina told her Instagram followers her only hope of having another baby was through an egg donor. Despite the news, Mina said her man was there for her through their hardship.
"We've also gone through some of the hardest times, some that a lot of people might not have come out of. But we have, stronger and closer than before," Mina wrote to Steve via Instagram in June 2020. Prior to her touching post, the pair revealed they were expecting again in March after a round of intrauterine insemination, per People. They welcomed through daughter, Charlotte Drew Hawk, in September 2020.
From the looks of Mina's Instagram, Steve is a hands-on father and is always there to help with the kids when she is bringing home the bacon. In addition to helping with Mina's business endeavors and playing Mr. Mom, he works as an account executive for the CoStar Group, an analytics service for commercial properties. Although Steve's plate is already pretty full, he's slated to play a bigger role on his wife's show this season.