What Justin Bieber Is Pleading With His Fans To Stop Doing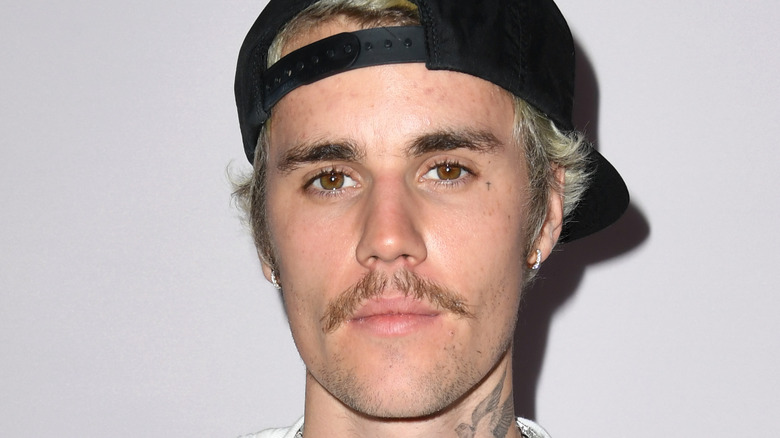 Jon Kopaloff/Getty Images
When you're a global superstar like Justin Bieber, fans tend to be ... obnoxious. Over the years, this is something Bieber has somewhat struggled with. During a 2017 concert in Manchester, U.K., for example, Bieber asked some overly excited fans if they could tone it down a bit. "Can you guys do me a favor? Can you guys just relax for about two seconds?" he asked (via People). Apparently, all the screaming was (understandably) getting a little annoying as he tried to perform. "I get it, I get it, but I'm like two feet away from you. And I can hear you," Bieber continued. "I appreciate all the love, it's amazing. But can you show it in a different way? Screaming is just so obnoxious."
One year prior, Bieber even announced that he would stop doing "meet and greets" with fans in order to prioritize his mental health. "I enjoy meeting such incredible people, but I end up feeling so drained and filled with so much of other people's spiritual energy that I end up so drained and unhappy," he wrote in a now-deleted Instagram post, as People reported. In the same statement, he admitted that meeting fans at concerts leaves him "feeling mentally and emotionally exhausted to the point of depression."
Apparently, some Beliebers didn't get that memo, which recently caused the pop star to politely ask them to respect his privacy (once again). Find out more below.
Justin Bieber wants fans to stop gathering outside of his home
As Justin Bieber returned to his New York City apartment (via ET Canada) on June 25, he found a group of screaming fans waiting outside of his building ... which he didn't appreciate. In a very polite way, the pop star asked them to stop gathering in front of his residence.
"I hear you, I hear you. But this is my home. You know what I mean? This is where I live," Bieber told the group (the clip can also be seen on the DJ Akademiks Instagram). "And I don't appreciate you guys being here." He continued, "You know when you come home at the end of the night, and you want to relax? This is my space to do that." Then, Bieber asked if they could please leave. Despite his request, one particular fan kept asking for a selfie. "Lmaoo how she still got the nerve to ask for a pic even after he said all that," one person wrote under DJ Akademiks' post. "He handled that like a real one fr," another one wrote in the comments.
This isn't the first time Bieber has asked fans to stop doing as much. "How do you convince yourself it's not completely inappropriate and disrespectful to wait outside my home to gawk, stare and take pictures as I walk into my apartment," he wrote on Instagram in October 2020 (via Yahoo). "This is not a hotel. It's my home." Well said, Justin!