How Much Is Aidan Gallagher Worth?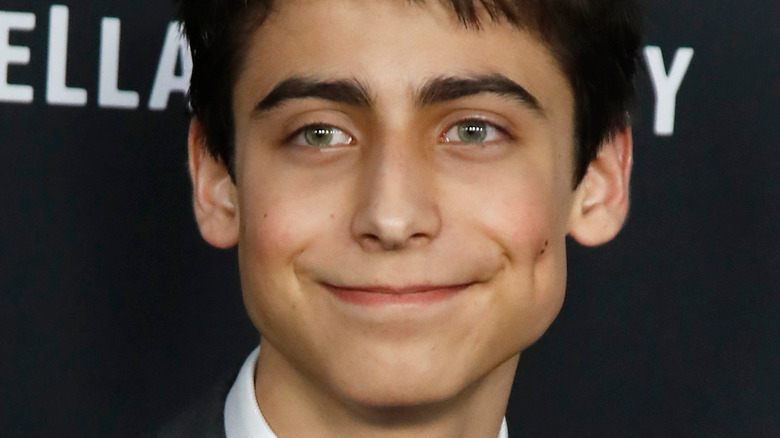 Shutterstock
Aidan Gallagher made an impression on fans from a young age, as he landed the role of Nicky Harper in Nickelodeon's "Nicky, Ricky, Dicky & Dawn," per IMDb. Although that was on a major network, it was Gallagher's portrayal of Five — a 58-year-old man trapped inside the body of a teenager — in Netflix's "The Umbrella Academy" that cemented the actor as a rising star. The show's creator, Steve Blackman, was floored by Gallagher's acting chops. "When he read the sides ... I was blown away," Blackman said during a Reddit Q&A with fans (via Winter Is Coming). "You need a certain gravitas to play a fifty-eight-year-old man trapped inside a thirteen-year-old's body," he added.
During his childhood, the actor spent a lot of his free time hanging out in comic book shops, so he was well-acquainted with the "Umbrella Academy" source material. "I had been a fan of the graphic novels, previous to the audition for the show," he told Collider in 2019. The series follows a group of gifted orphans who are working tirelessly to stop the pending apocalypse, which makes Gallagher's character come across as ... difficult. "Five is just preoccupied with saving our civilization in just a few days, so he doesn't feel he has the time to spare for politeness," he told Alternative Press in 2020. 
Gallagher could easily relate to Five because he, too, is preoccupied with saving the earth. We'll explain in slide two. 
Aiden Gallagher has conflicting views of wealth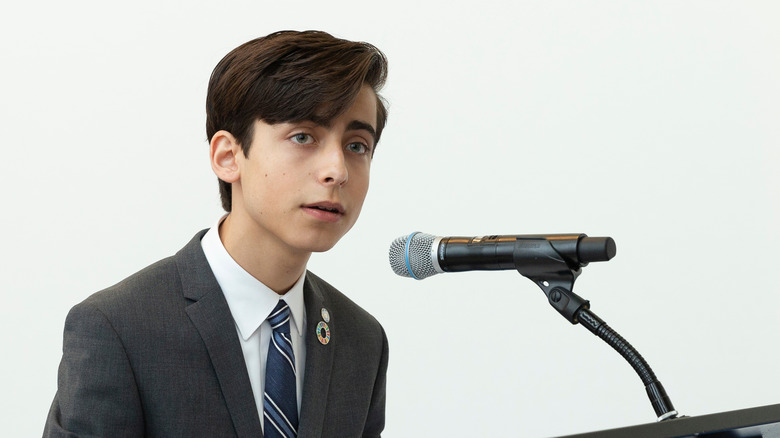 Shutterstock
The enormity of being involved with "The Umbrella Academy" struck Aidan Gallagher when he attended a Comic-Con panel for the show even before it premiered on Netflix, as he revealed to Discussing Film in 2020. Following the series' massive success, the main cast were given "a substantial pay raise" for the Season 3, per Variety. Gallagher and his castmates were able to negotiate a deal for $200,000 per episode. Gallagher has amassed a net worth of $2 million according to Celebrity Net Worth, even though financial success is not what drives the actor.
Gallagher is an activist who is passionate about environmental issues, along with socio-political issues, and exposure through "The Umbrella Academy" has allowed him to reach a broader audience. "I've always felt that I had a responsibility to use the platform that I've had the privilege to gain," he told Discussing Film in 2020. "I've always felt responsibility to use that good and to really spread messages." 
The actor is not motivated by accumulating wealth and believes being fixated on amassing wealth is an issue that plagues older generations. "I think because kids care about their future and having a clean planet and adults are concerned about making money," he told Coup de Main in 2019. "There are clean ways to make money, but so much of the current established industries are worth trillions and are planet-destroying industries."