The Tragic Death Of General Hospital's Stuart Damon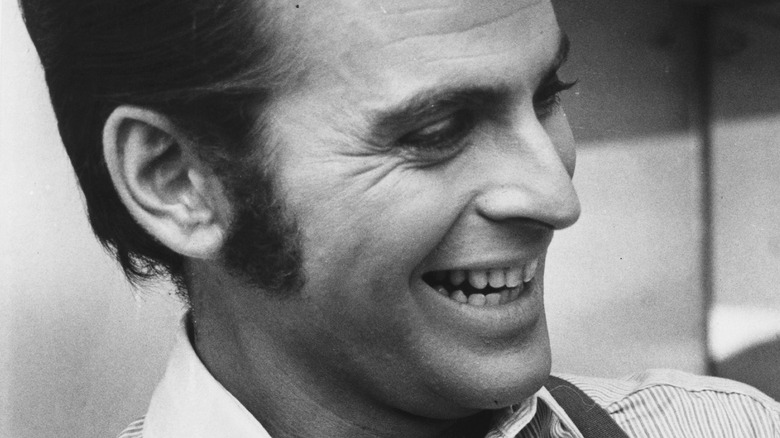 Central Press/Getty Images
One of "General Hospital's" longest-running actors, Stuart Damon, has died at the age of 84. While it's unclear how he died, ABC7 entertainment reporter George Pennacchio tweeted on June 29 that the soap actor was "struggling with renal failure." Best known as "General Hospital's" beloved Chief of Staff Dr. Alan Quartermaine, Damon was also a star of other soap shows as well as a feature on the big-screen and Broadway, per Deadline. He first appeared on the ABC drama in 1977 and remained a series regular until his character's death. He won a Best Supporting Actor Emmy in 1999 for the show and even reprised his role several times as Alan's ghost.
General Hospital's EP Frank Valentini honored Damon on Twitter, sharing he was "an absolute legend of our industry." Valentini wrote, "On behalf of everyone at #GH, I want to extend my deepest condolences to Stuart Damon's family and all who loved him. Stuart was an absolute legend of our industry and he'll be sorely missed." 
Other stars of the show also shared their condolences on Twitter, including Amber Tamblyn, who wrote that she was "broken-hearted" to hear of her television show dad's death. Tamblyn said, "He played my adopted dad on General Hospital for 7 years and he was the most kind, wonderful, loving, supportive person. He always made me laugh and made me feel safe on set. I love you, Stewy. Rest well now, my friend." Keep reading for more reactions to Damon's death.
General Hospital fans request a tribute episode for Stuart Damon's character
Stuart Damon may have played a governor on "Days of our Lives" in 2010 and even wore a crown as the prince in the 1965 television production of Rodgers and Hammerstein's "Cinderella," but his "favorite place to be" was on "General Hospital." Damon's son, Christopher, reportedly told ABC7 entertainment reporter George Pennacchio that despite his 50-year career, playing Dr. Alan Quartermaine was his "passion," per Deadline. "It was his favorite place to be. He loved playing Alan and was always so appreciative of that role and that job. It was his passion."
Damon not only appeared as the character on the spinoff "Port Charles," which aired from 1997-2003, but also returned to "General Hospital" in 2013 to commemorate its 50th anniversary, per TVLine. His love for the long-running soap was mutual, as Damon was considered a "fan-favorite" by many "General Hospital" viewers.
Since his death, followers of the show have been tweeting their requests for a "tribute" episode. One person wrote, "Alan may have died a long while ago, but STUART and ALAN both deserve a tribute a solo tribute, with no one but the Q's." While another said, "I know the character of Alan has already passed away, but I hope that you can find some way to pay tribute to Stuart Damon." With "General Hospital" racking up more than 14,000 episodes since its inception, surely producers can deliver a little montage or episode in honor of Damon's long service to the series, right?