Report: Brad Pitt Reaches Out To Ex-Wife Jennifer Aniston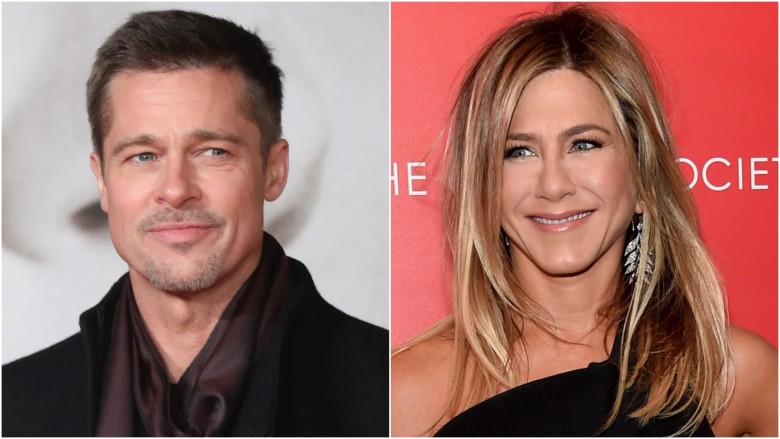 Getty Images
Rumor has it that Brad Pitt has made contact with his ex-wife Jennifer Aniston—and it wasn't easy.
Us Weekly reports that the World War Z actor hunted down Aniston's cell phone number from a number of contacts in order to wish his ex a happy 48th birthday on Feb. 11, 2017. And, according to their source, the two have since started talking again.
Pitt, 53, is currently going through a rough divorce from Angelina Jolie, with whom he shares six children. Pitt was recently investigated for child abuse but has since been cleared. While Pitt remained relatively mum on their separation, Jolie, 41, opened up to BBC, stating, "I am coping with finding a way through to make sure that this somehow makes us stronger and closer." Pitt and Jolie have been linked since 2004 and were married in August 2014.
Pitt was previously married to Aniston from 2000 to 2005. The pair split after rumors of his infidelity with his Mr. and Mrs. Smith costar Jolie—prompting pop culture fans everywhere to don Team Jen and Team Jolie shirts in support of their favorite actress.
Aniston has revealed in a 2005 interview with People that she struggled to feel better after her separation from Pitt. She stated, "Am I lonely? Yes. Do I have my days when I've thrown a little pity party for myself? Absolutely." But in recent years, the Horrible Bosses actress has found happiness and love yet again with husband, actor Justin Theroux, 45. The two married in 2015 after a three-year engagement.
According to Us Weekly, Pitt has been confiding in his ex via text. "Brad told her he's having a hard time with his split and they exchanged a few texts reminiscing about the past," their source revealed.
If you're worried about Aniston's marriage to Theroux, don't be. Reportedly, he's just fine with his wife being friends with Pitt and understands that Aniston "just wants to be nice."