Lil' Kim Has Words For 50 Cent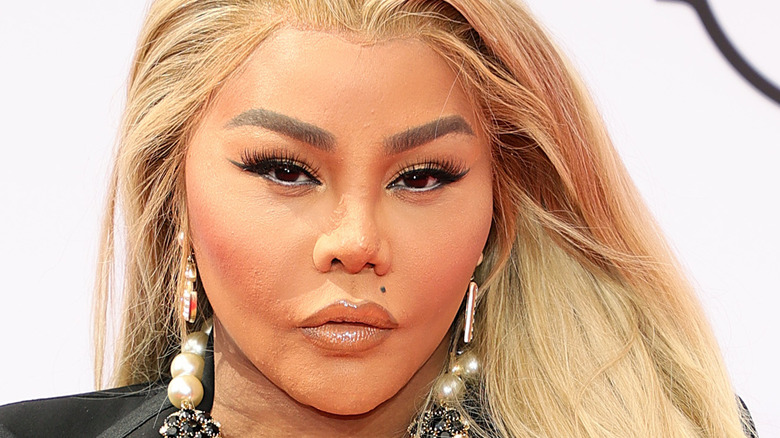 Rich Fury/Getty Images
Lil' Kim is no stranger to making a lot of noise with her choice of clothing, and she has done it again with her most recent ensemble — this time, at the 2021 BET Awards. After all, she is a fashion icon.
As previously reported by Vogue, the "No Matter What They Say" hitmaker made a statement with a blond triangular-shaped fringe that featured what looked to be a small Prada pin placed on top. Kim slayed in an all-white outfit from the same designer that consisted of a hooded bralette, skirt, and jacket, which she left to hang off her shoulders. In true Kim style, she looked very glam and accessorized with a matching fanny pack.
In the eye-catching attire, Kim performed a tribute alongside Monie Love, Rapsody, and MC Lyte to honor fellow rap legend Queen Latifah, who was receiving the Lifetime Achievement Award. As of this writing, over 1 million people have watched the performance on YouTube, and it's clear they love the medley. However, Kim's appearance became a topic of discussion — and it seems like her "Magic Stick" collaborator 50 Cent was mocking the star on Instagram. Here's how she responded.
Lil' Kim put 50 Cent on blast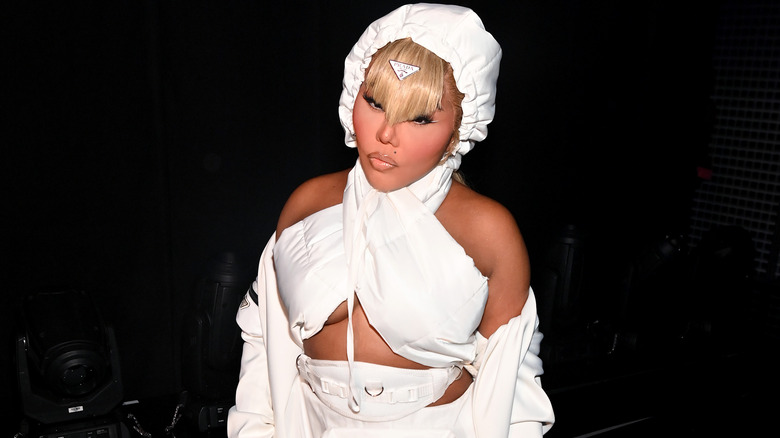 Paras Griffin/Getty Images
Earlier this week, 50 Cent uploaded a snapshot to Instagram that compared Lil' Kim's BET Awards performance look to an owl. The "21 Questions" hitmaker appeared to be mocking her in his caption, writing, "who did this s***, this ain't right." Kim re-posted the same pic to her Instagram account and laughed at the comparison, writing, "The accuracy. Hilarious. I ain't bothered not one bit. My family & friends more mad than me," with lots of crying-laughing emojis. However, she wasn't shy about putting 50 Cent in his place after he tried to shade the rap icon.
"S*** like this don't move me one way or another cause I'm still a bad bitch that ni**az, b****es, mommies, daughters, and aunties still want to be till this day and I love it!!," the Grammy Award winner continued, adding, "@50cent I see u still in ur feels about that dinner date u asked me on that I had to turn down. Let it go u have a beautiful girlfriend, I have a loving husband. Let it go."
Kim promoted her upcoming memoir, "The Queen Bee," and mentioned that she will have more to say about 50 Cent in her book. "50cent, I address that situation all in my book coming in November. Make sure you go get it. Pre-orders available now," she wrote. We were already excited to read this book, but now we can't wait!