Nicollette Sheridan's Ex-Husbands Are Both Married To Real Housewives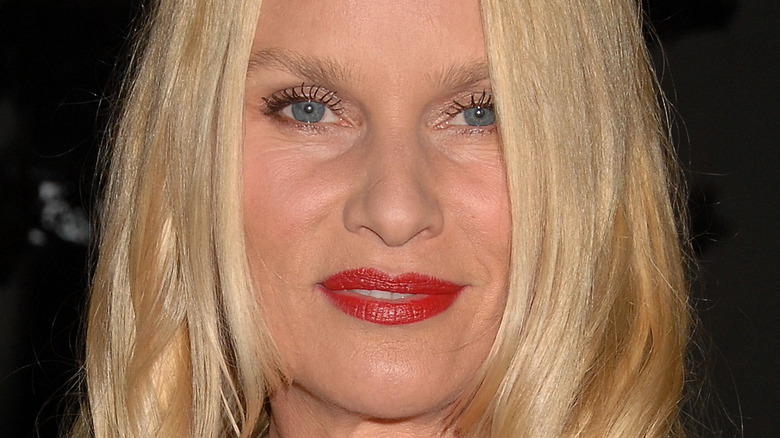 Shutterstock
Most fans know and love Nicollette Sheridan for her role as Edie Britt in the ABC series "Desperate Housewives." The show's narrator Mary Alice Young once described the character as the "most predatory divorcée within a five block radius," adding that "her conquests were numerous, varied and legendary." Minus the term predatory, one might also describe the actor's real-life love life in the same way as she was romantically linked to a number of famous men.
According to Famous Fix, during the 1990s and 2000s, Sheridan dated everyone from film producer John Peters to actor Leif Garrett to "Happy Days" star Scott Baio. But her most high profile romance was with singer-songwriter Michael Bolton, whom she dated from 1992 to 1997. The pair rekindled their romance in 2005 and got engaged one year later, but broke it off for good in 2008. "Nicollette Sheridan and Michael Bolton have amicably ended their engagement," Sheridan's publicist Nicole Perna said in a statement to Reuters. "They appreciate your respect for their privacy in this matter."
As it turns out, the "Dynasty" star walked down the aisle before and after Bolton, as her first marriage was to Harry Hamlin in 1997 and her second, to Aaron Phypers in 2015. Scroll ahead to find out which "Real Housewives" Sheridan's ex-husbands are married to now.
Harry Hamlin married Lisa Rinna after Nicollette Sheridan allegedly cheated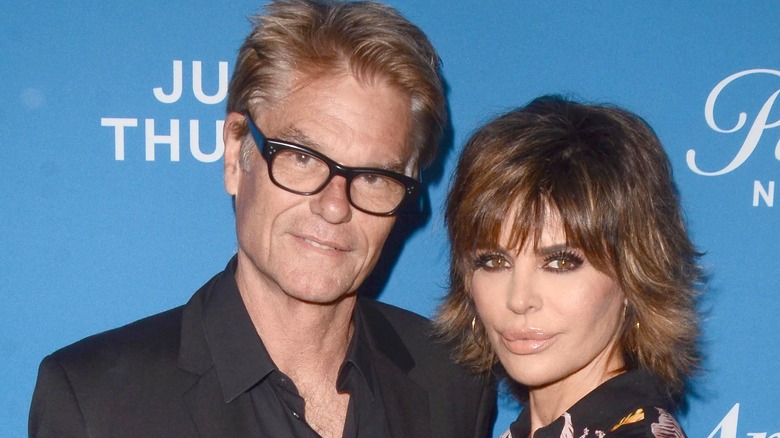 Shutterstock
In recent years, there has been a bit of drama surrounding Nicollette Sheridan's first marriage to Harry Hamlin after he claimed she cheated on him with Michael Bolton. For context, the pair tied the knot in September 1991, per Us Weekly, and split up one year later right around the time she began dating the "When a Man Loves a Woman" singer. Hamlin, for his part, went on to marry soap actor and "Real Housewives of Beverly Hills" star Lisa Rinna in March 1997.
The "Desperate Housewives" star's name was mentioned on the show in 2019 when Rinna brought up her husband's previous marriage. "Harry was married to her 30 years ago," she explained at the time. "The story is she went to a Michael Bolton concert at the Hollywood Bowl." Rinna added, "I thank Michael Bolton to this day. Are you kidding me? Let's cheers Michael Bolton. Thank you, Michael Bolton. Because I would not have these beautiful children."
Sheridan later denied the cheating allegations, responding via Twitter, "Harry and I ended our marriage nose to nose in Canada... Michael was a long time friend that was invited to our wedding..." She added, "The end of our marriage had nothing to do with anyone other than us. Sad you still can't own your part."
Aaron Phypers is now Denise Richards' husband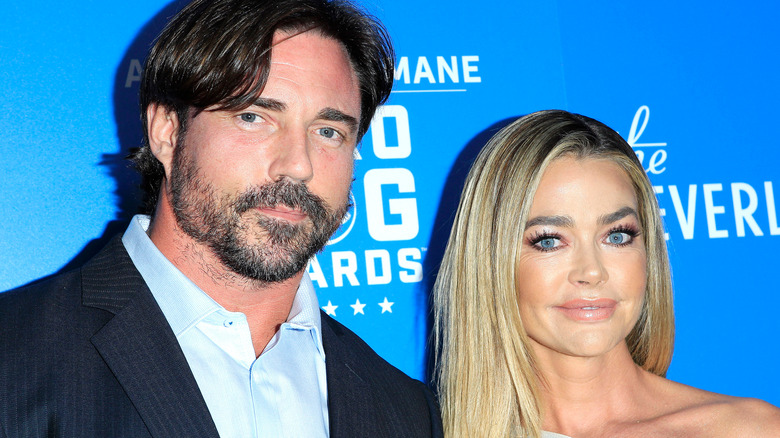 Shutterstock
Nicollette Sheridan's second marriage was to Aaron Phypers, who also went on to marry to a "Real Housewives of Beverly Hills" star — Denise Richards. Just like her relationship with Harry Hamlin, Sheridan and Phypers' romance was short-lived, as they separated six months after tying the knot in 2015 (per People). 
According to Us Weekly, he was still legally married to the actor when he met Richards because the divorce paperwork was not finalized until August 2018. One month later, the couple exchanged vows in front of Bravo's cameras. "I am so happy to officially be married to the love of my life," Richards said at the time. "I can't wait for everyone to go on this incredible journey with me this season on 'The Real Housewives of Beverly Hills'. It's been a wild ride so far!"
Unlike Rinna and Hamlin, there does not appear to be any bad blood between Sheridan and this ex-husband. However, one thing is abundantly clear: Being a famous housewife isn't the only thing Sheridan has in common with Rinna and Richards.