Everything We Know About Selena Gomez's Swimsuit Line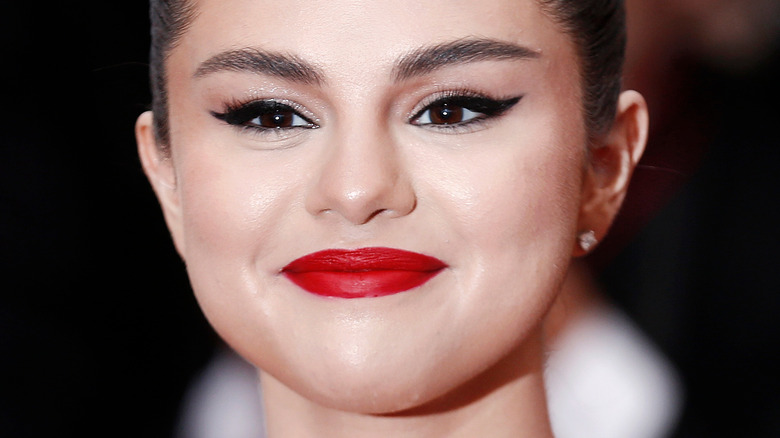 Shutterstock
Selena Gomez, with her continued influence on both Millennials and Generation Z, has conquered the beauty industry with her Rare Beauty brand — and now she plans to tiptoe into fashion via her swimsuit line. Per Refinery29, Gomez, an outspoken advocate for mental wellness, launched Rare Beauty in 2018 with hopes that it would merge "the worlds of beauty and mental health." 
The socially conscientious entrepreneur told the outlet, "When you're feeling a certain way inside, there's always a part of you that reflects on the outside. That's even more true in the age of social media, when self-scrutiny is all but unavoidable." Moreover, Gomez alluded to her autoimmune disease, lupus, helping inspire this specific approach to her cosmetics and skincare line. "I've had weight issues and inflammation, and I deal with my medical stuff, and for me, that's when mental health and feeling good comes into play," Gomez said.
Rare Beauty — for all its aesthetically pleasing lines of lipsticks, eyeshadows, and "48 shades of foundation" (per Refinery29) — certainly delivered on the tastemaker's vow to use such products for social good. The brand's Rare Impact Fund's GoFundMe page has a goal of reaching $100 million to support mental health initiatives in underprivileged communities over the next 10 years. "Mental health has always been personal for me ... it's something I am constantly working on and I hope I can help others, too," she wrote. Let's see if Gomez's swimwear line will follow suit. Keep reading!
Selena Gomez's swimwear line is not what you might expect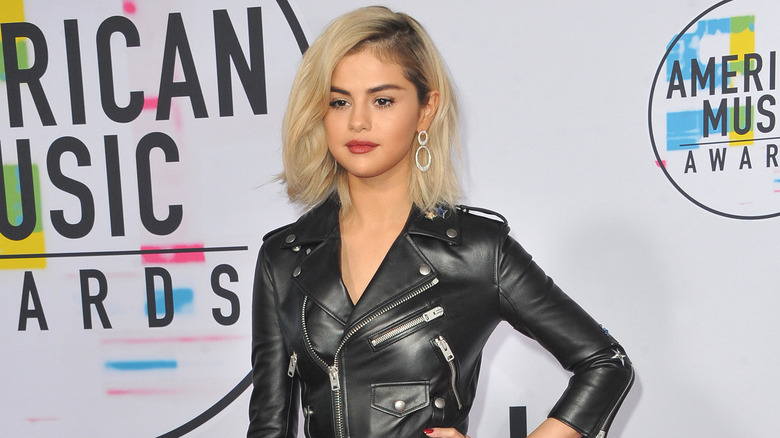 Shutterstock
Evoking slight callbacks to her bikini-clad "Spring Breakers" character, Selena Gomez has announced that she has created "a capsule collection" of six elegant swimsuit styles for La'Mariette that will launch on July 3, Page Six reported. As seen in promotional Polaroids of her modeling sample pieces, Gomez's collection will adopt the tie-dye color schemes ubiquitous of summer 2021 with its "Aura" print. Demonstrating Gomez's adventurous stylistic approach, she said in a statement (per the outlet) about the color scheme, "I wanted to stay away from colors I'm used to like red and white," landing on purple after playing with swatches. "Purple felt different for me and we added pops of color like green and neons here and there; it really becomes your own suit," the pop star explained.
Per Page Six, Gomez's collection comprises of two tops, two bottoms, a one-piece and a sarong (which can be twisted into a chic beach/poolside top), all in the "Aura" print. The collection is available in sizes XS-XXL and will retail from $49 to $119. Co-creating with former manager Theresa Mingus and business partner Morgan Brutocao, Gomez enthused, "It was really fun for us to play around with creating swimsuits because Theresa, Morgan and I love being outside so much."
This might be her first foray into higher-end adult fashion, but we suspect Gomez has even bigger aspirations beyond the horizon for future lines. We certainly cannot wait!