The Truth About George Stephanopoulos' Marriage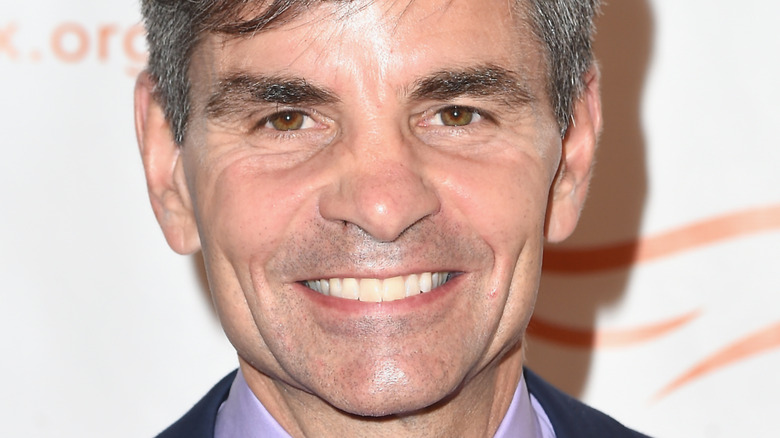 Nicholas Hunt/Getty Images
George Stephanopoulos' marriage to Ali Wentworth is one of Tinseltown's most successful as the two have been together for nearly two decades. Their relationship also started out as a real-life rom-com since their connection was love at first sight. Well, first date, that is. "You know how when you go on a date and the first 15 minutes are on automatic pilot?" the "Good Morning America" anchor told The New York Times in 2001. "About 15 minutes in, she just leaned in and said something, and we were suddenly in another place, in another universe, immediately. We went from strangers to friends to being in love in days." He added, "I knew within 24 hours, I would not ever dare risk losing her." Aw! 
The comedian felt the same even though she didn't believe he was her type. "I was like, when is Matthew Perry getting out of rehab, that's who I want. Or Hugh Grant," Wentworth told Jimmy Fallon in 2017. She eventually agreed to go on a blind date with him — and the rest is history. "I'm telling you, by the end of lunch, done. We were engaged two months later," she said.
The pair got married in November 2001 after just six months of dating and had their first child, daughter Elliott, the following year, per Us Weekly. They welcomed a second daughter named Harper on June 2, 2005. Scroll ahead to learn more about Stephanopoulos and Wentworth's happy marriage!
Ali Wentworth is very open about their sex life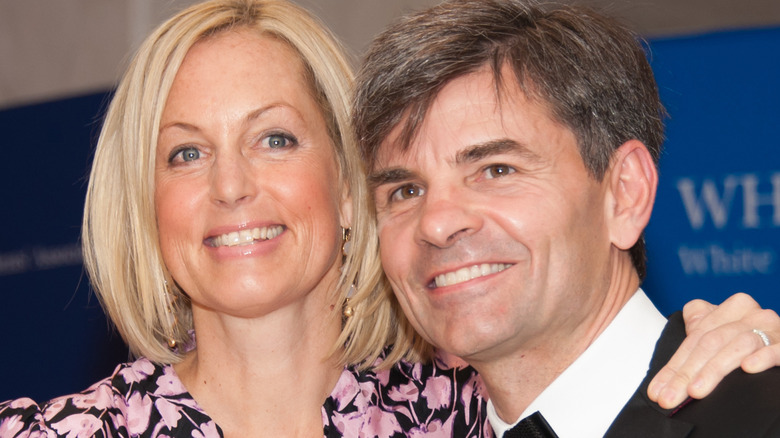 Shutterstock
George Stephanopoulos' ride-or-die Ali Wentworth does not shy away from talking about their sex life. In fact, even though the "Good Morning America" host prefers that she keeps their private life private, it's who she is. "At the beginning of our marriage, there was a lot of, 'Don't talk about this,'" she explained while guest-hosting "Live with Kelly and Ryan". "There was an event when we were first married, and Page Six wrote that George and I were getting a divorce."
Wentworth continued, "A Washington Post reporter got my cell phone number and called me and said, 'What do you think about what they wrote, that you and George are getting divorced?' I said, 'You show me a couple that has sex twice a day that's getting a divorce,' which was my way of dealing with it." 
The comedian said her comments "engaged" her husband, but she had a good argument to defend herself against her oversharing. "My argument with George was, 'This is just who I am. I talk about my life ...'" she said. "I don't get in trouble anymore because I think he's realized who I am."
The couple's matching bedtime makes their marriage work
In 2016, Ali Wentworth opened up about how she keeps her spark with George Stephanopoulos alive. She told Oprah Winfrey's "Where Are They Now?" that when her husband was named anchor of "Good Morning America" in 2009, she had to make an important and "very conscious" decision — to go to bed with him every night. "'Cause he gets up at 2:30 in the morning, so I'm not getting up at 2:30. I mean, let's not be crazy. I get up at 6:00 with the kids," she explained. "My feeling was if I don't get to bed with my husband and I don't wake up with my husband, then he's just my roommate."
The comedian also told Parade in 2018 that the key to their successful marriage is humor. She explained, "He's not funny per se, but I can make fun of him and he can laugh at that. He can laugh at himself. There's endless making fun of him, and he loves it. That's the best. If I had a husband that was like, 'Stop it,' I wouldn't have married him." She added, "No. George can fall off the bed laughing at something that's amusing."
After so many years together, Wentworth told ABC News her heart still "skips a beat when he walks in the door." That's love!