What Kate Winslet's Children Call Leonardo DiCaprio
Long before she graced fans' screens in HBO's crime drama limited series "Mare of Easttown", Kate Winslet first became a household name as Rose DeWitt Bukater in the 1997 blockbuster "Titanic." Appearing as Rose alongside Leonardo DiCaprio's Jack Dawson, the two actors are forever linked to the sinking ship and the question of whether or not DiCaprio's character could have survived.
Although the on-screen romance didn't carry over into real life, the two have maintained their friendship over the years. During the filming of "Titanic," Winslet was 21 and DiCaprio was 22, per Closer Weekly, allowing their closeness in age to be a factor in relatability. 
"That's one of my greatest friendships. I'm just so lucky to have him, and he makes me laugh so much," Winslet said of DiCaprio in a 2017 interview. On the opposite side of their friendship, DiCaprio has seemingly been just as supportive throughout the decades, even bonding with Winslet's three children.
Leonardo DiCaprio and Kate Winslet's unsinkable friendship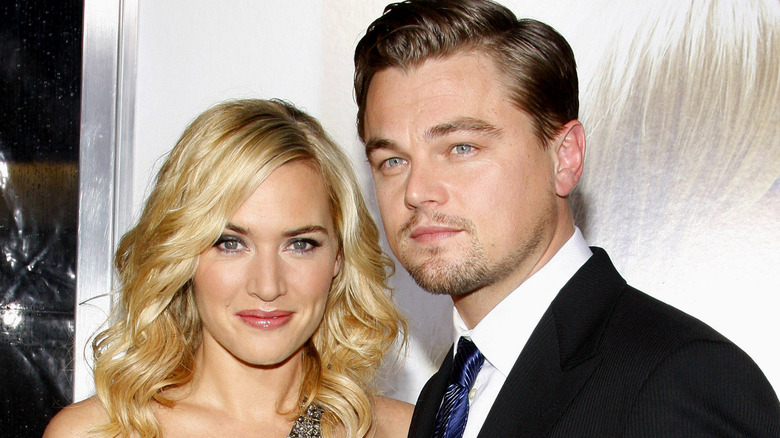 Shutterstock
These days, Kate Winslet is a proud mama of three children. She welcomed Mia Honey Threapleton into the world in 2000 with her first husband, director Jim Threapleton, her son Joe Mendes, whom she shares with director Sam Mendes, made his debut in 2003, and Bear Blaze Winslet, her son with Edward Abel Smith, arrived in 2013.
Although Leonardo DiCaprio doesn't have children of his own, he has apparently bonded with the kids of his former "Titanic" co-star. A possible nod to actor Len Lesser's role as Jerry Seinfeld's uncle on "Seinfeld," Good Housekeeping notes that Winslet's children affectionately refer to DiCaprio as Uncle Leo. Of Winslet and DiCaprio's real life relationship, a source told Britain's Heat magazine (via Film News Co.), "Kate doesn't judge him, and Leo is great with Kate's kids, Mia, Joe and Bear — they call him Uncle Leo. It's the perfect relationship."
During a 2004 interview with Marie Claire, Winslet opened up a bit about the A-list actor's bond with her kids, explaining (via Tumblr), "Well, me and Leo (DiCaprio) are very good friends. He adores my children but the problem is, he spoils them rotten!" Considering the fact that DiCaprio is worth millions of dollars, we can only imagine the luxurious gifts Uncle Leo bestows upon Winslet's kids.