What Did Queen Elizabeth Just Tell Soap Opera Stars?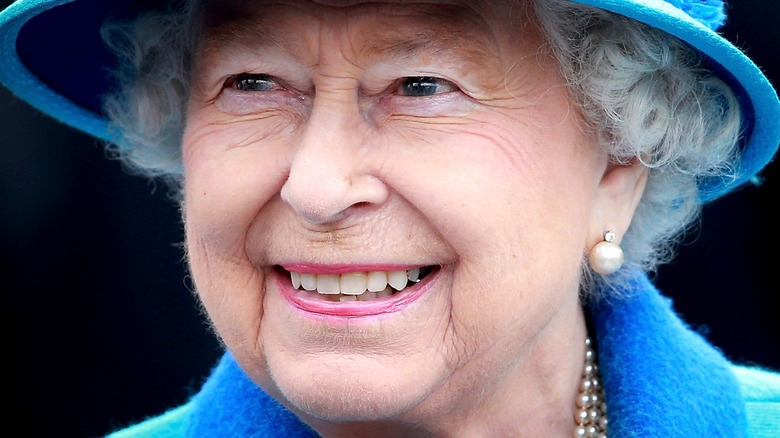 Chris Jackson/Getty Images
Queen Elizabeth II has met thousands of people during her time on the throne and with that comes the gift of small talk. However, there are times when she needs to exit the situation and simply move on. 
According to an April 2020 Page Six report, if Elizabeth starts spinning her wedding ring or puts her bag on the floor, she's ready to make a beeline for the nearest door. If she's finished with a conversation, she will simply move her handbag to the opposite arm, per People. Should you call out to the queen in the street, she would allegedly "pretend she didn't hear" you to be polite, according to Insider. But, if you really want to grab her attention, bringing a picture of a corgi — or even your own — is your best bet. According to the royal website, "Your Majesty" or "ma'am" are her proper greetings.
Thus, it's clear that the queen is usually stoic, so when she opens up, everyone pays attention. Keep reading to see what we mean.
Queen Elizabeth II made silly small talk with these soap stars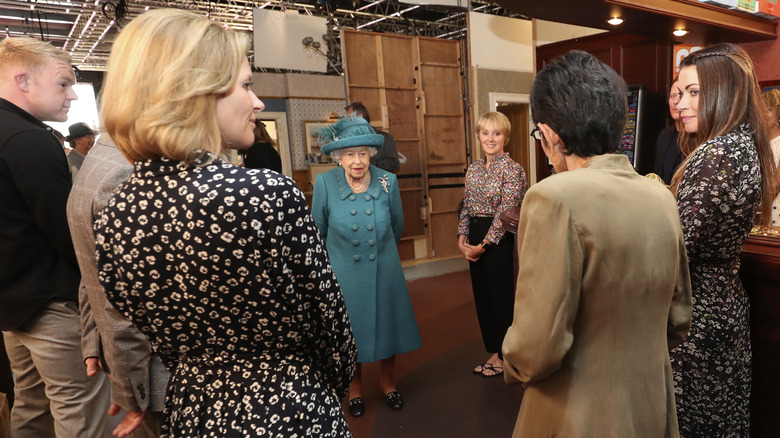 Wpa Pool/Getty Images
Queen Elizabeth II is making appearances before her annual summer trip to Balmoral and she stopped in Manchester to visit the set of the soap opera "Coronation Street," per People.
The show is reportedly "the world's longest-running soap opera" and is based on the queen's life. She made a point to chat during her time there, as producer Iain MacLeod said, "We try to balance the trouble with some niceness, ma'am, but there's some trouble, I'll be honest." The queen responded with, "Well, I suppose life is a trouble." Onlookers seemed to enjoy her witty remark and the moment once again proved why the monarch is the queen of small talk.
The set was not her only stop on this tour, though. She also swung by Manchester Cathedral to meet with youth groups, businesses, and volunteers to learn how they pushed through the pandemic. Some would think she would take a break from her duties after the death of her late husband Prince Philip, but sources say otherwise. "I always felt that she was never knocked off course. It's her way to remain as steady as possible," a source told People Royals. Royal historian Robert Lacey added, "She is making a deliberate point that she is still on top of her game."