This Is Why Rachael Ray's Show Was Sued By A Former Guest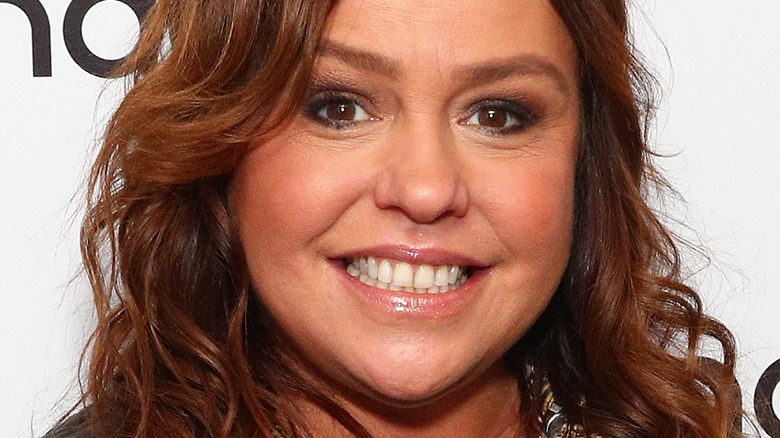 Astrid Stawiarz/Getty Images
"The Rachael Ray Show" provides viewers with a bit of everything, from celebrity appearances to cooking lessons and even musical performances from acclaimed musicians. Rachael Ray's success has earned her multiple Emmys and a spot among the top-ranked daytime television shows in the U.S. (via Global TV). Her biggest success, however, has been her presence in the world of cooking entertainment. She is the host of the popular Food Network show "30-Minute Meals" and has even starred alongside celebrity chef Guy Fieri in the celebrity cooking competition show "Rachael vs. Guy Celebrity Cook-Off." This isn't to mention her more than 20 published cooking books.
It makes sense that Ray's interest in food and coaching others on how to make healthy, time-efficient meals would lead the host to include weight-loss segments on her show. On her website, Ray features a section on healthy living and weight loss, often posting stories about people who have gone through weight loss transformations and tips from top dietitians on how to lose weight. Back in 2011, the celebrity cook featured a weight-loss program on her show similar to NBC's "The Biggest Loser" and VH1's "Celebrity Boot Camp" (via TODAY). The segment followed a 260-lb teen named Christina Pagliarolo as she participated in a weight-loss boot camp in an attempt to lose 70 lbs before prom. The experience went horribly wrong, however, when Pagliarolo decided to sue "The Rachael Ray Show" following her participation. Keep scrolling to find out what led her to seek legal action.
Christina Pagliarolo sued 'The Rachael Ray Show' after appearing in a weight-loss segment
Shutterstock
Christina Pagliarolo was an overweight teen looking to lose 70 lbs before prom night back in 2011 (via TODAY). She agreed to participate in a weight-loss program on "The Rachael Ray Show" in an attempt to reach her goal. Her participation included a grueling boot camp under the direction of physical trainer Eric Viskovicz (per E! News). Throughout the segment, Pagliarolo was required to run on a treadmill, go for a hike in the mountains, and train on a StairMaster to the point that she fell off because it was set too fast (via TMZ). Her experience on the show was less than pleasant. In fact, she allegedly decided to sue "The Rachael Ray Show" following her participation due to the humiliation and anxiety she suffered as a result of the trainer's tactics, in addition to physical harm after being pushed past her breaking point. 
The suit claimed that Viskovicz "was aware that, as a result of heavy workouts earlier that same week, [Pagliarolo's] legs had become extraordinarily weak and painful" (via E! News). The suit also alleged that Viskovicz "yelled and screamed" at Pagliarolo "in a manner that caused Plaintiff to feel anxious, demeaned and threatened." The overarching message of the lawsuit was that "The Rachael Ray Show" and everyone involved in the program, including the television network, CBS, "failed to provide a reasonably safe course of fitness training" (per E!). However, the outcome of this supposed suit remains a mystery.