Where Is Shelly Miscavige?
After the death of Scientology founder L. Ron Hubbard in 1986, prominent Scientologist David Miscavige became the new leader of the controversial faith. His wife, Michele "Shelly" Miscavige, also a high-profile member of the church, assumed her lofty place in the Scientology hierarchy alongside her husband—until she suddenly disappeared without a trace.
According to the Daily Mail, Shelly has only been spotted twice since 2007. An anonymous source reportedly told Scientology critic and blogger Tony Ortega (featured in the video above) that they saw Shelly entering a hardware store in a small town near the Church of Spiritual Technology headquarters in California. The insider claimed Shelly was being "escorted by two men" and looking "thin" and "disheveled. Almost like she was homeless." The news outlet reported that she was allegedly spotted again in that same town in April 2016, but her life's circumstances remain shrouded in mystery.
Let's take a closer look at the history behind Shelly's disappearance and consider some of the possible locations where she might living.
Matchmaker, matchmaker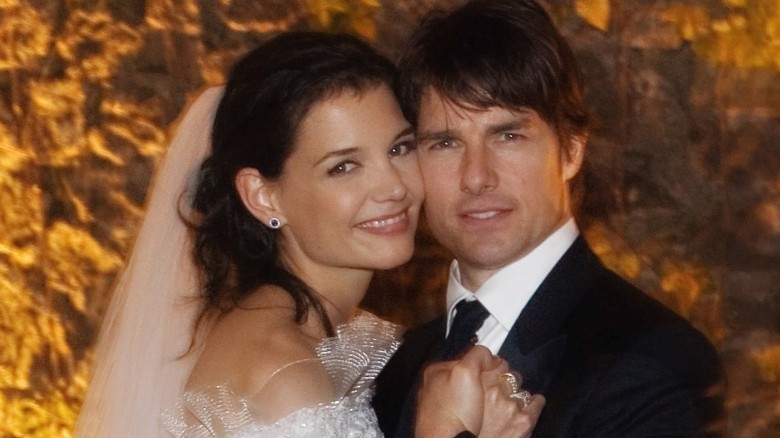 Getty Images
As part of her work within the Church of Scientology, Shelly was reportedly deeply involved in the romantic life of its most famous member, A-list actor Tom Cruise. According to reports from former church members Mike Rinder and Marty Rathbun, Shelly participated in a matchmaking campaign to find Cruise a romantic partner after his very public breakups with wife Nicole Kidman and rebound girlfriend Penelope Cruz. Based on interviews with Scientology defectors, Vanity Fair reported that Shelly was put in charge of a "top-secret project" to find Cruise a new leading lady.
Iranian-American actress and Scientologist Nazanin Boniadi was reportedly tapped for the real-life role, but her relationship with Cruise fell apart after only a few months. Enter Katie Holmes. In the blink of an eye, Cruise was jumping up and down on Oprah's couch professing his love for the Dawson's Creek star, welcoming baby Suri, and topping off the love-fest with an extravagant wedding at an Italian castle in November 2006. Shelly, the matchmaker who had allegedly made it all possible, was not present at the wedding though her husband, David, was the actor's best man.
Leah Remini cries foul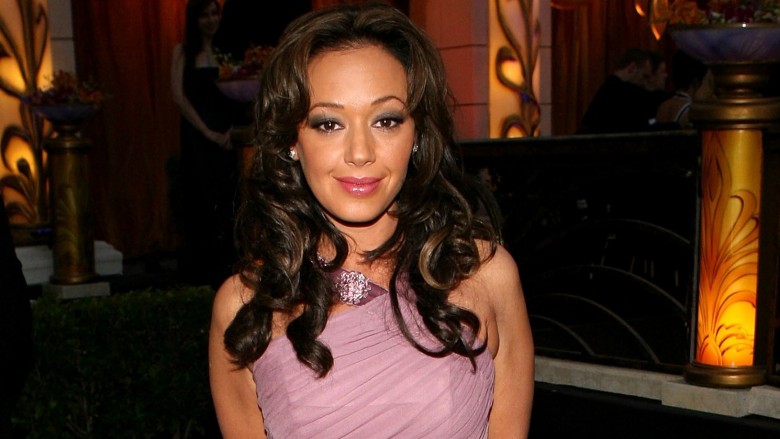 Getty Images
Actress and former Scientologist Leah Remini was at Cruise's wedding, and The King of Queens star began asking questions about the odd absence of her friend, Shelly. Remini told People that top church official Tommy Davis responded to her query with: "I don't think you have the f*****g rank, quite honestly, to ask where Shelly is." Remini claimed there were many other strange happenings at the star-studded ceremony, including "questionable behavior between [David] and his female assistant." After the nuptials, Remini said she had a falling out with Holmes, who felt Remini had disrupted her magical day.
Remini has since become one of the church's most outspoken critics, publishing a book, Troublemaker: Surviving Hollywood and Scientology, and leading an A&E TV series titled Leah Remini: Scientology and the Aftermath. In the book and on the series, she's discussed her concerns about Shelly's disappearance. "I do not know that she is alive," Remini says on the show (via The Huffington Post). "I do not know these things, and so if the church produces her, by bringing her to an event [or] even if she went on a program and said, 'Hi, Leah Remini. Go f**k yourself,' I'd be happy to know that she was alive."
Scientology has fought back fiercely, issuing statements and running a website dedicated to debunking Remini's allegations.
Missing person report
Remini filed a missing person report for Shelly with the Los Angeles Police Department in 2013. After a brief investigation, the LAPD closed the case, calling the report "unfounded." However, in a 2017 interview with Joe Rogan, Remini said law enforcement would not tell her if authorities had actually talked to or met with Shelly. In the podcast, Remini says she hired a lawyer to request additional information from the LAPD, but at the time of this writing, the department has reportedly not complied with her requests.
The church responds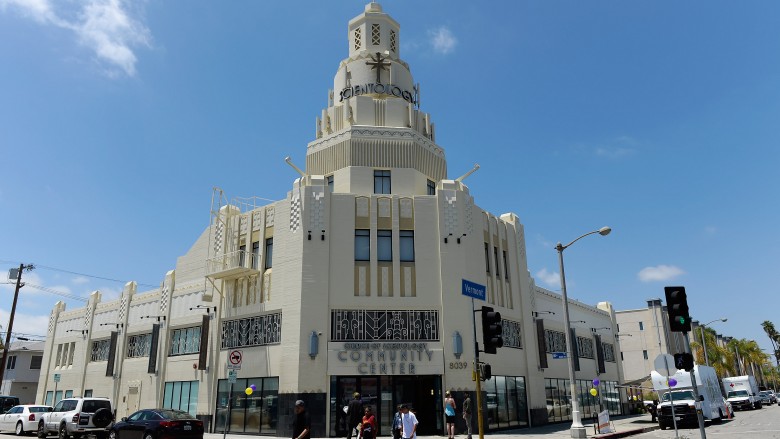 Getty Images
The church will not comment on Shelly's current location, despite numerous inquiries from the press in the months and years following Remini's initial missing person's report. A Scientology spokesperson told People that Shelly "is not a public figure and we ask that her privacy be respected." Attorneys for the Church also provided a statement to Us Weekly, claiming Shelly "has been working non-stop in the Church, as she always has."
Is she being punished?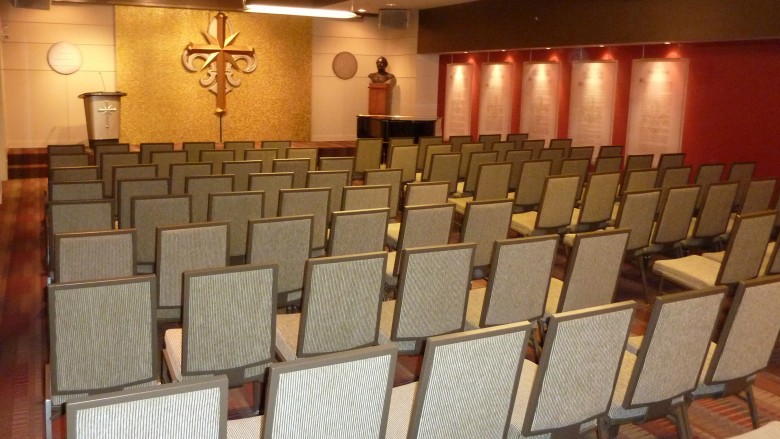 Getty Images
According to legend, deep in the heart of Riverside County, Calif., about 100 miles from Los Angeles, there lies a secretive and heavily guarded hub for Scientology known as the "Gold Base." This locale reportedly serves as the church's international headquarters for its most elite members. According to a Vanity Fair investigative report, Shelly made some bold executive decisions while her husband was away from the Gold Base, and without his express permission, in 2006. Soon afterward, she vanished from public view.
This so-called Gold Base has come under fire based on stories told by former church members about an area of the compound known as "The Hole." According to The Village Voice, at least half a dozen ex-Scientologists have come forward about this "frightening office-prison where 60 to 100 out-of-favor church executives were held day and night under guard, from at least 2004 to 2010." Could Shelly have been among them?
Not according to former members who were allegedly held there. John Brousseau told The Village Voice that he escaped from Gold Base in 2010, and he believes (along with others held at Gold Base) that Shelly was transferred to another Scientology location in California, referred to as the Church of Spiritual Technology.
Has she been exiled?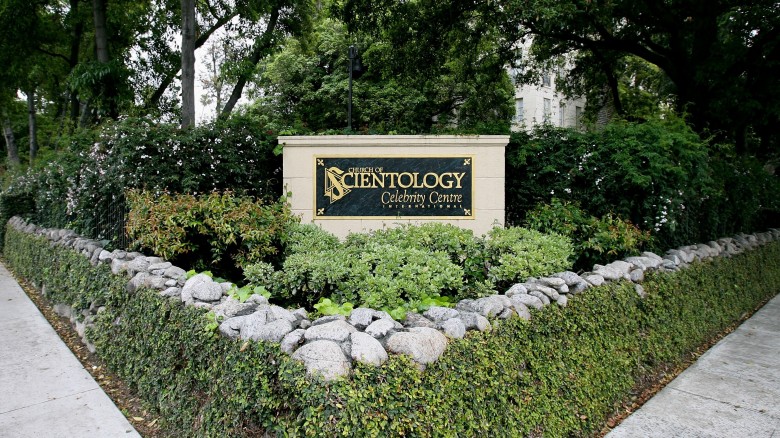 Getty Images
According to reports from multiple ex-members of the church, Shelly was allegedly exiled to the Church of Spiritual Technology (CST), located near Lake Arrowhead in the San Bernardino mountains, about 60 miles from the Gold Base. Former Scientologist John Brousseau told The Village Voice that mail received for Shelly was reportedly transported to the CST. "I noticed the officer for the RTC [Religious Technology Center] would stick [Shelly's mail] in the box that was picked up every day and taken to the CST headquarters," he said. "It was kind of obvious to me that's where Shelly was. And it was something everybody knew. It seemed a pretty logical place for [David] to put her."
Inside the CST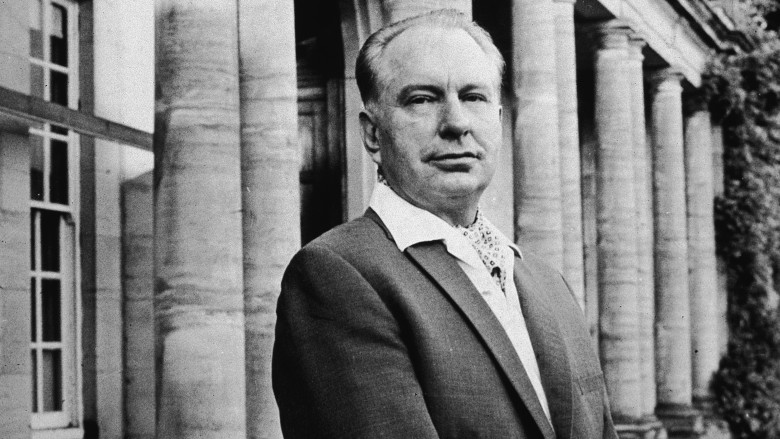 Getty Images
According to the Los Angeles Times, the CST leads the archival mission of the Church of Scientology, which includes inscribing all of L. Ron Hubbard's works, lectures, and other notes onto stainless steel plates and placing original copies of the materials into titanium capsules, which are then buried in an underground vault in the desert in New Mexico as well as other remote locations. "Using state-of-the art technology, the movement has spent more than $15 million to protect Hubbard's original writings, tape-recorded lectures and filmed treatises from natural and man-made calamities, including nuclear holocaust," reported the Times.
In an organization known for its secrecy, the operations at the CST are among its most secretive. Sources told Business Insider the forested mountain compound is outfitted with "spiked fences, razor wire, motion detectors, infra-red spotlights, satellite dishes, fuel tanks and mysterious semi-permanent trailers." Journalist and outspoken Scientology critic Tony Ortega, whose blog has chronicled the stories of ex-Scientology members and released drone footage from above the ultra-secretive CST, reported that two locals residing near the CST spotted Shelly looking "frail" and "disheveled" and escorted by two men on two occasions—once in 2015 and again the following year.
Captive or captivated?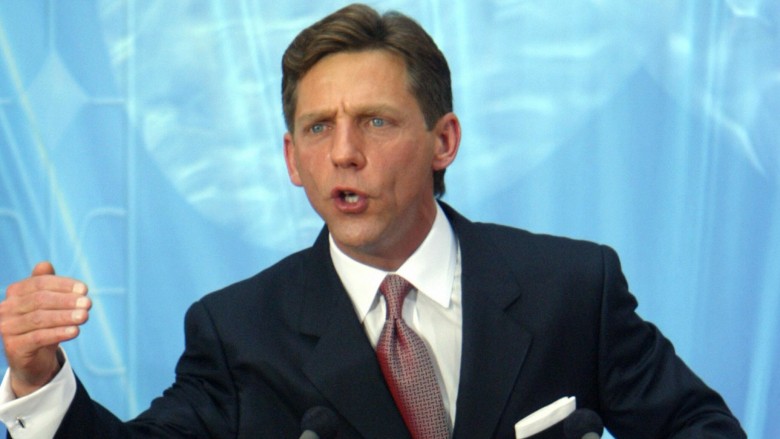 Getty Images
One major question remains surrounding Shelly's disappearance: is her husband or the Church holding her against her will, or is she still dedicated to the cause? A 2014 Vanity Fair article, titled "Scientology's Vanished Queen," interviews numerous church defectors about the Miscaviges' marriage. "Odd, odd couple," said former Sea Org member Tom De Vocht. "There was obviously a working relationship, but odd. I don't think I once saw Miscavige hug or kiss or anything Shelly. I spent a lot of time with them. There was no real affection." The magazine also wrote about David's alleged "hair-trigger temper that produced sudden fits of verbal and physical violence."
However, other members believe that Shelly is likely still at the CST compound, fueled, at least in part, by her dedication to the belief system. "She lives in a sort of demented altered universe," former church member Karen de La Carrier told Vanity Fair. Whatever she thinks of [David], she is devoted to Hubbard. That's the only life she's ever known."
Whatever the case, we hope Shelly is safe, happy, and enjoying the freedom to make decisions for her life, unencumbered by pressure from others. We may never find out for sure where she's gone or what she's doing. Many argue that whether her disappearance is by force or by choice, it is arguably in the best interest of the Church of Scientology for Shelly to remain out of sight. As former member and church critic Marc Headley told Vanity Fair, Shelly is "probably the one person who could just end [Scientology] tomorrow. If she just walked away from the whole craziness and said, 'O.K., this is where all the f**king bodies are buried—this is what he did with this, this is what he did with that—let's f**king burn it down,' it would be done."