Inside Carissa Moore's Marriage To Luke Untermann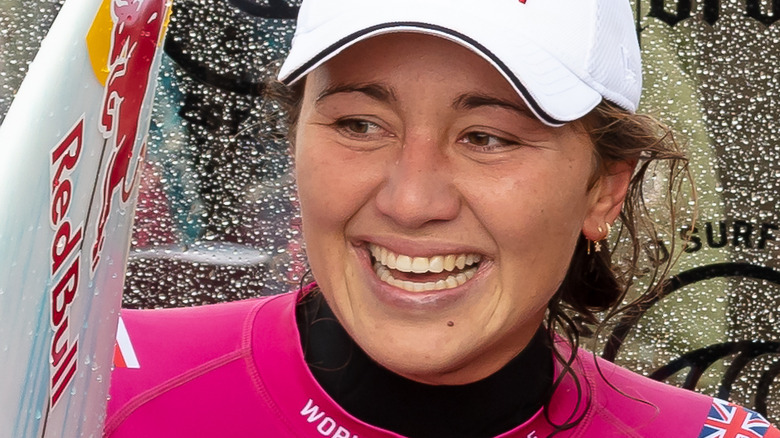 Shutterstock
Surf star Carissa Moore is set to compete in the 2021 Olympics and she has been perfecting her craft for years, according to a July 2018 Red Bull interview.
Born in Honolulu, Moore's dad taught her how to surf in Waikiki's pristine waters. "He wanted to find a way to keep me home. If I fell in love with the ocean, I wouldn't move very far," she said at the time. Her dad reportedly drove her to the beach before and after school and their bonding activity turned competitive when she was 12. She told him she wanted to be "the best in the world." Her hard work paid off when she was a senior in high school, as she earned a spot on the Championship Tour surfing with the world's top 17 female surfers.
Moore continued to rack up accolades and secured her fourth world title in 2019, making it clear she's one of the best female surfers of all time, according to the Olympics website. It's clear Moore is committed to surfing, but she's also committed to her life off the water. Keep reading for more details about her marriage to Luke Untermann.
Carissa Moore and Luke Untermann are high school sweethearts
Carissa Moore and Luke Untermann married in December 2017 on the island of Oahu, according to The Knot. Moore seemed thrilled to make it official with Untermann, saying, "We're just high school sweethearts who are so excited to be starting this next chapter of our lives together." He gushed over his wife when he said his vows: "I promise to hug and kiss you every time you walk through the door — even if it's only been five minutes." 
Despite the good vibes, their engagement made Moore think about her "purpose" in life and how marriage would affect her surfing career, according to a July 2018 Red Bull interview. "I literally felt like my biggest goal during the year and a half of my engagement was that I just wanted to know who I was when I walked down the aisle," she said at the time. "What does success and happiness look like for me?" she added.
But there does not seem to be any trouble in paradise for this couple. They appear to enjoy surfing together, spending time with their dog, and exploring new places. It seems like this couple is always down for an adventure!