Inside Alex Morgan's Marriage To Servando Carrasco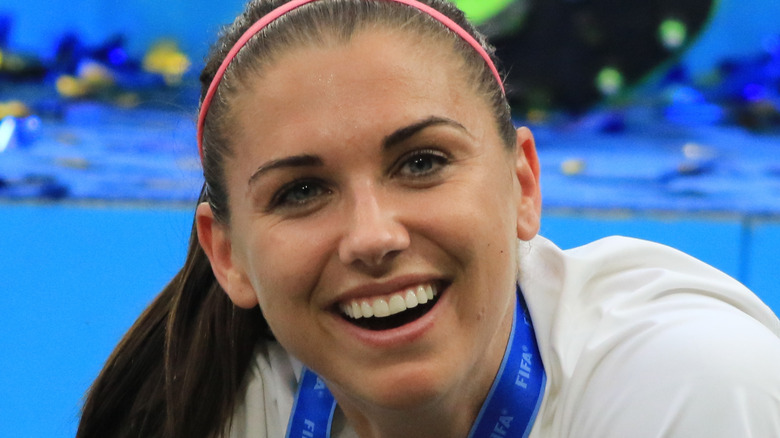 Shutterstock
Alex Morgan and Servando Carrasco met long before they both became soccer sensations. Their love story began in 2007 when they were both freshmen at the University of California, Berkeley. Morgan went on to help the U.S. Women's soccer team take home the gold at the 2012 Olympics in London, and Carrasco is now a veteran of the game who plays for the LA Galaxy. 
While speaking to MLS Soccer in 2019, Carrasco recalled what his future wife was like as a star in the making. He described her as "very raw" and "the fastest player on the team." But clearly, Morgan's talent on the field wasn't the only thing about her that impressed him. In 2013, he proposed to his longtime love during a fireworks show in Manhattan Beach, California, per The Knot. Their wedding doubled as a New Year's Eve party when they celebrated their union on December 31, 2014 in Santa Barbara, California. "I truly married my best friend," Morgan told People.
The couple welcomed their first child, a baby girl they named Charlie Elena Carrasco, on May 7, 2020. Her proud papa praised his wife for being "such a warrior" after Charlie arrived later than they expected. When the COVID-19 pandemic hit, it looked like a blessing in disguise for the new parents at first. During an interview with People, Morgan said she was "able to spend way more time with my family than I ever had imagined before" due to the 2020 Olympics being postponed.
How Alex Morgan and Servando Carrasco feel about their sport separating them
The Tokyo Olympics is not allowing spectators at the games due to the pandemic, so Servando Carrasco will remain in the U.S. with 14-month-old Charlie while Alex Morgan attempts to score her second Olympic gold medal. "I'm going to miss my baby girl so much this month. Charlie girl, I'll make it worth it!" she wrote on Instagram.
Having to leave her daughter behind might be heartbreaking, but Morgan and Carrasco are used to their soccer careers forcing them to be apart. For a few blissful years, they both played on teams in Orlando. But in 2017, Orlando City declined Carrasco's contract option, and he was drafted by the L.A. Galaxy. Morgan said that living on different sides of the country would be tough, but the couple was used to being separated. "I think we've spent a lot of time away from each other, so we kind of understand that side of things," she told the Orlando Sentinel in 2019.
Carrasco told MLS Soccer that the couple's "marriage is more important" than the game, but they're able to focus on their careers knowing that they'll "be able to live a normal life" when they retire. He also said that he and his wife stopped offering each other soccer advice, but he hasn't quit praising Morgan. "She approaches everything with an insane amount of work ethic," he told Glamour. "I've never seen someone work as hard as her."