The Real Reason Jada Pinkett Smith Just Shaved Her Head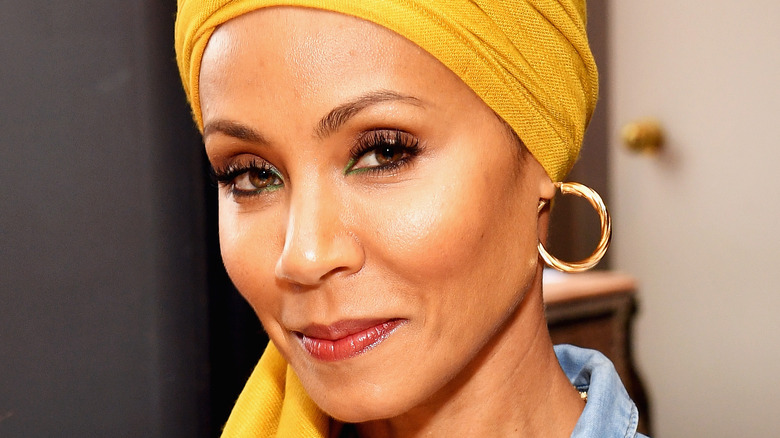 Dia Dipasupil/Getty Images
Jada Pinkett Smith has now shaved all of her hair off ... and one particular person in her family convinced her to do it. In the past, the actor has been pretty open about her struggles with alopecia (hair loss), which led her to often wear headscarves and protective styles. "A lot of people have been asking about why I've been wearing turbans," Jada said in a 2018 episode of "Red Table Talk." "Well, I haven't talked about it. It's not easy to talk about, but I am going to talk about it."
According to Jada, it all started while she was in shower one day, and she ended up with a bunch of hair in her hand. "It was terrifying when it first started," she admitted. "And I was just like, 'Oh my God, am I going bald?' It was one of those times in my life when I was literally shaking with fear." Wearing turbans, however, was an easy adjustment for her. "When my hair is wrapped, I feel like a queen," she explained.
Recently, however, Jada has decided to take the plunge and go bald once and for all. Find out more about what inspired her to do it below.
Jada Pinkett Smith says Willow 'made [her] do it'
Taking to Instagram on July 12, Willow Smith posted a picture of herself and her mother, Jada Pinkett. In the new photo, the actor can be seen rocking a freshly shaven head. "a gift is pure when it is given from the heart to the right person at the right time and at the right place, and when we expect nothing in return," Willow wrote in the caption.
Soon after, Jada reposted Willow's picture and gave fans a closer look via a new clip. In the caption, she also explained what inspired her to shave her head. "Willow made me do it because it was time to let go," Jada wrote. "BUT ... my 50's are bout to be Divinely lit with this shed." Celebrities and fans alike didn't take long to comment on Jada's new hairstyle ... and they seem to approve. "Beautiful," Tina Lawson wrote under Jada's post. "It Just shows that beautiful face and soulful eyes more prominently." Jada's daughter also took a moment to compliment her. "You are DIVINE," Willow wrote. 
Since Willow had previously shaved her head, it's easy to see why she convinced Jada to try it out. As Will Smith explained in a 2017 interview, Willow shaved her head in the middle of her "Whip My Hair" tour. "We came downstairs and she had shaved her head bald," he explained (via E! News). "I was like, 'Oh, s***t.'"