Julianne Hough Celebrates Her Bachelorette Party Weekend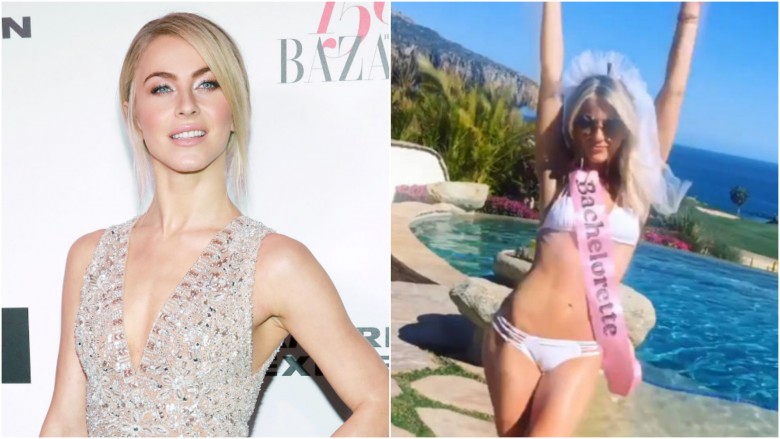 Getty Images
Julianne Hough is saying goodbye to her few remaining days as a single woman.
Hough and her BFF, former Vampire Diaries star Nina Dobrev, have officially kicked off the weekend bachelorette festivities and are sharing their fun times on Snapchat. It seems that the two and their group of gal pals have traveled somewhere sunny and warm. According to E! News, the gang's currently partying at a resort in Cabo San Lucas, Mexico.
So far the party has been spending their time taking tequila shots and hanging poolside. In one Snapchat, Hough can be seen in an all-white bikini with a veiled crown and a pink "Bachelorette" sash. Dobrev, on the other hand, rocks round sunglasses and a straw hat in a post she shared on
Instagram
.
You can all follow along with their fun by checking out the hashtags #TheFinalHoughrah and #JulesBEACHelorette. Very clever, ladies.
In September 2016, Hough spoke to E! News about her upcoming marriage to fiancé NHL player Brooks Laich, letting everyone know that they were taking their sweet time planning. "It's fun, but we're still just enjoying the process of being engaged because we're never going to be here again," she said. "We kind of started to plan and we're like, eh! Let's just enjoy it instead and not feel pressured to start planning already. So we're just picking up little tidbits here and there but not really focusing on it too hardcore."
But, if Hough's bachelorette party is already in the works, then a wedding must not be too far behind. In November 2016, the Dancing With the Stars judge revealed to ET that, while she hadn't yet picked a wedding dress, she and her fiancé had set a date—who knew it'd be this soon?
Enjoy your weekend, Hough!