Inside The Kourtney Kardashian And Travis Barker Marriage Rumors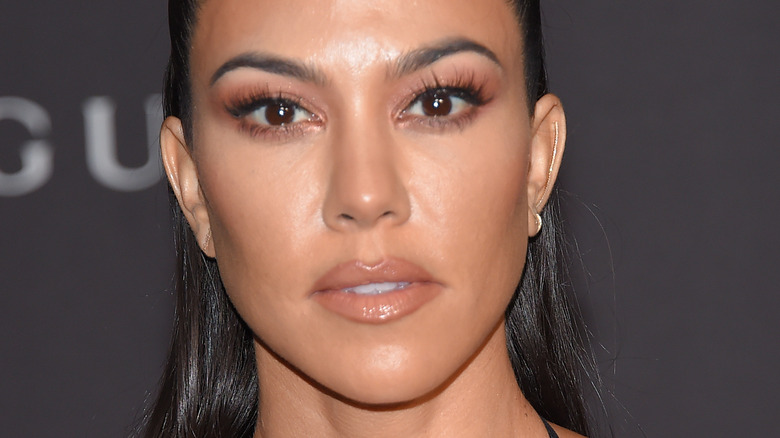 Shutterstock
Perhaps the one good thing to come out of 2020 is the news that Kourtney Kardashian is once again in love. After a decades-long and extremely tumultuous relationship with Scott Disick, "Keeping Up with the Kardashians" fans were delighted to learn that Kourtney was happily coupled with Travis Barker.
Barker isn't the first love in Kourtney's life since she and Scott permanently parted ways, but he does seem to be the most serious. Whereas Scott has dated multiple women since their split, it took Kourtney a bit longer to get back out there. Despite their "will they won't they" energy, Scott also seems to have moved on. After ending his long-term and age-gap relationship with Sofia Richie, Scott began dating Amelia Hamlin (also much younger). 
But Kourtney couldn't seem less bothered by her ex's much younger girlfriend. If her Instagram is any indication, she's very wrapped up in Barker. So wrapped up that some fans suspect they might even be secretly married. Here's what we know.
Kourtney Kardashian and Travis Barker are ready to commit
Fans became suspicious that Kourtney Kardashian and Travis Barker secretly tied the knot when her hairstylist, Glen Coco, recently posted a photo (pictured above) of the happy couple with the suggestive caption: "...NOWWW I understand why ppl tie the knot in Vegas. There's nothing like love AND a good time."
Kourtney, who has closely guarded all her romantic relationships since parting ways with Scott Disick, remained characteristically silent about the rumors. Things didn't blow over quite as quickly as Kourt might have hoped, though. Two days later, Kourtney added fuel to the fire when she posted a photo to her Instagram story of a massive bouquet of white roses from her sister Khloé, per the Daily Mail. Additionally, Barker's daughter, Alabama, posted a photo of her father and Kourtney on her Instagram story with the caption: "so happy for you guys," according to the outlet. So, is there any truth to the rumors?
Maybe, but there's no way to know for sure. We know that sources close to the couple have been adamant that an engagement is on the way. "An engagement could be right around the corner for Kourtney and Travis," an insider told Us Weekly just last month. So, it seems like it's possible that Kourtney and Barker skipped the engagement altogether and went straight to the wedding. After all, Coco is right; a Vegas wedding is kind of romantic.