Did You Know This 'NCIS' Star Was Also In 'The Sopranos'?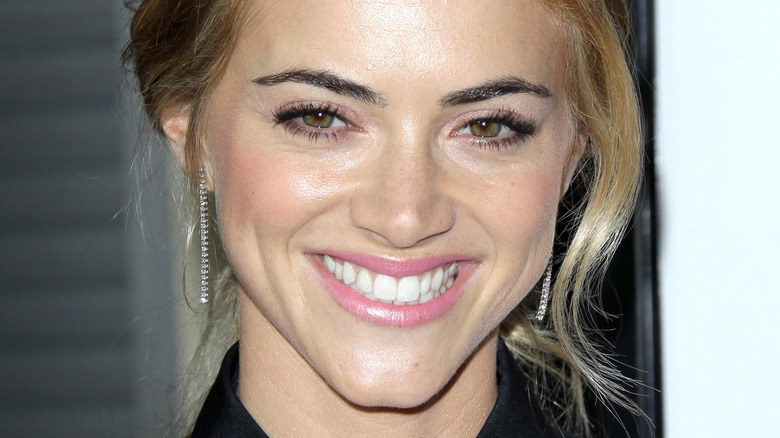 Shutterstock
In 2013, Cote De Pablo left the original "NCIS," leaving a void in her wake. However, she quickly got replaced by Bishop, played by actor Emily Wickersham. TV Line described Bishop as "a bright, educated, athletic, attractive, fresh-faced, focused and somewhat socially awkward new agent." And, as it turned out, Wickersham was a great fit with the rest of the agents. 
Sadly, in 2021, Wickersham also left the show. "I've been lucky enough to be a part of a show where I got to show up and act and laugh and learn with wonderful people," she gushed on Instagram about the departure. "A moment in time I surely won't forget."
It's safe to say Wickersham left a lasting impression on viewers, and she's so beloved that some want to know more about her acting history. Some might be surprised to learn she got her start on a very infamous mob-based show in New Jersey — the same mob show that almost single-handedly put HBO on the map. Yes — Emily Wickersham had a role on "The Sopranos"! Keep on reading for more info about her stint on the iconic series.
The Sopranos changed Emily Wickersham's life
Fans of the hit HBO show "The Sopranos" will recognize Emily Wickersham as Rhiannon, AJ Soprano's girlfriend in the sixth and final season of the show. She first appeared in "The Blue Comet" episode, which aired in June 2007. As part of her storyline, Wickersham's Rhiannon was the ex-girlfriend of AJ's friend Hernan O'Brien, who was in the hospital with weight issues. AJ began dating her even though he suffered from mental health issues at the time.
But Wickersham's most infamous appearance was overshadowed in "The Blue Comet" by an even more infamous death: the murder of Bobby Baccala, played by Steve Schirippa. The title came from the name of a rare train that Bobby went to purchase at a hobby store. Bobby got shot dead as he was wited at the counter to pay for the toy.
Although Wickersham wasn't a central character, the show played a pivotal role in her career. She noted to The Chic Spy how, after signing up for "acting and public speaking classes at the New School in New York," she met a modeling agent who landed her "modeling and commercial auditions, and then on film and television auditions." She explained, "Soon after, I booked one of my first parts and it was on 'The Sopranos.' After being on "The Sopranos,' I was totally hooked and just wanted to do more and more."