The Real Reason Richard Sherman Was Arrested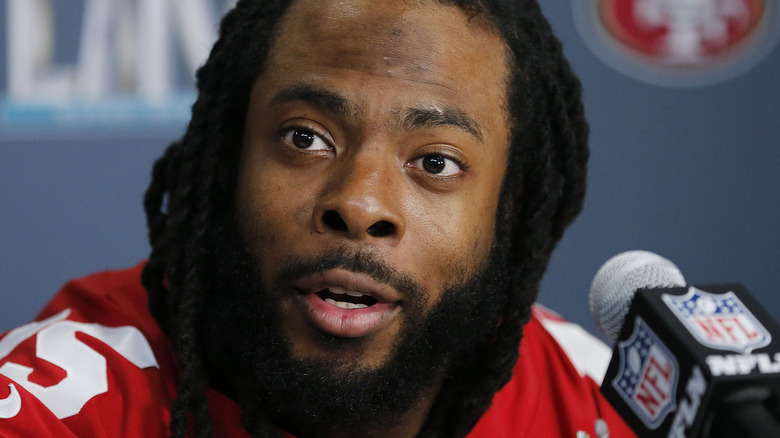 Michael Reaves/Getty Images
NFL star Richard Sherman was arrested and jailed without bail in Redmond, Washington, on July 14 after reportedly fighting with police officers, per TMZ. The startling news comes amidst an investigation of the former San Francisco 49ers player for a possible DUI and hit-and-run after a car registered to him was, per NBC Bay Area, "involved in a single-car crash involving a construction-zone barrier."
At the crime scene on July 14, Sherman ended up in a physical altercation with Redmond Police Department officers, NBC News reported, with them ultimately setting their K-9 unit on the pro athlete. Initially, Redmond Police Chief Darrell Lowe said, per NBC News, Sherman was friendly toward arriving officers, but once informed that they would be arresting him, he became uncooperative and attempted to leave at an "accelerated ... pace." According to Lowe, "At that point in time that the officers made physical contact ... he resisted, an altercation occurred, and subsequently a K-9 was deployed." Sherman reportedly only received "minor lacerations" to his lower leg due to contact with one K-9 officer. "He was cleared medically at a hospital before being booked into jail. I have to believe any injuries were very minor," Redmond public information officer James Perry said, per NBC Bay Area.
Booked at the King County Correctional Facility, Sherman will not be formally charged according to ESPN until July 15 and remains in custody until that court appearance. What did Sherman do to cause the K-9-involved mayhem? Keep reading!
Richard Sherman's wife is defending him amidst domestic violence charge
NFL five-time Pro Bowler Richard Sherman was arrested and booked for "burglary domestic violence" in Redmond, Washington, on July 14, as Redmond Police Chief Darrell Lowe stated in a press conference, via NBC News. But the charge is not quite what one might think it connotes. Per authorities, Sherman was arrested after attempting to unlawfully enter his wife's parents' home, prompting a member of the household to dial 911. Lowe clarified that though there was a "verbal altercation" between Sherman and the house's residents, no physical violence occurred and the "domestic violence" aspect merely refers to his familial relations with the residents. According to Lowe, however, the ex-San Francisco 49ers cornerback did smell "of intoxicant emanating from his mouth and person."
Sherman's wife, Ashley Moss, confirmed Lowe's statement with the Seattle Times and stood supportively with her husband. "At this time we're going to make no statements, except he didn't harm anybody," Moss said. "My kids were not harmed in the incident. He's a good person and this is not his character. We're doing all right, just trying to get him out."
The NFL Players Association, for which Sherman is a vice president on the executive committee, stated that they had "activated our domestic violence crisis protocol" and will monitor the unfolding events. As for Sherman, the free agent now stands a chance of not signing with any new club in the upcoming season. We shall see...